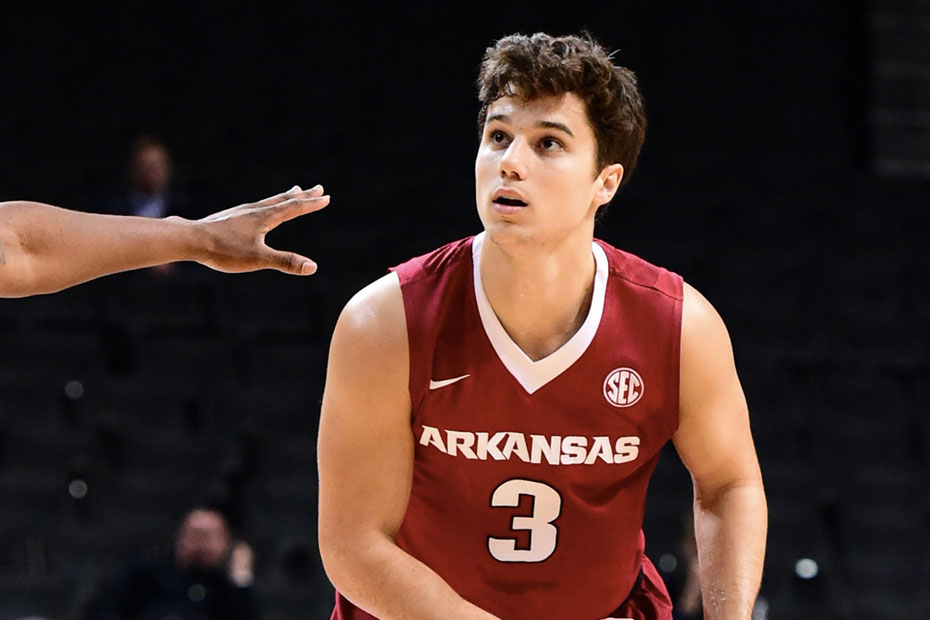 Razorbacks Pull Away For Road Win At Auburn
AUBURN, Ala. — The Arkansas men's basketball team picked up its sixth SEC road win of the year on Saturday, tying the league lead for conference road wins this season in a 79-68 win over Auburn in Auburn Arena.
The Razorbacks (22-7, 11-5 SEC) improve to 6-2 in SEC road contests this season to join the 1994 National Championship team and the 2015 NCAA Tournament squad as the only teams to accomplish the feat. Dating back to last season, Arkansas has won eight of its last 10 conference road games, including three straight during its current five-game winning streak.
Arkansas has reached 11 SEC wins for the sixth time in program history and just the second time in the last 19 years, with both times coming in the last three seasons under Mike Anderson.
For the first 15 minutes, it was a back-and-forth game until Arkansas used a 13-3 run to end the half, hitting five of its last seven shots to take a 40-31 lead into the locker room. Leading all scorers with 10 points at the break, Jaylen Barford has now scored in double figures in the first half in six of Arkansas' eight SEC road contests.
Getting limited minutes in the last few games, Arlando Cook came off the bench when Moses Kingsley picked up two quick fouls in the first three minutes of the contest and made an immediate impact. He hit all three of his shots from the floor and finished the opening period one point shy of tying his career high with eight points
The Razorbacks stretched their lead to 13 early in the second half before Auburn (17-12, 6-10 SEC) cut it to six multiple times. Arkansas sank its final 10 free throws in the last four minutes of the game to pick up the 11-point win.
Barford recorded his fourth 20-point game of the season, all on the road. Dusty Hannahs finished with 18 points on 7-of-14 shooting, while Macon tallied 13, going 4-of-5 from the field. Trey Thompson had a game and career-high 11 rebounds to go along with six points. Kingsley and Cook both scored eight.
UP NEXT
Arkansas travels to Gainesville, Florida, on Wednesday, March 1, as the Razorbacks take on No. 13 Florida at the O'Connell Center. Tip-off is set for 6 p.m. on ESPN2.
For more information on Arkansas Men's Basketball, follow @RazorbackMBB on Twitter.