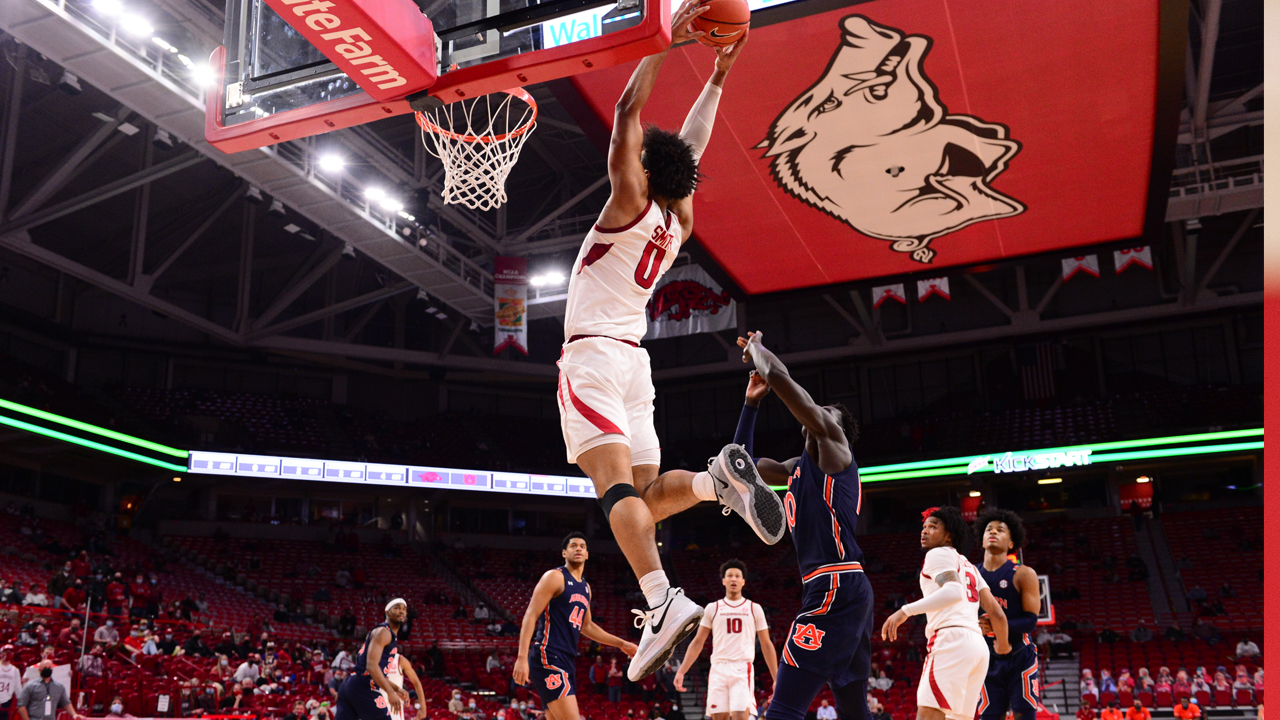 Razorbacks Rally, Beat Auburn 75-73
FAYETTEVILLE – For the third straight game, Arkansas got down big in the first half. However, the Razorbacks showed great resolve in the second half to pull out a 75-73 victory over Auburn Wednesday night at Bud Walton Arena.
Desi Sills, who scored a career-high 23 in the first meeting with Auburn this year, pumped in 22 Wednesday, including 14 in the second half. Jalen Tate scored 14 while Jaylin Williams and Justin Smith each scored 10.
Arkansas was down 19 (37-18) with just over four minutes left in the first half. Vance Jackson Jr., and Tate made a pair of 3-pointers and the Hogs trimmed their deficit to 12 at the break.
With the win, Arkansas snapped a 42-game losing streak when trailing by 12-plus points at halftime dating back to a 72-69 win at Georgia on Feb. 3, 2010 (HogStats.com).
Smith opened the second half with a quick basket and Arkansas took its first lead of the game, 47-45 at 13:26, thanks to an 18-4 run to start the period. Williams punctuated the lead with a dunk on an offensive rebound.
Javon Franklin sank a pair of 3-pointers to give Auburn brief leads, the last being 53-51 with 11:49 left. Davonte Davis answered back-to-back baskets and Arkansas did not trail the rest of the game.
However, Auburn made it interesting down the stretch.
Arkansas took its largest lead, eight points (74-66), with 2:40 left. The Tigers made three straight trips to the free throw line but were just 3-of-6 to trail by five with 1:52 left. After an Arkansas turnover, Sharife Cooper drove to the basket for a layup to cut the Auburn deficit to three (74-71) with 1:41 left.
The Hogs came up empty on the ensuing possession and Cooper made another layup to make it a one-point game (74-73) with 1:03 remaining.
Arkansas had two shot attempts before turning the ball over and Auburn took over with 26 seconds left. Cooper worked the clock down to five seconds but was met by a wall of Razorbacks at the rim. Moses Moody pulled down the rebound and was fouled with two seconds left. He made 1-of-2 at the line to make the score 75-73 and Auburn's final shot missed.
Cooper finished with a game-high 25 points and JT Thor added 12.
Up Next, Arkansas is scheduled to return to the road to face Vanderbilt on Saturday (Jan. 23). Tipoff is set for Noon and the game will be televised on SEC Network.
FIRST HALF: Arkansas 31 – Auburn 43
Auburn made 5 of 6 shots to turn a one-point lead (7-6) at the first media timeout into an eight-point lead (16-8) at the second media timeout.
Auburn used a 16-2 run, including a 9-0 spurt, to push its lead to 23-8. Jalen Tate ended the run with a 3-pointer in the right corner.
Arkansas made 8 of its last 10 field goals in the first half to trim a 19-point deficit to 12 at the break.
Jalen Tate led the Hogs with 10 first half points. Sharif Cooper led the Tigers with 14 points.
SECOND HALF: Arkansas 44 – Auburn 30
Arkansas came out the gate hot to start the second half with a 12-2 run to make it a two-point game (45-43). Jalen Tate tied the game, 47-47. Jaylin Williams big dunk on a rebound for Arkansas' first lead 49-47.
• Overall, Arkansas started the second half with an 18-4 start.
In addition to Sills' 14 points in the second half, Davonte Davis had 10. Jaylin Williams and Moses Moody each scored five points with Williams getting five rebounds and Moody four.
Arkansas out-rebounded Auburn, 23-17, in the second half.
Arkansas shot 52.9 percent from the field in the second half – compared to 38.7 in the first. On the other end, Arkansas held Auburn to 29 percent shooting in the half – compared to 59.3 in the first.
Both teams only committed five second-half turnovers.
Arkansas out-scored Auburn 32-12 in the paint in the second half. Arkansas also had all 12 of its second-chance points in the period.
GAME NOTES
Arkansas' starting lineup was Jalen Tate (G) – JD Notae (G) – Moses Moody (G) – Justin Smith (F) – Connor Vanover (F) for the first time this season. It marks the Razorbacks' seventh different starting lineup this year.
Auburn won the opening tip. It was the sixth time an opponent has won the tip this season.
Auburn's Jamal Johnson scored the game's first points, a 3-pointer at 18:58. Justin Smith scored Arkansas' first points, a layup at 17:54.
Davonte Davis was the first sub for Arkansas.
Arkansas is 22-5 versus Auburn in games played in Fayetteville.
Desi Sills made a career-high eight free throws (8-of-10) and his seven field goals made were one shy of his career-high (making eight at Auburn earlier this year).
Jaylin Williams finished with seven points, seven rebounds, two assists, one steal and two blocked shots.
Moses Moody did not make a 3-pointer for the first time this season (0-of-4). He entered the game as the only Razorback to make a 3-pointer in each of the first 14 games.
Jalen Tate had four rebounds to put him over the 400-rebound plateau for his career (now with 401). Tate has 1,109 points and dished out 352 assists for his career.
Justin Smith now needs 60 points for 1,000 for his career and 11 rebounds for 500.
With the win, Arkansas snapped a 42-game losing streak when trailing by 12-plus points at halftime dating back to a 72-69 win at Georgia on Feb. 3, 2010 (HogStats.com). Arkansas trailed Georgia 37-22 at halftime back in 2010.
Arkansas is now 3-78 when trailing by 12-plus points since January 1995 and just 11-108 since January 1970 (HogStats.com).
As a collegiate head coach, Eric Musselman is now 31-43 when trailing at halftime, including a 6-14 mark at Arkansas.
As a collegiate head coach, Eric Musselman is now 17-12 in one-possession games and 29-20 in games decided by 1-to-5 pints, including a 2-4 mark and 5-6 mark at Arkansas, respectively.
Despite overcoming a 19-point deficit, this was the first time Arkansas did not have a double-digit run in a win this year. Arkansas's biggest run was 8-0 early in the second half.
For more­­ information on Arkansas Men's Basketball, follow @RazorbackMBB on Twitter.