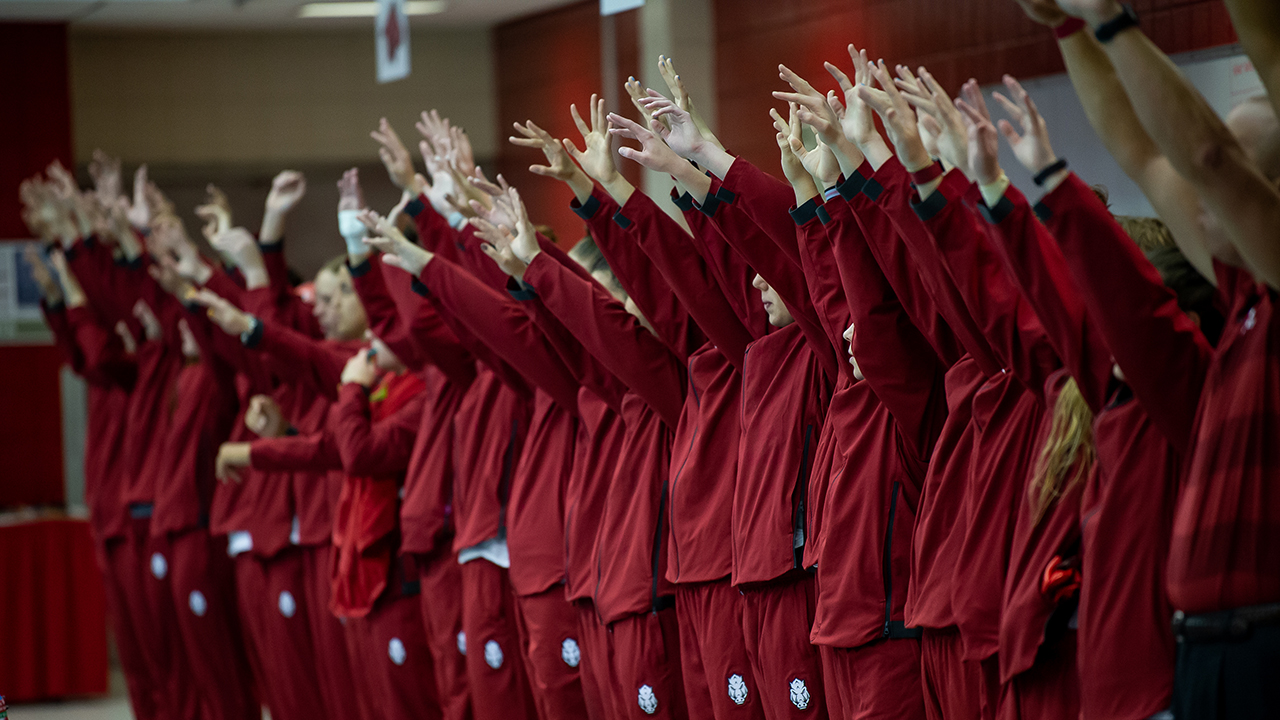 Razorbacks Ready For NCAA's
FAYETTEVILLE, Ark.- The Arkansas swimming and diving team will spend the week in Austin, Texas, for the 2019 NCAA Women's D1 Swimming and Diving Championships, with seven Razorbacks set to represent the program at Texas.
"We are excited to have the biggest group qualifying for the NCAA's since I have been with the program," head coach Neil Harper said. "Our team has qualified for eight individual events and three relays, so it will be fun to have a bigger team presence and be involved in the championships more than ever. Our team goal is to perform personal bests and if we can do that, we'll be competing in the finals at night."
The Hogs will compete in 11 events total, with two diving events, three relays, and six individual swimming events on deck for the program. This will be the first year since 2015 that more than four student-athletes will be competing at the NCAA Championships, as well as the first time since 2015 that the Hogs will compete in a relay event.
Junior Anna Hopkin and sophomores Peyton Palsha and Brooke Schultz were invited to compete in individual events, while Kobie Melton, Sydney Angell, Marlena Pigliacampi, and Molly Moore will round out the relay teams. Palsha and Schultz are championship veterans, with Palsha once again competing in the 1650 and 500 yard freestyles while Schultz will look to defend her 3-meter national title.
Hopkin holds five individual records as well as two top-10 NCAA times. She was part of three relay teams to set school records at the SEC Championships, with Angell, Melton, Pigliamcampi, and Moore also part of the record-setting relay teams.
Schultz holds three Arkansas records on the springboards and was crowned the SEC Champion in the 1- and 3-meter last month for the second consecutive year. At last year's NCAA Championships, Schultz was just 0.35 points from qualifying for the 1-meter finals and earned a first-place finish in the consolation round of the event.
The Razorbacks will begin competition at Texas Thursday morning, concluding the meet Saturday night. Swimming preliminaries will begin at 9 a.m. daily, while the finals will begin at 5 p.m. Diving preliminaries will begin at 11:30 a.m. on Thursday and Friday.
ESPN will broadcast live coverage for both Friday and Saturday finals on ESPNU, as well as streamed coverage on ESPN3 for Wednesday and Thursday evening finals. All sessions not part of ESPN's broadcasts will be streamed live at https://texassports.com/.
For more information on Arkansas Swimming and Diving, follow @RazorbackSD on Twitter.
| Thursday, March 21 | Friday, March 22 | Saturday, March 23 |
| --- | --- | --- |
| Trials (9 a.m.) | Trials (9 a.m.) | Trials (9 a.m.) |
| 200 Freestyle Relay | 400 IM | 100 Freestyle |
| 500 Freestyle | 200 Freestyle | 400 Freestyle Relay |
| 50 Freestyle | 200 Medley Relay | 1,650 Freestyle |
| One Meter Diving Trials (11:30 a.m.) | Three Meter Diving Trials (11:30 a.m.) | Finals (5 p.m.) |
| Finals (5 p.m.) | Finals (5 p.m.) | 100 Freestyle Consolation/Finals |
| 200 Freestyle Relay Consolation/Finals | 400 IM Consolation/Finals | 400 Freestyle Relay Consolation/Finals |
| 500 Freestyle Consolation/Finals | 200 Freestyle Consolation/Finals | |
| 50 Freestyle Consolation/Finals | Three Meter Diving Finals | |
| One Meter Diving Finals | 200 Medley Relay Consolation/Finals | |