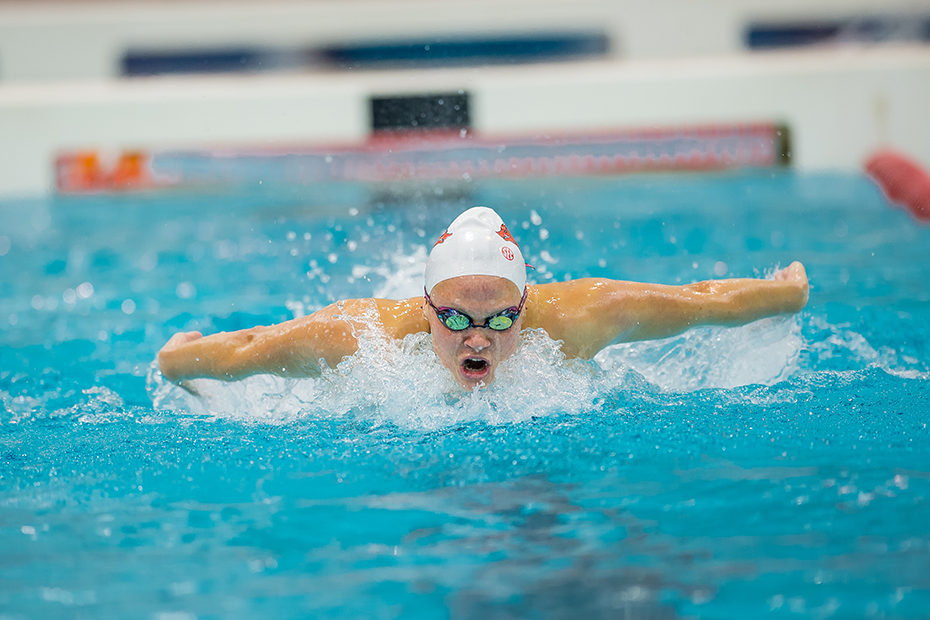 Razorbacks Ready For Regular Season Finale At Kansas
FAYETTEVILLE, Ark. – Victors of six of the its last eight dual meets, the Arkansas swimming and diving team concludes its regular season on the road Friday against the Kansas Jayhawks at 5 p.m. at the Robinson Natatorium.
The Razorbacks enter their season finale with an 8-3 record, including a 5-1 mark against non-conference opponents, while the Jayhawks enter Friday 5-1 on the year with two first-place finishes in invitationals this season. All-time, the Razorbacks trail the Jayhawks in the series 16-15 but Arkansas has had the upper-hand in recent history, winning each of the last nine meetings by an average of 75.1 points.
"We are excited about our continued rivalry with Kansas," said head coach Neil Harper. "This meet marks our last dual meet of the season and it is another opportunity to fine tune for the SEC Championships. We will put some of our swimmers in positions to challenge their season bests, so it should be a great team atmosphere."
The Razorbacks have won 30 of the last 31 non-conference dual meets, including 14 of the last 15 away from home. Overall, Arkansas is 6-2 this season away from home, including a 3-1 mark against non-conference opponents.
Last week in Houston, Arkansas defeated the Cougars 211-142, while also knocking off the Vanderbilt Commodores 283-64, as part of a tri-meet. As a team, Arkansas won 12 out of a possible 19 events, while placing at least one athlete in the top-two in all 19 events.
Thirteen Razorbacks combined to record 27 top-three finishes out of the possible 45. Senior Chloe Hannam led the way with four top-three finishes, while senior Jessie Garrison, sophomore Ayumi Macias and freshman Peyton Palsha each had three.
Following her performance on the boards at Houston, freshman diver Brooke Schultz claimed her seventh conference honor on Tuesday, being named SEC Female Diver of the Week for the sixth time this season. Schultz claimed the one-meter and three-meter titles against the Cougars, remaining undefeated in dual meets this season. On the three-meter, Schultz broke the school record for the fourth time this season, scoring a 384.53.
For more information on Arkansas Swimming and Diving, follow @RazorbackSD on Twitter.