Razorbacks Ready to Stripe the Barn for Senior Night on Friday
Arkansas gymnastics fans will have one last opportunity to flood Barnhill Arena this spring, as the Gymbacks gear up to host No. 30 Penn State for Stripe the Barn night on Friday evening. Doors open at 5:30 p.m. and opening ceremonies will begin at 6:45 p.m. After the show, fans should most definitely stick around as we honor our departing seniors, Jessica Yamzon, Hailey Garner and Kirby Rathjen.
What to expect at Stripe the Barn
The first 3,000 fans will find a Stripe the Barn shirt awaiting them on their seat! Check out the graphic below to see which shirt you can be expecting to find in your section!
We want to show our appreciation for our Junior Razorbacks! Join us for a special pre-meet event inside the Barnhill Arena VIP room with free snacks and a visit by the Razorback Spirit Squads. Junior Razorbacks can show their membership card to get up to four guests in for free.
After the meet, directly after the final floor routine, fans should stay seated as we recognize our three departing seniors. Jessica, Hailey and Kirby have been a huge part of Razorback gymnastics over the last four years and we need all fans in the stands to give them biggest and best final sendoff from Barnhill!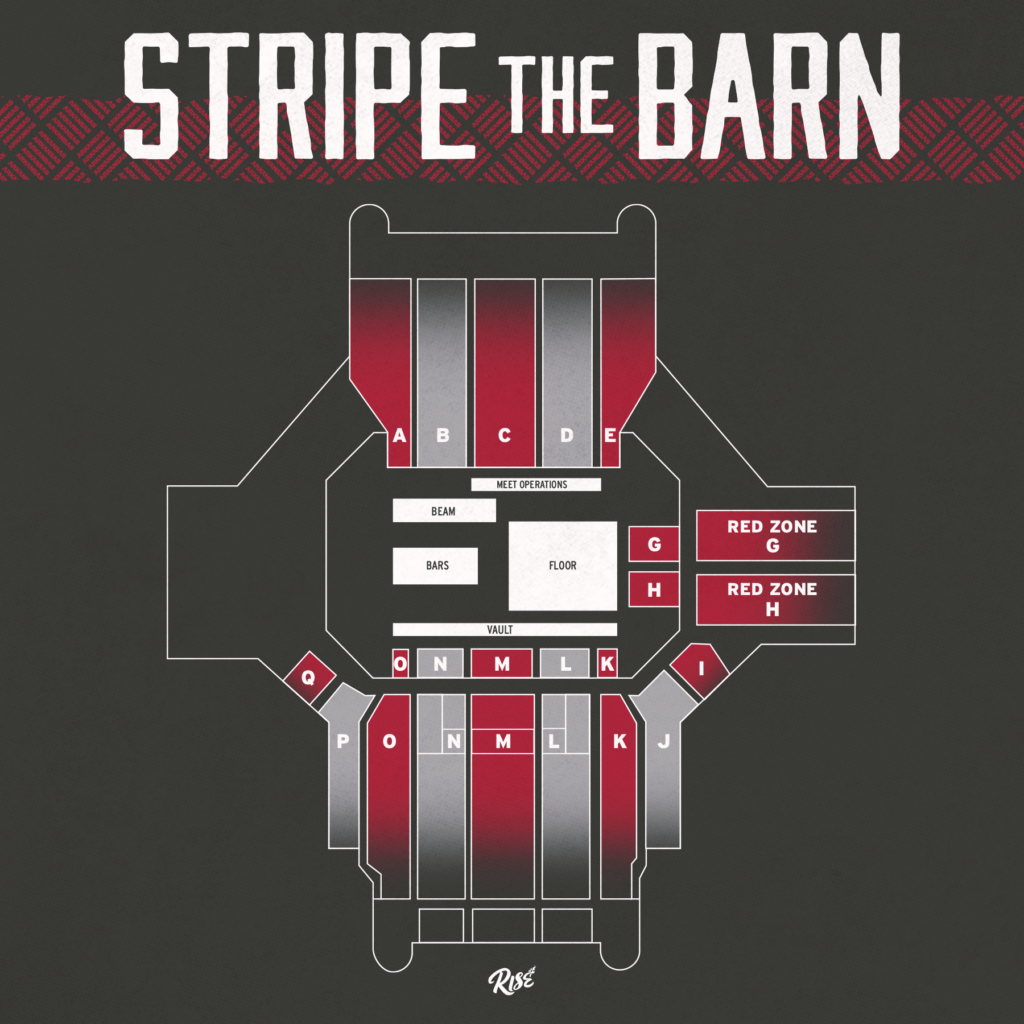 Fans can RSVP to Friday night's festivities and get all the details on the fun by following the Gymbacks on Facebook and checking out the Stripe the Barn event page | HERE
Remember to follow the Gymbacks on Instagram and Twitter (RazorbackGym) too! Two lucky Twitter followers will each have the chance to win two VIP Passes to Friday night's meet by retweeting the Stripe the Barn info-tweet | HERE
We highly recommend buying your tickets ahead of time [HERE] to avoid the lines and get to the show even faster! Doors will open at 5:030 p.m. (CT) on Friday and opening ceremonies will begin at 6:45 p.m.
You can find other helpful links here | Parking Map | Arena Policies | Seating Chart