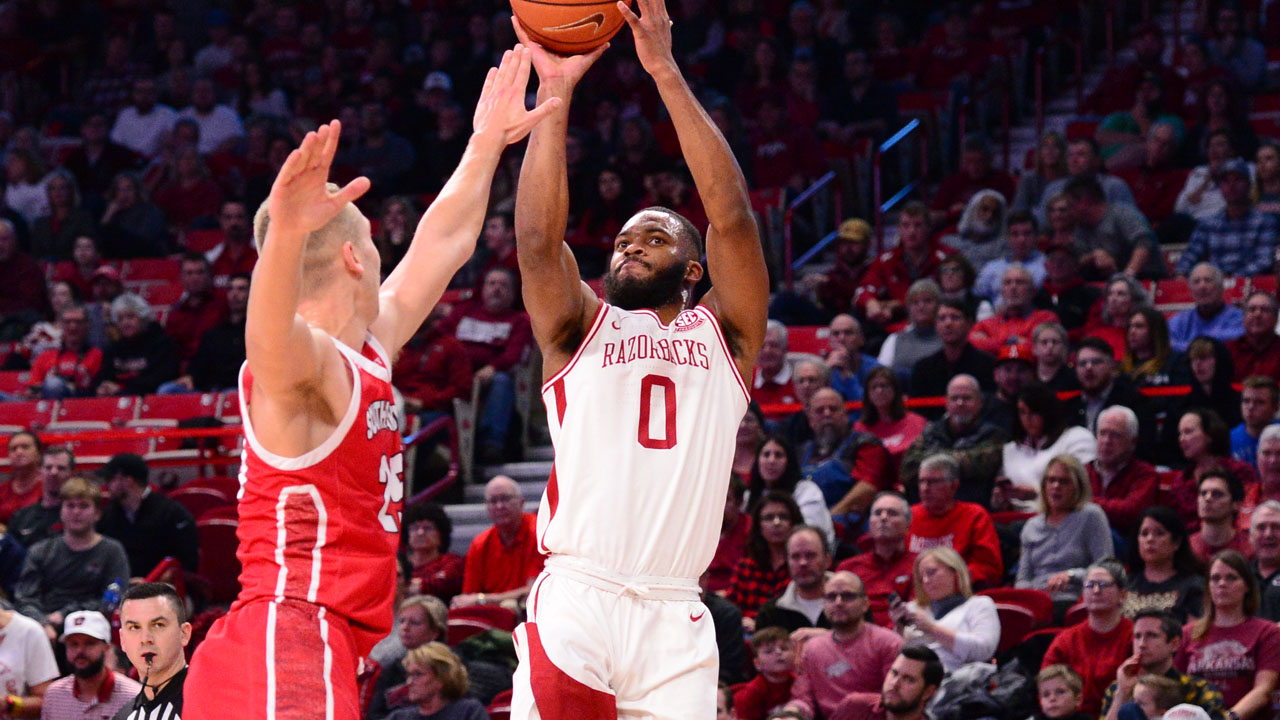 Razorbacks Remain Undefeated, Defeat South Dakota
FAYETTEVILLE – Arkansas held the NCAA's leading 3-point shooting team to 25 percent from beyond the arc and graduate senior Jimmy Whitt Jr., tied a career high with 24 points while adding seen rebounds to lead the Razorbacks (5-0) to a 77-56 victory over South Dakota (5-1) Friday night at Bud Walton Arena in the teams' third game of the Collegiate Hoops Roadshow, presented by AtmosAir.
Whitt was 11-of-14 from the field and 2-of-3 from the free throw line. He set an Arkansas record for most points by a guard in the 3-point era without attempting a 3-pointer (@HogStats.com – the previous mark was 23 points by Corey Beck versus Jackson State on Dec. 18, 1993). Whitt led the Razorbacks with 10 first-half points. In the second half, South Dakota cut its deficit to 10 twice before Whitt answered on the other end each time, the second to start a 13-0 run to seal the win.
South Dakota entered the game shooting 51.1 percent (47-of-92) from 3-point range and making 9.4 triples per game. The Razorbacks entered the game third in the NCAA in 3-point field goal defense (11.6 percent). The Coyotes were the first team to make as many as three 3-pinters in a game versus the Razorbacks, who have now held opponents to just 11-of-81 (13.6 percent).
Mason Jones added 14 points and seven rebounds for the Razorbacks, while Isaiah Joe had five boards and five assists. Arkansas' bench outscored the Coyotes 21-7.
South Dakota put three players in double figures including Tyler Hagedorn (15), Stanley Umude (13) and Cody Kelley (10).
Arkansas hits the road for the first time this season to face Georgia Tech on Monday (Nov. 25). Tipoff at Tech's McCamish Pavilion is set for 7 pm (ET)/6 pm (CT) and the game will be telecast on the ACC Network.
The Arkansas Razorbacks defeated the South Dakota Coyotes 77-56.
Cylla reaches 1,000 career points with layup.
Whitt ties career high 24 points.
Chaney finishes the dunk for two of his six total points.
FIRST HALF: Arkansas 39 – South Dakota 24
For the third time in five games, Jimmy Whitt Jr., scored the first points of the game, a jumper just outside the lane at 19:42.
Arkansas started the game on a 12-5 run, capped by an Adrio Bailey fastbreak dunk, to force a Coyote timeout at 15:37.
A dunk by Chaney and a fastbreak layup by Jeantal Cylla were part of a 6-0 run, while South Dakota was held scoreless for 3:19, to put the Hogs up 23-11 at 9:33. Overall, Arkansas used a 13-0 run, while keeping South Dakota scoreless for nearly six minutes, to grab its largest lead of the half (19 points), 30-11 at 7:05.
Arkansas led by at least 13 points over the final 7:05.
Whitt led the Razorbacks with 10 first-half points, making 4-of-5 from the field.
Cylla had seven points and scored the last points of the half, a tip-in off his own miss with 41 seconds left before the break to give him an even 1,000 for his career.
Bailey also had seven points for the Hogs.
Arkansas outrebounded the Coyotes, 22-17.
The 39 first-half points by Arkansas tied for the most by the Razorbacks this season. The 24 points also tied for the most by an opponent this season.
SECOND HALF: Arkansas closes game on a 15-4 run for 21-point win.
Arkansas led by 15 at halftime and it held an 11-to-15-point lead until South Dakota cut it to 10 points (60-50) with 7:45 left.
Whitt pushed the lead back to 12 before Tyler Hagedorn sank two free throws to make it a 10-point game again (62-52 with 7:00 remaining).
Whitt once again answered to start a 13-0 run as the Razorbacks took a 23-point lead (73-52) with 3:04 left. Mason Jones had five during the run and Jalen Harris four.
GAME NOTES
Arkansas' starting lineup was Jimmy Whitt (G) – Isaiah Joe (G) – Desi Sills (G) – Mason Jones (G) – Adrio Bailey (F) for the fifth consecutive game.
Arkansas won the tip for the fourth time in five games.
Arkansas is 2-0 all-time versus South Dakota with the other meeting coming on Dec. 12, 1932.
Arkansas is 5-0 for the first time since winning its first six in 2014-15.
Eric Musselman is 5-0 as Arkansas head coach. The last first-year Razorback head coach to start 5-0 was Nolan Richardson in 1985-86.
Arkansas outrebounded the Coyotes. It was the second time this season the Hogs outrebounded their opponent.
Arkansas defense is only allowing 47.8 point per game (239 total), including 43 by Rice, 43 by North Texas, 46 by Montana, 51 by Texas Southern and 56 by South Dakota.
Desi Sills snapped an 0-of-17 spell from 3-point range with a triple from the left corner at 16:01 in the first half.
Arkansas committed a season-low eight turnovers.
Jimmy Whitt Jr., tied a career high with 24 points. He also scored 24 versus Cincinnati in his final game at SMU last season. This was Whitt's eighth career 20-point game – his first in a Razorback uniform.
Whitt is 20 points from 1,000 for his career.
Jeantal Cylla scored his 1,000th career point getting seven points in the first half. He scored 533 points in his first two seasons at Florida Atlantic, 451 in one season at UNC Wilmington and has 16 points as a Razorback.
Mason Jones was 4-of-4 at the free throw line. He is 27-of-27 at the charity stripe this season and has made 36 straight dating back to last season.
Arkansas extended its streak of consecutive games with a 3-pointer made to 1,016, which is the fourth-best active streak in the NCAA.
For more­­ information on Arkansas Men's Basketball, follow @RazorbackMBB on Twitter.