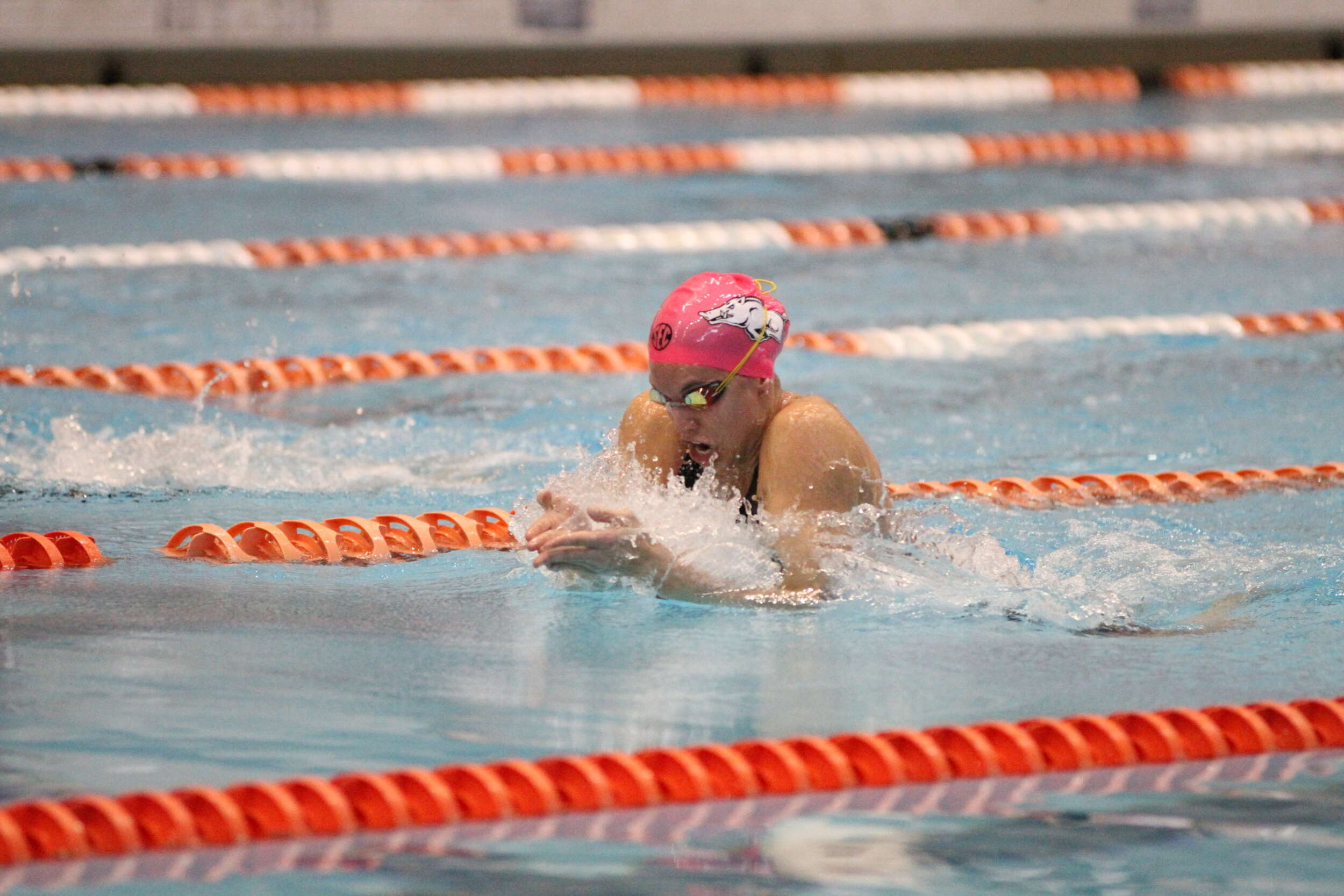 Razorbacks Round Out Tennessee Invite With Records
FAYETTEVILLE, Ark. – The Razorbacks rounded out the Tennessee Invite with a very solid fourth-place finish against some of the top teams from across the nation. The Hogs took home 442 points, finishing above SEC opponent Kentucky.
"I thought we performed well, and amazing in some cases," commented Swimming Head Coach Neil Harper. Veteran Razorback swimmers Bella Cothern, Betsy Wizard, and Alessia Ferraguti, "were all great. All earned NCAA B cuts, and Alessia broke two school records," said Harper. Ferraguit's school records came in the 200 Breaststroke, breaking Yi-Ting Siow's 2010 record of 2:07.73 with a time of 2:07.53, and the 100 Meter Long-Course Breaststroke record with a time of 1:08.51.
"Maddy Hartley had a breakthrough meet, making four A-Finals and a couple of NCAA B-Cuts herself," Harper said of the sophomore's stellar performance. Hartley made the A-Final in the 200 Yard IM, 100 Yard Butterfly, 100 Yard Freestyle, and 200 Yard Butterfly. She posted an NCAA B-Cut time in the 100 Butterfly final on the second day of the invite, finishing second.
Harper felt that the invite was a very beneficial experience for the entire team, stating that "we had lots of personal bests, and the team learned a lot about new race strategy as well as preparing the freshmen for their first three-day invite."
In the dive tank on day three, Anna Arnautova and Malea Martinez posted great numbers. Arnautova finished tied for third with a score of 296.75, an NCAA Zone Diving qualifying score. Martinez finished sixth, posting an NCAA Zone Diving qualifying score of 273.60. Coach Harper said that he is "especially excited for the divers."
The Tennessee Invite caps off the fall schedule for the Razorbacks. They will be back in action on January 9 as they take on Auburn on the road. The Razorbacks return to the Arkansas Natatorium on January 13 against the UALR Trojans.
More Information
Visit ArkansasRazorbacks.com for the latest information on all things Arkansas Swim and Dive. You can also find the Razorbacks on social media by liking us on Facebook (Arkansas Razorback Swimming and Diving) and following us on Twitter (@RazorbackSD) and Instagram (@RazorbackSwimDive).
— ArkansasRazorbacks.com || On Twitter @ArkRazorbacks || Facebook.com/ArkansasRazorbacks –