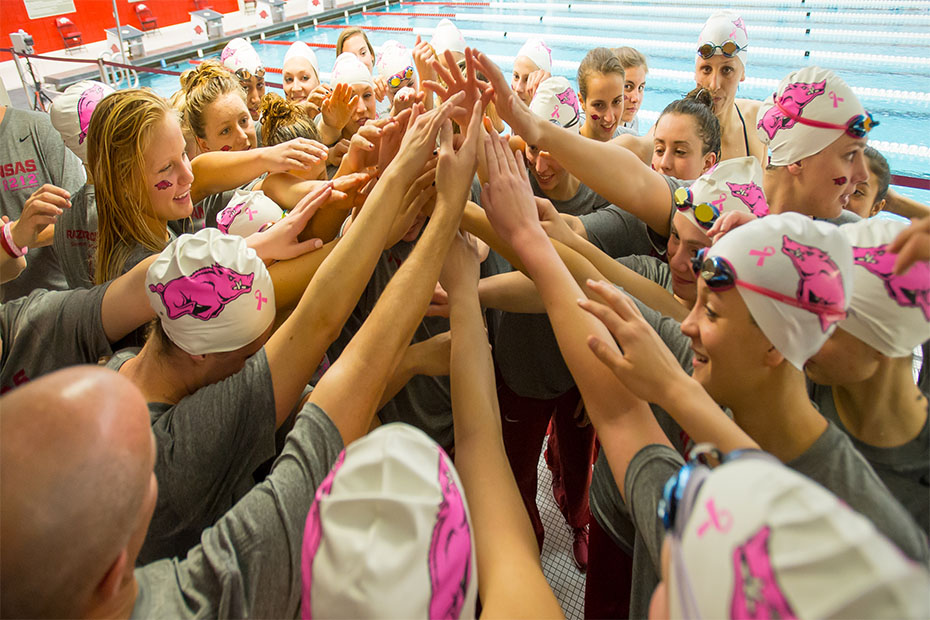 Razorbacks Second Nationally In Team GPA
FAYETTEVILLE, Ark. – The Arkansas women's swimming and diving team received some well-earned recognition from the College Swimming Coaches Association (CSCAA) for its performance in the classroom during the spring semester on Tuesday, finishing the season with the second-highest team grade point average (GPA) in the nation.
The Razorbacks team GPA of 3.67 ranked second while they were the only Southeastern Conference team in the top 10. This spring the Razorbacks had a total of 10 team members achieve a 4.0 GPA.
Senior captain Rachel Stoehr was one of the 10 Razorbacks to post a 4.0 GPA in the spring. Stoehr is enrolled in the Walton School of Business where she is pursuing a degree in supply chain management and a marketing minor.
"As a team we are very committed to excellence in athletics as well as academics," said. Stoehr. Every season we strive to improve upon our team GPA from the previous year. Being ranked second in the nation for our overall team GPA reflects the long hours that every team member devotes to academics each semester, in addition to our rigorous practice and competition schedule."
To be selected as a CSCAA Scholar All-America Team, programs must have achieved a GPA of 3.0 or higher. In February, the CSCAA recognized 17 swim and dive team members for the 2014 fall semester with a 3.5 GPA.
Founded in 1922, the CSCAA is the oldest organization of college coaches in America. The CSCAA is dedicated to serving and providing leadership for the advancement of the sport swimming and diving at the collegiate level.
For more information on Arkansas swimming and diving, follow @RazorbackSD on Twitter.