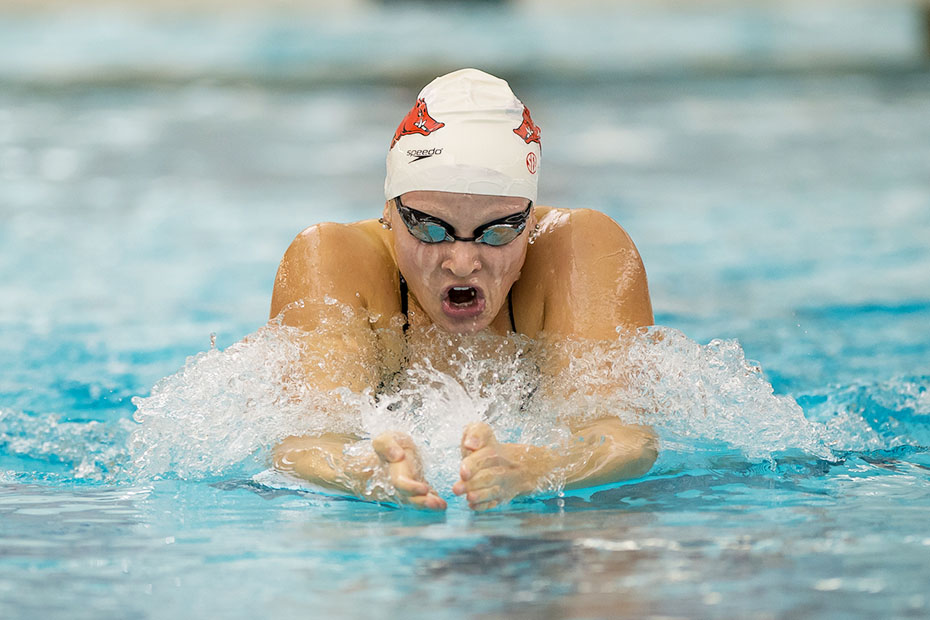 Razorbacks Send Ten to USA Winter Nationals
FEDERAL WAY, Wash.- Ten University of Arkansas swimmers travel to Federal Way, Washington, for USA Swimming's 2015 AT&T Winter National Championships, which will begin Thursday, Dec. 3, at the Weyerhaeuser King County Aquatic Center.
The No. 21 ranked University of Arkansas women's swimming and diving team will race for program records and NCAA qualifying times. Senior Maddie Monroe will lead the Razorbacks alongside juniors Aiden Lister, Mary Margaret Soderberg, Natalie Burnett, and sophomores Chloe Hannam, Chelsea Tatlow, and Jessie Garrison. Three freshman are set to compete this weekend including Sydney Angell, Caitlin Tootill, and Madison Strathman.
Preliminaries will begin at 9 a.m. PST, with finals at 6 p.m. PST. There will not be any relays at the meet. A live webcast of the entire three-day meet along with meet results will be available via usaswimming.org. NBC will also televise competition on tape delay from the AT&T Winter Nationals on Sunday, Dec. 6, from 12-1 p.m. A full order of events for the long-course meters competition is available at usaswimming.org.
Despite the different distance, swimmers at the meet will still attempt to claim as many automatic (A) or provisional (B) qualifying times as possible, though at this meet, those times will be converted. The standards are used to populate the field for the NCAA Championships in March. Some of the best swimmers in the world are scheduled to compete, including Olympic medalists Allison Schmitt, Natalie Coughlin, Dana Vollmer and Missy Franklin.
Psych Sheet | Winter Nationals Homepage
SCHEDULE OF EVENTS 
Thursday, Dec. 3
400-meter Freestyle
200-meter Individual Medley
50-meter Freestyle
Friday, Dec. 4
400-meter Individual Medley
100-meter Butterfly
200-meter Freestyle
100-meter Breaststroke
100-meter Backstroke
Saturday, Dec. 5
800-meter Freestyle (Women)
1,500-meter Freestyle (Men)
200-meter Backstroke
100-meter Freestyle
200-meter Breaststroke
200-meter Butterfly
UP NEXT
Dec. 29- Jan. 4- Puerto Rico Training Trip
Jan. 15- at Auburn
For more information on Arkansas swimming and diving, follow @RazorbackSD on Twitter.