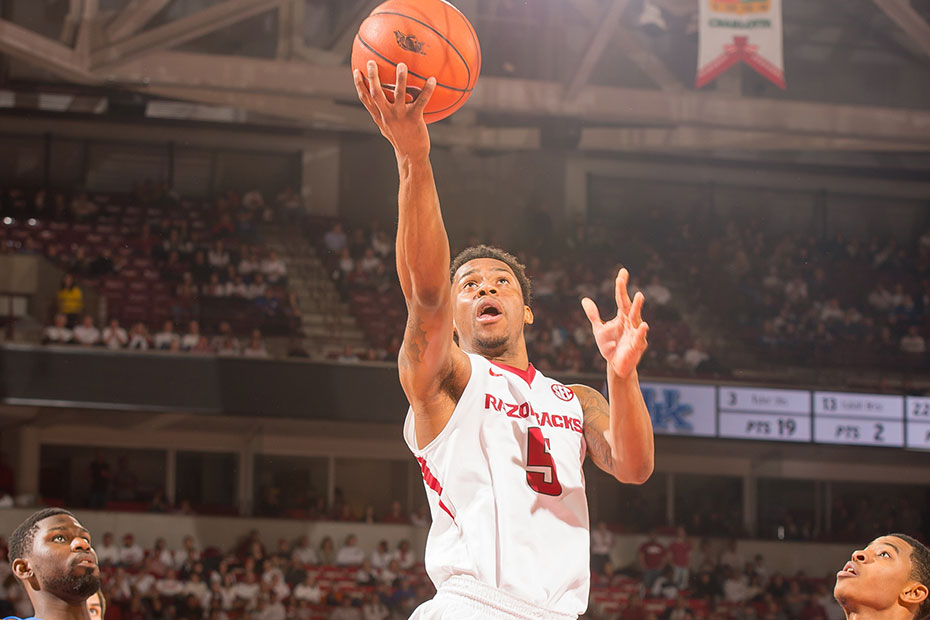 Razorbacks Set for Tuesday Showdown at Mississippi State
FAYETTEVILLE, Ark. – The Arkansas men's basketball team (12-11, 5-5 SEC) opens a two-game road swing Tuesday evening, traveling to Starkville to take on Mississippi State (9-13, 2-8) in Humphrey Coliseum at 8 p.m. CT on SEC Network.
Tip-off: Tuesday, Feb. 9 at 8 p.m. CT
Location: Humphrey Coliseum (Starkville, Miss.)
TV: SEC Network  |  WatchESPN
The Opponent
• Mississippi State is 9-13 on the season and 2-8 in SEC play. The Bulldogs lost earlier this season in Bud Walton Arena on Jan. 9 by a score of 82-68. The Razorbacks shot 16-for-24 from beyond the arc against MSU, their second-best mark in program history. The Bulldogs began their conference schedule on a five-game losing streak, but have since gone 2-3 in the last five contests. MSU's two SEC wins have come against Ole Miss and at Missouri.
• Senior forward Gavin Ware leads the team in both scoring (16.2) and rebounding (7.1) through 22 games. He shoots a team-best 62.5 percent from the field, while the next-highest Bulldog is redshirt senior guard Travis Daniels, with a 50 percent mark. Four other players average double figures for MSU, including freshman guard Malik Newman with 13.1 per contest. Newman scored a career-high 25 in the win over Ole Miss.
• Head coach Ben Howland is in his first season with the Bulldogs, and has a 410-219 (.652) career record in 19-plus seasons. He began his head-coaching career at Northern Arizona for five seasons, before moving on to Pitt, where he made back-to-back Sweet 16 appearances in 2001 and 2002. Howland then went to UCLA and accumulated 233 victories in 10 seasons in Los Angeles, including three-consecutive Final Fours from 2006-08.
#Fastest40 Facts
• Arkansas ranks No. 2 in the country in three-point field goal percentage at .426 and is on pace to break the school record of .395 set during the 1992-93 season.
• Anthlon Bell and Oklahoma's Buddy Hield are the only high major players in the country leading their leagues in three-point field goals made and three-point field goal percentage.
• The Razorbacks are one of two teams in the nation with three players averaging 16-plus points per game with Hannahs (17.0), Bell (16.5) and Kingsley (16.4). St. Bonaventure is the only other program.
• The Razorbacks have seen seven of their 11 losses come by four points or fewer, including three of those in overtime.
• Arkansas has lost its last three SEC road games by a combined nine points, including one overtime defeat.
• Arkansas and Michigan State are the only high major programs in the country with 60-plus made three-pointers by two different players as Bell (70) and Hannahs (61) continue to light up the #SplashZone.
• Jabril Durham is one of six players in the country with five-plus assists in 20 games this season. His streak of five-plus assists in 19 straight games was the longest such streak by an Arkansas player since joining the SEC in 1991-92.
• Dusty Hannahs has made 19 consecutive free throws over the last five games and leads the SEC with a .884 free throw percentage on the year. He ranks No. 11 in the country and No. 3 among high major players.
• Kingsley is the only player in the SEC to score in double figures in every game his team has played this season, reaching 10-plus points in all 23 contests.
• Moses Kingsley is one of eight high major players in the country with 11-plus double-doubles.
Series Notes
• Arkansas leads the all-time series 33-25. The Razorbacks have won five straight games against the Bulldogs, including consecutive victories in Starkville.
• Mike Anderson is 6-1 against the Bulldogs at Arkansas and 7-4 overall.
• Arkansas shot 16-for-24 (.667) from long range against Mississippi State earlier this year, marking the second highest three-point field goal percentage in a game in school history.
• The Razorbacks have four 30-point efforts against Mississippi State, including most recently a 35-point game for Courtney Fortson on Jan. 28, 2010.
Up Next
Arkansas continues its Mississippi road swing this weekend, traveling to Oxford to take on Ole Miss at the brand new Pavilion. Tip-off is set for 1 p.m. CT on ESPNU.
For more information on Arkansas men's basketball, follow @RazorbackMBB on Twitter.