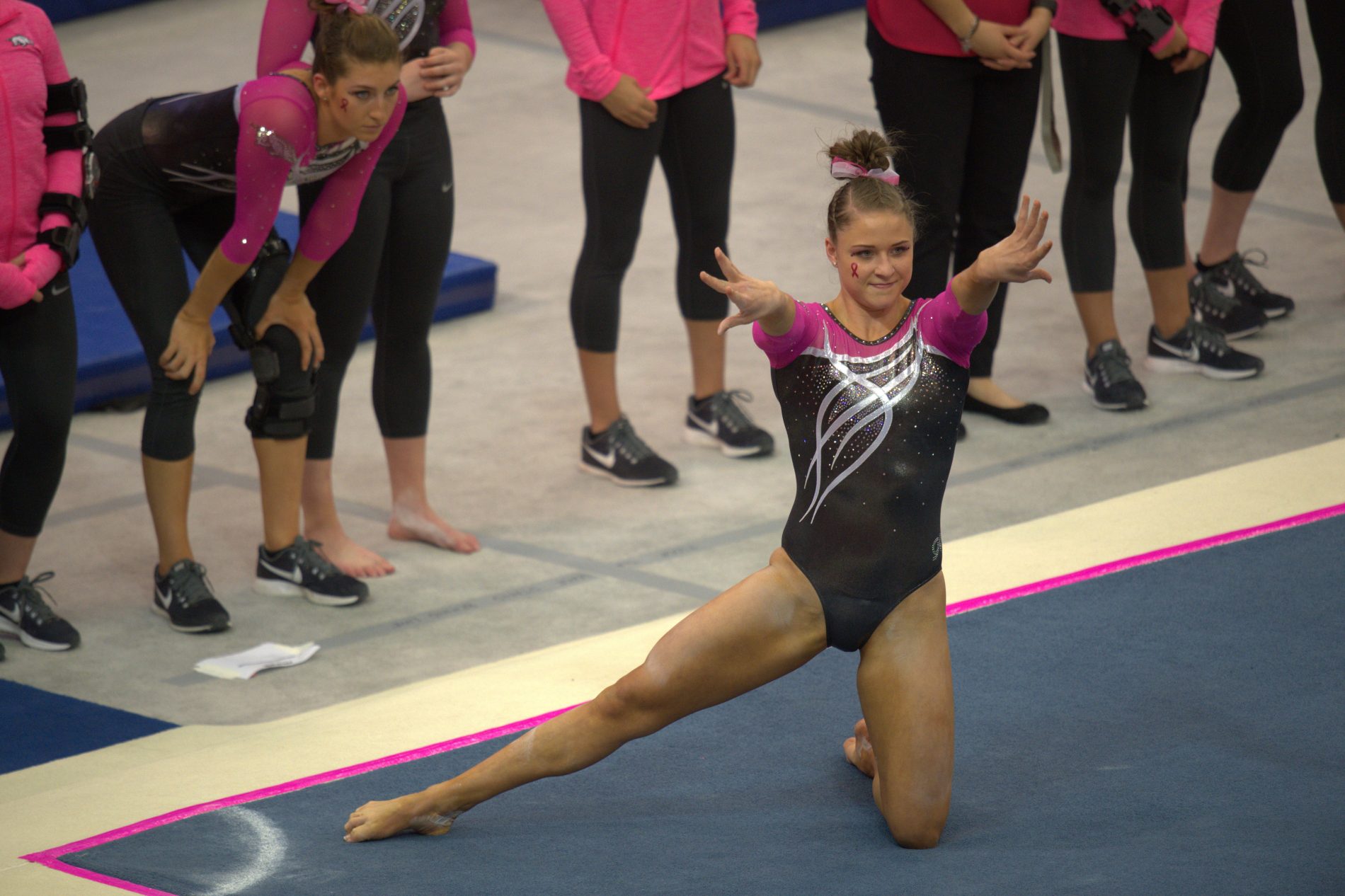 Razorbacks Set Record Mark Against Arizona
FAYETTEVILLE, Ark. – The 10th-ranked Arkansas gymnastics team topped Arizona 197.275-196.125 en route to a program record score Friday night inside Barnhill Arena.
"It was just a really fun night," said head coach Mark Cook. "This team has a lot of energy and a lot of personality and they were just rocking tonight. It was exciting to see these guys break some records, that doesn't happen often."
The Razorbacks have now scored multiple scores of 197 or higher twice in one season for just the second time in program history, joining the 2012 season. Arkansas posted a 197.175 against Georgia earlier this season.
First Rotation: Arizona Bars: 49.375, Arkansas Vault: 48.975
The Razorbacks got off to a slow start in the first rotation, but rebounded with three solid scores in the heart of the order. Freshman Sarah Shaffer along with seniors Amanda Wellick and Braie Speed all posted scores higher than a 9.825 in the third, fourth and fifth spots in the rotation. Speed led Arkansas with a 9.875 in the fifth spot, her first of two big scores on the night. Arkansas would trail by the slightest of margins headed to the uneven parallel bars.
Second Rotation: Arkansas Bars: 49.575, Arizona Vault: 48.850
The Razorbacks took a lead it never relinquished in its second rotation while posting its highest score on bars in team history, and second highest overall on any event, with a 49.575. The bottom of the Razorbacks' rotation all posted massive scores over 9.900 with Speed leading once again with a career high 9.950, tying the record on the event. Freshman Sydney Laird and sophomore Hailey Garner posted 9.925's while Wellick tallied a 9.900.
"You've got to get better every week," said Cook. "They're really going after the high scores and doing the best gymnastics they can do."
Third Rotation: Arkansas Beam: 49.400, Arizona Floor: 48.375
Freshman Sophia Carter tied a program record that she set earlier this season against Georgia with another 9.975 on Beam, becoming the only gymnasts in program history to post a 9.975 twice on the same event. Wellick and Laird were just behind Carter with a 9.900 and a 9.875, respectively, as the Razorbacks tallied the third highest beam score in team history.
"It was such an incredible feeling," said Carter. "I wasn't focused on the score, I just wanted to go out there and do my very best work and be me. I knew if I did that I could hit that score again."
Fourth Rotation: Arizona Beam: 49.525, Arkansas Floor: 49.325
The Razorbacks recorded three scores of 9.900 or higher in its final rotation, leading them to their highest score in program history. Shaffer led the Razorbacks once again on the event, posting her second-straight 9.925. Shaffer has posted a 9.900 or higher on the floor in five of the last six meets. Carter gave Arkansas the high score it needed in the anchor spot with a 9.900 to secure the Razorbacks' second 197 of the season.
In her second meet this season in the all-around, Wellick won the individual all-around title with a 39.425. Yamzon posted a 39.275 while Garner received a 39.075 to round out the Razorbacks in the event.
For more information on Razorback gymnastics, including in-meet updates, follow @RazorbackGym on Twitter.