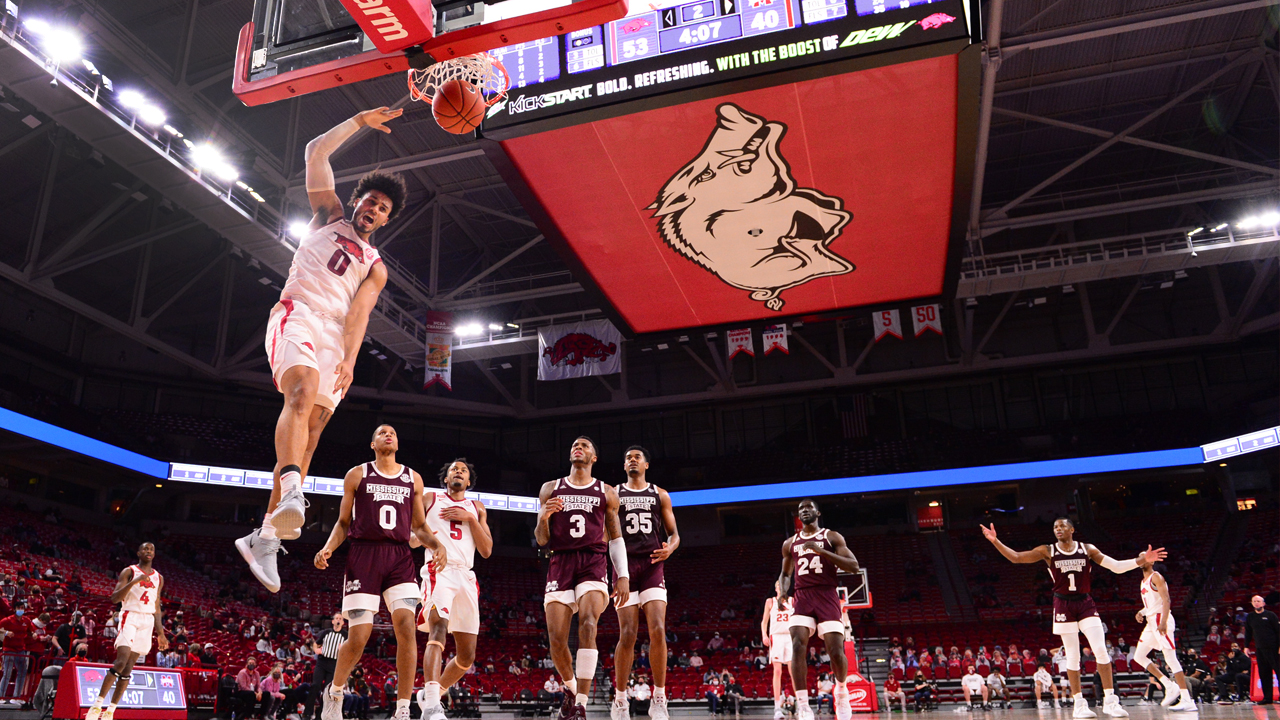 Razorbacks Win 4th Straight SEC Game
FAYETTEVILLE – Arkansas used a 21-2 run in the first half and a 10-2 run to start the second to claim its fourth-straight SEC victory with a 61-45 decision over Mississippi State Tuesday night at Bud Walton Arena.
Arkansas (14-5, 6-4 SEC) had four players with at least seven rebounds as the Razorbacks out-rebounded Mississippi State, 45-34. That total was significant in that the Bulldogs (10-9, 4-6 SEC) entered the game 15th in the NCAA in rebound margin (+8.7), 18th in offensive rebounds (13.3) and 33rd in overall rebounds (39.7). MSU only managed eight offensive rebounds as Arkansas had 30 defensive boards (Mississippi State missed 34 field goals). Also, MSU had two of the top 10 rebounders in the SEC in Tolu Smith, who was 11th in the NCAA in offensive rebounds, and Abdul Ado. The pair combined for just six rebounds and just two on the offensive end.
Justin Smith had his second double-double of the year with 10 points and 10 rebounds. Connor Vanover and Davonte Davis each had eight boards while Moses Moody grabbed seven. Vanover and Moody each scored 13 points and Davis contributed 10.
Arkansas was down 14-2 to start the game as the Razorbacks missed 16 of its first 17 shots of the game. With 7:48 left in the first half, the Hogs used a 21-2 run, making 9-of-14 shots over the span, to take a 28-20 lead with 26 seconds left before the break. Moody had nine points in the run while JD Notae contributed eight. The Bulldogs grabbed a loose ball under their basket and made a layup at the buzzer to provide the halftime score of 28-22.
Mississippi State opened the second half with a quick bucket, but Arkansas scored 12 of the next 14 points. However, MSU bounced back with a 10-0 run to cut its deficit to five (42.37). Undaunted, Arkansas went on an 11-3 run to lead by 15 (55-40) with 4:07 left and eventually pushed its lead to a game-high 19 (61-42) with 1:06 left.
Tolu Smith led Mississippi State with 10 points and five rebounds. Arkansas held Iverson Molinar and D.J. Stewart Jr,. to a combined 14 points in the game on 5-of-15 shooting. The pair ranked third and fourth in the league in scoring as each averaged 17.6 ppg.
Next up on the schedule is Texas A&M on Saturday (Feb. 6). Tipoff is set for 5:00 pm (CT) on SEC Network.
FIRST HALF: Arkansas 28 – Mississippi State 22
Both teams started slowly with the Bulldogs leading 3-2 at the first media timeout (1535) and the Bulldogs led 6-2 at the second media timeout (11:57).
After making two free throws on a Razorback technical foul, Mississippi State made back-to-back 3-pointers to lead 14-2.
Davis and Moses Moody each had four points during a 10-0 Razorback run to make it a one-point game (18-17) in MSU's favor.
Moody tied the game, 20-20, with a 3-pointer and JD Notae gave Arkansas its first lead, 22-20. The Razorbacks ultimately went on a 20-2 run, thanks to an 11-0 run, to lead 28-20.
Mississippi State got a loose ball at its basket for a layup at the buzzer to make the score 28-22.
Arkansas was just 1-of-17 to start the game but finished the half making 9 of its last 14 (64.3%) from the field.
Arkansas out-rebounded the Bulldogs 23-18. Both teams were turnover-prone, 14 for MSU and 10 for Arkansas.
Moses Moody led Arkansas with 11 points and four rebounds. JD Notae added nine points while Davis and Justin Smith each had five rebounds.
Arkansas held MSU to 27.3% shooting from the field and 28.6 % (2-of-7) from 3-point range.
SECOND HALF: Arkansas 33 – Mississippi State 23
Mississippi State scored first in the half, but Arkansas answered with a 10-0 run to lead 38-24 and force a MSU timeout.
The Bulldogs ended the run, but Arkansas quickly scored four straight for a 14-2 run to lead 42-16.
Arkansas committed 17 turnovers but only seven in the second half.
Smith scored all 10 of his points in the second half. Vanover scored 11 of his 13 in the period.
Arkansas forced 12 second-half turnovers.
GAME NOTES
Arkansas snapped a six-game losing streak to Mississippi State dating back to Feb. 9, 2016. Arkansas is 22-8 versus Mississippi State in games played in Fayetteville.
The all-time series remains close with Arkansas leading 34-31 and 29-27 since joining the SEC.
This is Arkansas' first four-game, SEC win streak since 2017-18 season (Feb. 6-17) with victories over South Carolina, Vanderbilt, Ole Miss and Texas A&M.
Arkansas' starting lineup was Jalen Tate (G) – Davonte Davis (G) – Moses Moody (G) – Justin Smith (F) – Connor Vanover (F) for the first time this season.
Mississippi State won the opening tip. Arkansas is 6-3 when the opponent controls the tip.
Davonte Davis scored the game's first points, an offensive rebound put-back at 18:14. Arkansas is 9-2 this season when scoring first, 19-7 in Musselman's tenure at Arkansas and Musselman's college teams are 85-23.
Desi Sills was the first sub for Arkansas.
Arkansas forced 26 turnovers. It was the second-most by an opponent in the Musselman era at Arkansas as the Razorbacks forced 27 last season versus Rice in the season opener. It was the most by an SEC opponent since Vanderbilt committed 26 on Jan. 5, 2016 (HogStats.com).
The 61 points by Arkansas ties for the lowest in the Musselman era and it is the lowest point total for the Hogs in a win under Musselman.
The 45 points by Mississippi State are the fourth fewest by an opponent in the Musselman era. (Lowest points under Muss totals including 43 vs Rice, 43 vs North Texas and 44 versus Southern.)
The 45 points by Mississippi State tied for the fourth-lowest all-time by an SEC opponent and the fewest since Mississippi State scored 41 on Feb. 7, 2015.
The 45 rebounds by Arkansas are the fifth-most by the Razorbacks under Musselman. Each of the top five rebounding efforts in the Musselman era has occurred this season.
The 15 offensive rebounds are the sixth-most by Arkansas in the Musselman era. 10 of the top 11 offensive rebound efforts of the Musselman era have occurred this season.
Justin Smith scored all 10 of his points in the second half. He is only 10 points shy of 1,000 for his career.
With 10 rebounds, Smith tallied his second double-double of the season and the sixth of his career.
Connor Vanover scored 11 of his 13 in the second half. He blocked three shots, giving him 13 over the past three games.
Arkansas has blocked at least five shots in six straight games.
Arkansas only missed one free throw, going 13-of-14 at the line. JD Notae was 5-of-6 and Moses Moody was 4-of-4.
Desi Sills only played 4:06, leaving the game in the first half with a stinger in his left shoulder. He was available to play in the second half, but Coach Musselman decided not to risk it with a comfortable lead.
Justin Smith, Connor Vanover and Moses Moody each played all 20 minutes of the second half. This was the second time in three games Vanover played the whole second half. (Also did so in the Ole Miss win.)
This was just the first time four Razorback players scored at least 10 points and had seven rebounds in an SEC game (Smith 10 & 10; Vanover 13 & 8; Davis 10 & 8 and Moody 13 & 7). It was just the second time it has ever happened with the other occurring in 1996 versus Troy. (HogStats.com)
Arkansas is now 8-4 when scoring between 60-69 points and Musselman-coached collegiate teams are just 16-15. This marked the fifth time Arkansas has held an opponent to fewer than 50 points under Musselman and the seventh time a Musselman-coached college team has done so. Overall, Arkansas is 12-0 under Musselman when holding opponents below 60 points and Musselman's college teams are 32-1 when doing so.
For more­­ information on Arkansas Men's Basketball, follow @RazorbackMBB on Twitter.