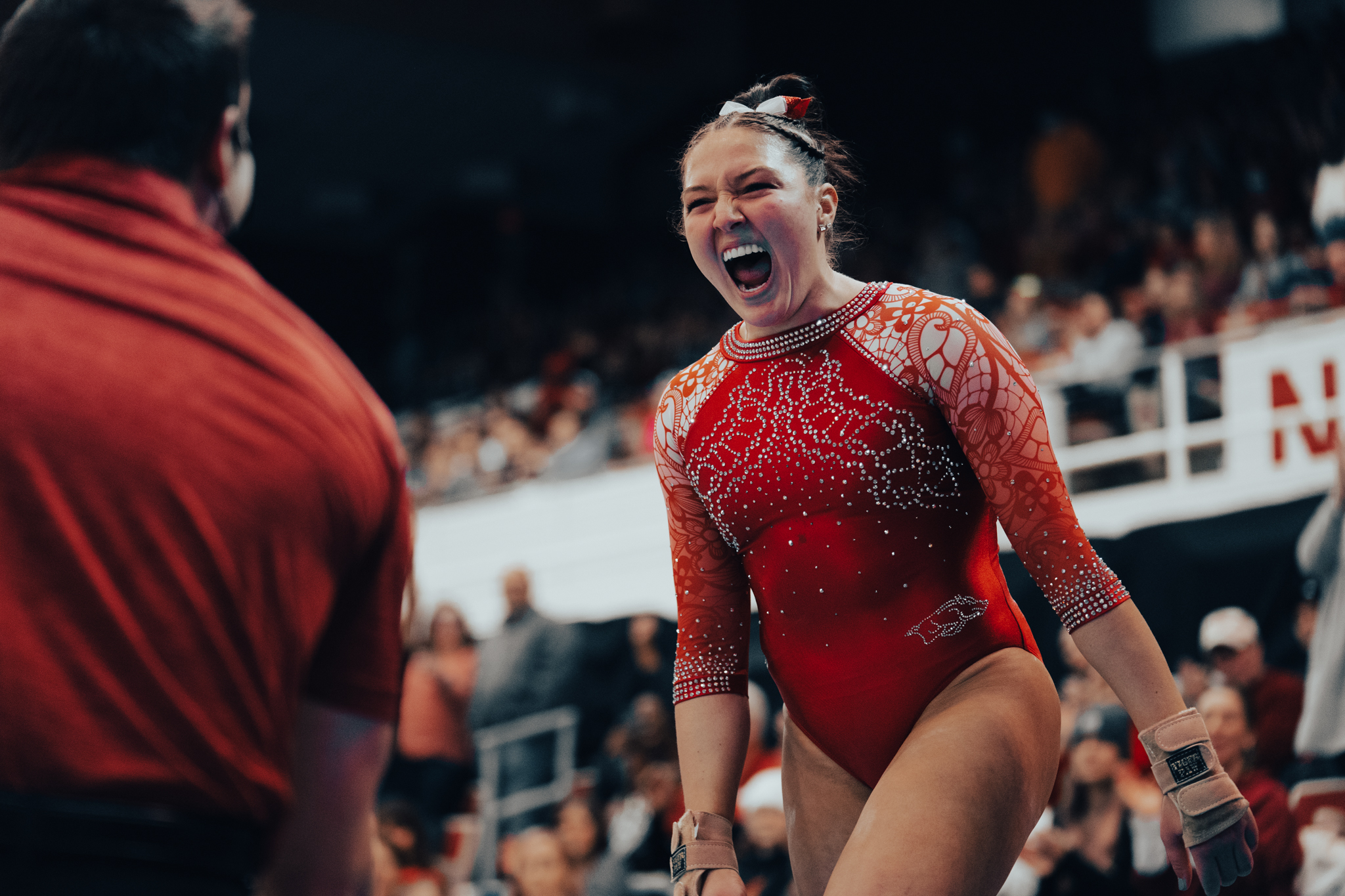 Razorbacks Win Denver Quad, Post Program-High Vault Score
In third place after three events, the No. 18 Arkansas gymnastics team stepped up to the vault runway for a monster final rotation and put a bow on Sunday's quad meet in Denver with a win to end to the regular season.
The Gymbacks posted a final mark of 49.500 on vault, a program high on the event. Seniors Savannah Pennese, Amanda Elswick, Kennedy Hambrick and Sarah Shaffer all scored 9.925s for a four-way tie for third place and new career highs for Pennese and Elswick. Arkansas also had another four-way tie for a top three finish on floor and Hambrick, senior Bailey Lovett and freshmen Maddie Jones and Leah Smith all scored 9.875 for a share of third place.
Arkansas' big win on Sunday pushed the team to an overall record of 6-9 on the season, and its final score of 196.975 was the third-highest on the season. The Gymbacks hadn't won a road meet since last year, and defeated Denver (196.800) for the first time since 2018, Nebraska (195.750) for the first time since 2016 and Oregon State (196.875) for the first time since 2013.
The Hogs now take on the postseason beginning with SEC Championships in Birmingham, Ala. on March 19.
Bars
The Gymbacks capitalized off the momentum last week on bars with another solid rotation on Sunday. Smith led off with a steady 9.850 routine to set the tempo for Arkansas. Jones delivered a 9.825 in the third spot with a stuck double layout dismount to bring up Hambrick, Shaffer and Maggie O'Hara. All three recorded 9.800s for a complete rotation of hit routines and a score of 49.075 on the event.
Beam
Freshman Kalyxta Gamiao led off for the Hogs on beam and delivered a lovely routine with a stuck dismount for a 9.850 to pace Arkansas. Junior Kiara Gianfagna showed her veteran consistency in the third spot with nailed acro series and a big stuck layout 1.5 dismount for a score of 9.825. Elswick closed it out with Arkansas' highest score of the day, a 9.875 routine that featured an effortless back handspring layout, stepout series and front aerial. The Hogs posted a 49.050 overall on beam.
Floor
Arkansas' floor routine got stronger as it went on, and four consecutive 9.875 scores led the Gymbacks to a 49.350 overall. Jones and Smith continued to show that the Hogs' youngsters have what it takes with clean passes and choreography through the middle of the lineup, and Hambrick and Lovett finished things out in the five and six spots.
Vault
For the second Sunday in a row, Arkansas saved its best for last, this time on vault. A last-minute change in the lineup proved to be no issue for the Gymbacks as they stepped up to the challenge in a huge way. Pennese got the momentum rolling with a stuck Yurchenko full in the second spot and blew her previous career high away with a 9.925. Shaffer then delivered a stuck Yurchenko half for a matching score, which she last posted in 2020. Elswick set a new personal best with her stuck full for a 9.925, and Hambrick's Yurchenko 1.5 also earned a 9.925 and closed the rotation. Arkansas' 49.500 is a program best, and easily topped the team's previous season high of 49.300.
Up Next
The Gymbacks begin postseason with the SEC Championship on March 19 in Birmingham, Ala. Teams will be split into two sessions according to seeds, to be announced. Tickets for the event are available via Ticketmaster.
More Information
Visit ArkansasRazorbacks.com for the latest information on all things Arkansas Gymnastics. You can also find the Razorbacks on social media by liking us on Facebook (Arkansas Razorback Gymnastics) and following us on Twitter and Instagram (@RazorbackGym).