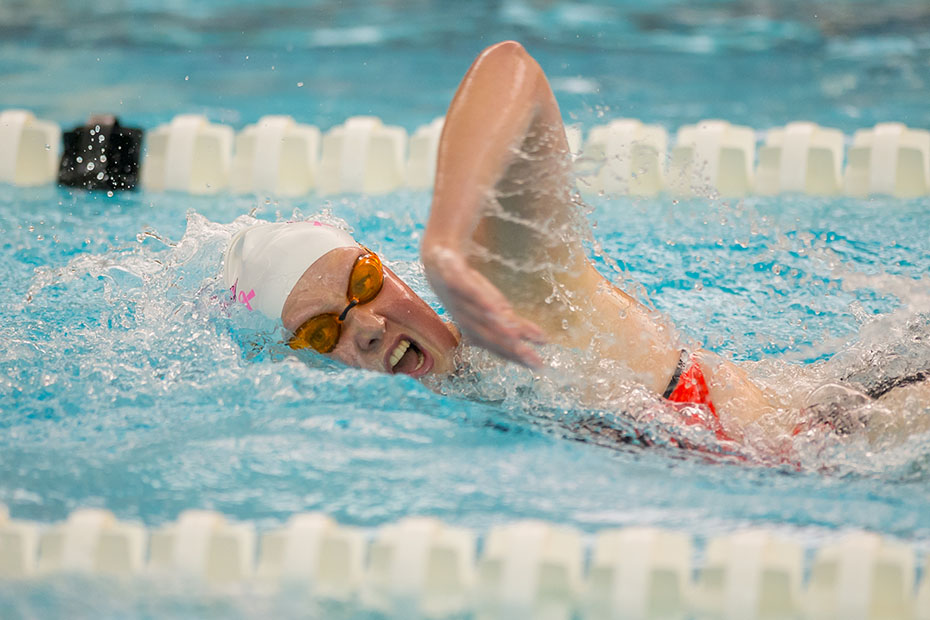 Razorbacks Win SEC Opener Against Kentucky
FAYETTEVILLE, Ark- Arkansas swimming and diving team wins the Hogs Cure a Meet against Kentucky 162-138 at the Arkansas Natatorium. The Razorbacks took first and third place in both relays and had five first place finishes, nine second place finishes and nine third place finishes.
In support of finding a cure for cancer, Razorback swimming and diving hosted Hogs for a Cure in efforts of raising awareness for breast cancer.
The Razorbacks started the day out strong by winning the 200 Medley Relay with a time of 1:43.08 scoring 11 points for Arkansas. Senior Anna Mayfield lead off the relay with a split time of (25.76), Sydney Angell (29.58), Natalie Burnett (24.61) and Nina Drolc (23.13). The Razorback "B" relay took third place in the event with a time of 1:45.35, scoring two points for Arkansas. Chelsea Tatlow lead off the relay with a split time of (27.56), Madison Strathman (29.56), Olivia Weekley (25.23) and Maddie Monroe (23.03).
Junior Aiden Lister had a strong day by taking first place in the 1000 freestyle (10:10.38) and taking third place in the 500 freestyle (4:58.41). Senior Maddie Monroe won first place in the 200 freestyle (1:51.23) and finished second place in the 100 freestyle (51.34).
After winning the first event of the day, senior Mayfield scored four points for the Razorbacks by taking second in the 100 backstroke (54.59). Mayfield finished off her meet in her individual events taking first place in the 500 freestyle, beating her second place opponent by six seconds.
Junior Natalie Burnett had a terrific day in the water. She took home first place in the 50 freestyle (23.73)
and second place in the 100 fly (55.17). Chelsea Tatlow had awesome swims against Kentucky. She placed second in the 200 I.M. (2:04.90) and third place in the 200 fly (2:04.61).  Senior Nina Drolc took second place in the 50 freestyle behind teammate, Burnett, with a time of 23.76. Drolc placed third in the 100 freestyle with a time of 51.44.
Going into the last event, Arkansas had 149 points and Kentucky with 133. The Razorbacks came out to race and took first place and third place, scoring 13 points to win the meet against Kentucky. The Razorback "A' relay was lead off by Drolc, with teammates Monroe, Burnett, and Mayfield, with a time of 3:24.15. Arkansas' "B" relay scored 2 points for the Razorbacks leading off by Caitlin Tootill, with teammates Annah Carney, Kiera Michailoff-Russell and Lister with a time of 3:30.95.
"I'm so proud of our program and where we are at. We have worked really had these past two months and it has shown today." Lister said. "It makes me excited for the upcoming meets and what we can do there"
Diving:
Sophomore Nicole Gillis killed the 3-meter diving with a score of 297.08. Arkansas took first, third, and fourth place in the 3-meter diving. In the 1-meter diving competition, Gillis placed second (278.75) and senior Shelby Bartlett placed third (263.78). Senior Hannah Bortnick placed third in the 3-meter diving (252.98) and fifth in the 1-meter diving competition (251.33).
"With no rest, our divers had great progression and lots of building blocks against Kentucky." Diving coach Jeff Dincola said.
Razorback Individual/Relay contributed scores:
Anna Mayfield: 18.5 points
Natalie Burnett: 18.5 points
Maddie Monroe: 16.25 points
Nicole Gillis- 13 points
Aiden Lister: 12.5 points
Nina Drolc: 12.5 points
Chloe Hannam: 10 points
Sydney Angell: 8.75 points
Madison Strathman: 6.5 points
Jessie Garrison: 6 points
Shelby Bartlett- 5 points
Annah Carney: 4.5 points
Chelsea Tatlow: 4.5 points
Hannah Bortnick- 4 points
Madison Umberger: 4 points
Caitlin Tootill: 3.5 points
Olivia Weekley: 3.5 points
Maddie Edwards: 3 points
Mary Margaret Soderberg: 1 points
Kiera Michailoff-Russell: 1.5 points
Rachel Stoehr: 1 point
Sarah Easterling: 1 point
UP NEXT:
The Razorbacks head to Houston, Tex. Oct. 23-24th for the Rice Invite to compete against Rice, Incarnate Word, and Houston.
For more information on Arkansas swimming and diving, follow @RazorbackSD on Twitter.