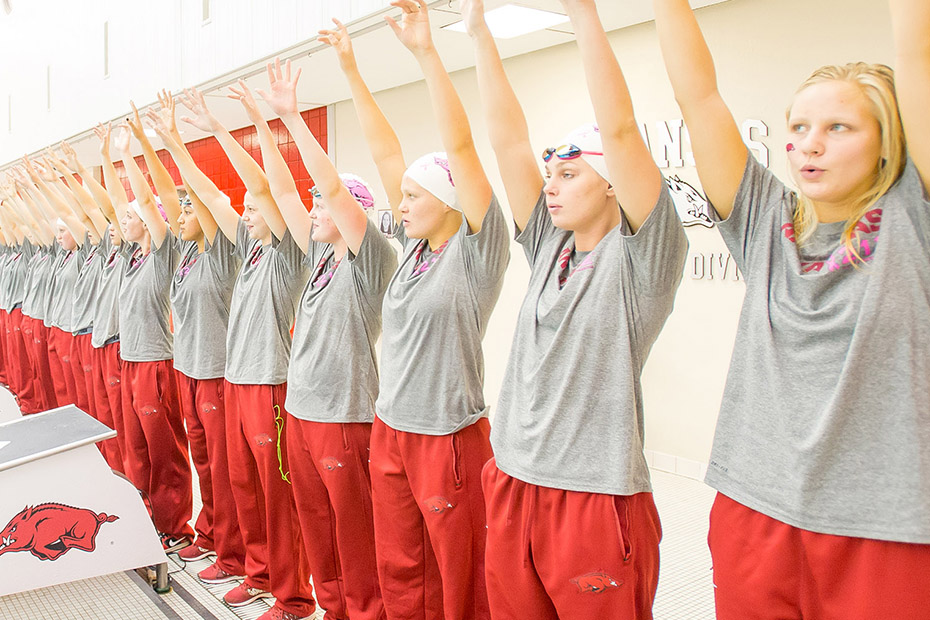 @RazorbackSD Adds 17 to SEC Winter Honor Roll
FAYETTEVILLE, Ark. – Arkansas swimming and diving placed an Arkansas-leading 17 student-athletes to the Southeastern Conference Winter Academic Honor Roll, as announced by the conference Thursday.
Swimming and diving's 17 members led all eligible winter sports at Arkansas and had one of the largest lists in women's swimming and diving within the league.
In February, women's swimming and diving was recognized for its achievements in the classroom when the Razorbacks were named a 2014 College Swimming Coaches Association of America (CSCAA) Scholar All-American Team after posting a 3.50 team GPA in the fall semester.
Arkansas swimming and diving also excels in the pool. At the 2015 SEC Championships, the Razorbacks clocked 35 'B' cut times, set six program records and 26 personal records over the course of five days. On the year, more than 50 personal records were broken and more than 80 'B' cut times were attained.
The Razorbacks were represented by seven swimmers at the 2015 NCAA Championships: seniors Nikki Daniels and Susanna White, juniors Anna Mayfield, Maddie Monroe, Rachel Stoehr and Nina Drolc and freshman Chelsea Tatlow. Tatlow was the first freshman in seven years to qualify for the NCAAs in an individual event while Daniels earned her second-career All-American honor with an honorable mention title in the 100 breaststroke.
The 2014‐15 Winter SEC Academic Honor Roll is based on grades from the 2014 Spring, Summer and Fall terms. A student‐athlete must have a grade point average of 3.00 or above for either the preceding academic year (two semesters or three quarters) or have a cumulative grade point average of 3.00 or above at the nominating institution. In addition, prior to being nominated, a student‐athlete must have successfully completed 24 semester or 36 quarter hours of non‐remedial academic credit toward a baccalaureate degree at the nominating institution.
Swimming and Diving Academic Honor Roll:
Julia Banach – Art
Hannah Bortnick – Journalism
Elizabeth Braun – Childhood Education
Meghan Clark – Kinesiology – Applied Exercise Science
Nicole 'Nikki' Daniels – Marketing
Nina Drolc – Industrial Engineering
Sarah Easterling – Recreation and Sport Management
Katelin Kearbey – Civil Engineering
Rachel Kessler – Communication
Jordan Kimmey – Kinesiology – Exercise Science Pre‐Professional
Aiden Lister -Criminal Justice and Sociology
Anna Mayfield – Accounting
Erika McGovern – Chemical Engineering
Madeline Monroe – Mechanical Engineering
Mary Margaret Soderberg – Child Development
Rachel Stoehr – Supply Chain Management
Susanna White – Kinesiology – Applied Exercise Science
For more information on Arkansas swimming and diving, follow @RazorbackSD.