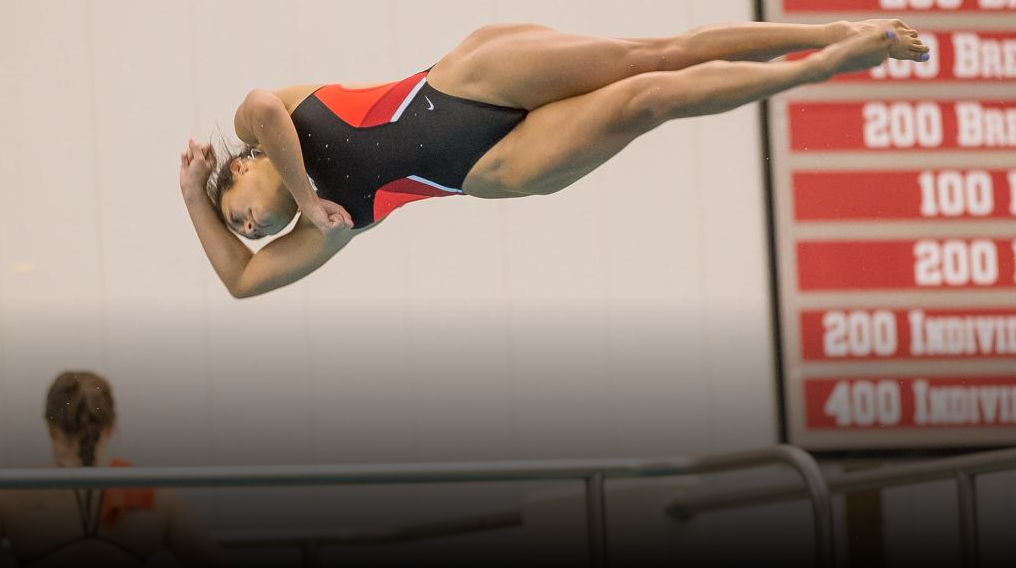 @RazorbackSD Completes Day Two of Zone Diving
IOWA CITY, Iowa – Arkansas diving closed the second day of competition at the 2015 Zone Diving Championships on the one-meter boards Tuesday afternoon.
For the second day in a row, freshman diver Nicole Gillis led the Razorback charge, narrowly missing the finals with 19th-place and a score of 260.95
Senior Meghan Clark was next up for Arkansas, placing 29th with a score of 244.35, followed directly by junior Hannah Bortnick in 30thplace (242.25). Junior Shelby Bartlett rounded out the Razorbacks with a score of 229.30, good for 41st.
Gillis and Bartlett will return to the pool Wednesday for the final day of competition on the platform.
The zone diving meets then serve to qualify divers for the NCAA Swimming and Diving Championships. Arkansas will be competing in Zone D. Zone D is allocated eight qualifiers for the one-meter springboards, ten qualifiers in the three-meter boards and nine qualifiers in the platform. Unlike previous years, qualifying divers will only participate in the dives they qualified in.
Live diving results can be found here.
The Razorback swimming team will next take to the pool in the NCAA Championships in Greensboro, N.C., on March 19-21.
One-Meter Diving (Prelims)
Nicole Gillis – 19th (260.95)
Meghan Clark – 29th – (244.35)
Hannah Bortnick – 30th (242.25)
Shelby Bartlett – 41st – (229.30)
For more information on Arkansas swimming and diving, follow @RazorbackSD.