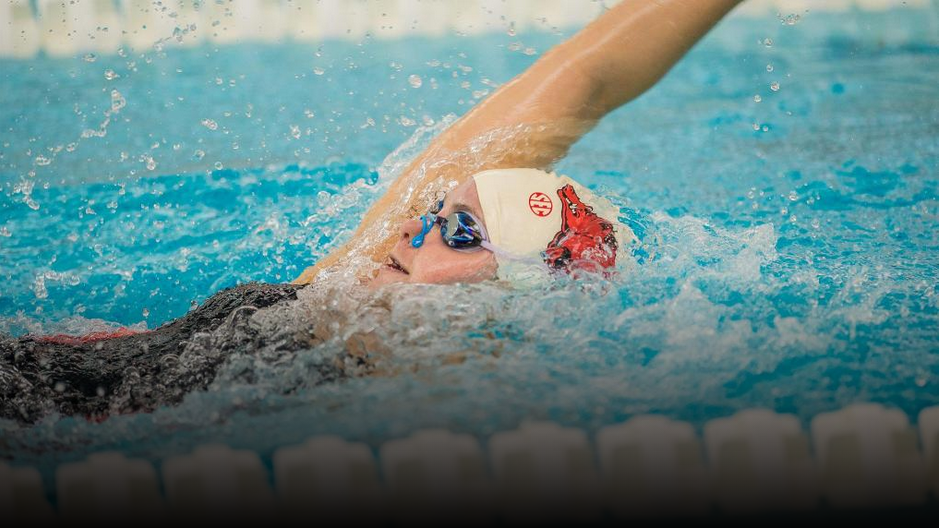 @RazorbackSD Downs Jayhawks, 194-105
LAWRENCE, Kan. – Arkansas women's swimming and diving defeated the Kansas Jayhawks, 194-105, Saturday morning in the Robinson Natatorium. The Razorbacks (4-3) out-touched the Jayhawks (8-3) for first place in 15 of 16 events.
"We were just trying to come in here and help each other shine," said head coach Sean Schimmel. "The excitement on our bench is really what stood out to me. We want to be the best team on the deck in regards to that and our performances just back that up."
Junior Anna Mayfield saw history repeat itself as she downed her own Robinson Natatorium pool record in the 500 freestyle with a time of 4:51.78. Mayfield set the record as a freshman when the Razorbacks traveled to Lawrence in 2013 and the San Antonio, Texas native posted a time of 4:52.57.
Arkansas opened the competition with a photo-finish win in the 200 medley. After a neck-and-neck battle until the final stroke, junior Nina Drolc took it home for the Razorbacks in the final leg of the medley to out-touch the Jayhawks with a time of 1:43.56.
The Razorbacks edged-out the Jayhawks in the following four events before Kansas was able to log an event win in the 200 butterfly. Picking up Arkansas' first four individual wins was sophomore Aiden Lister (1,000 free, 10:13.31), freshman Chelsea Tatlow (200 free, 1:51.90), junior Anna Mayfield (100 back, 55.46) and senior Nikki Daniels (100 breast, 1:03.08).
Arkansas bounced back from Chelsie Miller of Kansas' win in the 200 butterfly with a win from senior Susanna White in the 50 freestyle with a time of 23.81. The Razorbacks built off their new surge, picking-up wins from junior Maddie Monroe (100 free, 51.03) and freshman Chelsea Tatlow (200 backstroke, 2:00.53).
The Razorbacks' dominance continued with a win for junior diver Hannah Bortnick in the three-meter boards (283.88) and a victory from Daniels in the 200 breaststroke (2:17.72).
Mayfield then took to the pool for her record-setting performance in the 500 freestyle, blowing the competition away and besting her previous record in Robinson natatorium with a time of 4:51.78.
On the one-meter boards, junior Shelby Bartlett clinched the event win with a score of 269.18. Freshman Olivia Weekley then clinched a nail-biting win in the 100 butterfly with a time of 56.93 and Tatlow edged KU's Miller in the 200 IM (2:04.08) to extend the Razorbacks' lead.
The Arkansas 200 freestyle 'A' relay squad capped the Razorbacks' win streak, touching the wall first with a time of 1:35.16.
Along with the Razorbacks' 15 top-finishes, they also picked up seven second-place finishes from Drolc (200 free, 51.90; 50 free, 24.12), freshman Caitlin Sheridan (200 butterfly, 2:04.46), Bartlett (3-meter, 279.68), Bortnick (1-meter, 267.630), White (100 free, 52.47) and freshman Chloe Hannam (200 back, 2:02.87).
"I think for a lot of people, we're in a good spot and accomplished some things today heading into SEC Championships. It's a good platform for us to move forward on," said Schimmel.
UP NEXT
Arkansas will send a handful of swimmers to the Virginia Tech Invitational on Feb. 7-8 to prep for the SEC Championships in Auburn, Alabama on Feb. 17-21.
For more information on Arkansas swimming and diving, follow @RazorbackSD.