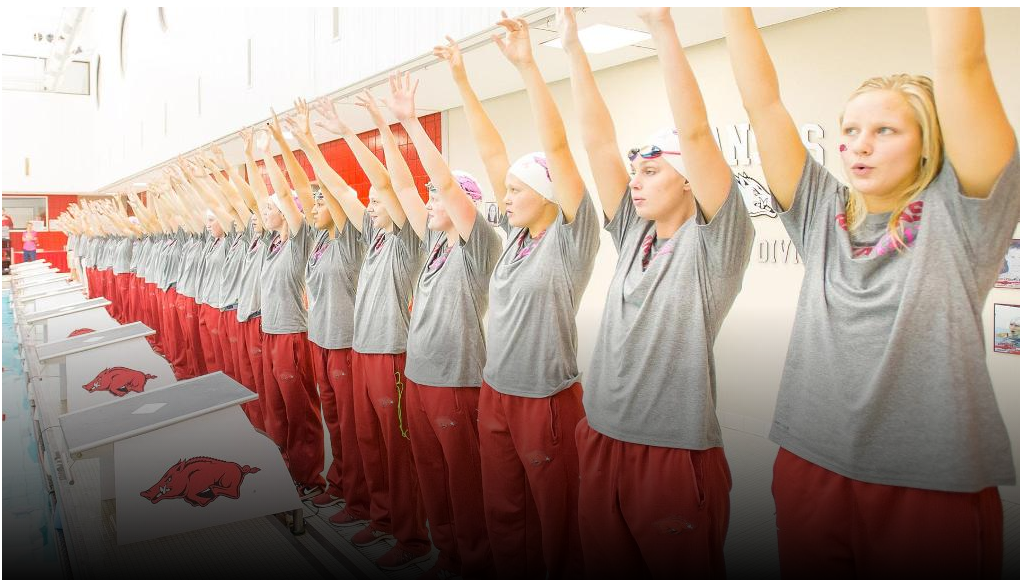 @RazorbackSD Earns CSCAA Scholar All-America Honors
FAYETTEVILLE, Ark. – Arkansas women's swimming and diving was recognized for its achievements in the classroom when the Razorbacks were named a 2014 College Swimming Coaches Association of America (CSCAA) Scholar All-American Team after posting a 3.50 team GPA in the fall semester, as announced by the CSCAA.
"One of our core values is having excellence in our academics," said head coach Sean Schimmel. "We're always getting them ready for life after college. We came in this fall with a goal to be the smartest team on campus and they did a really nice job of getting a 3.50 and having eight girls with 4.0 GPAs."
Arkansas' 3.50 GPA ranks No. 19 in NCAA DI women's teams. The Razorbacks are one of three Southeastern Conference women's squads to rank within the top-25.
Junior captain Rachel Stoehr was one of eight Razorbacks to post a 4.0 GPA in the fall. Stoehr is enrolled in the Walton School of Business where she is pursuing a degree in supply chain management and a marketing minor.
"Academics are really important to me," said Stoehr. "To have a great career, this is a part of what you need to do. Swimming just contributes to that because of the discipline we learn that has always carried over to my academics. Especially here, it's very important to the coaches and we as a team set high academic standards with GPA goals at the beginning of the year."
Freshman Chloe Hannam from Lincolnshire, England was one of the rookie academic standouts from the fall semester. Hannam achieved a 4.0 GPA her first semester at Arkansas and is pursuing a degree in kinesiology.
"I want to do well at swimming and in the classroom," said Hannam. "Earning a 4.0 GPA means a lot to me. It took a lot to adapt to the education system here, but the coaches were always there to help and support me through my first semester."
The Fall Team Scholar All American award is presented to college and university swimming and diving teams, who have achieved a grade point average of 3.0 or higher in the fall semester/quarter.
Founded in 1922, the College Swimming Coaches Association of America is the oldest professional organization of college coaches in America. The CSCAA is dedicated to serving and providing leadership for the advancement of the sport of swimming and diving at the collegiate level.
After spending five days competing in the 2015 SEC Swimming and Diving Championships, Arkansas diving prepares for the NCAA Zone Diving Championships in Iowa City, Iowa March 9-12. The Razorback swimming team will next take to the pool in the NCAA Championships in Greensboro, N.C., on March 19-21.
For more information on Arkansas swimming and diving, follow @RazorbackSD.