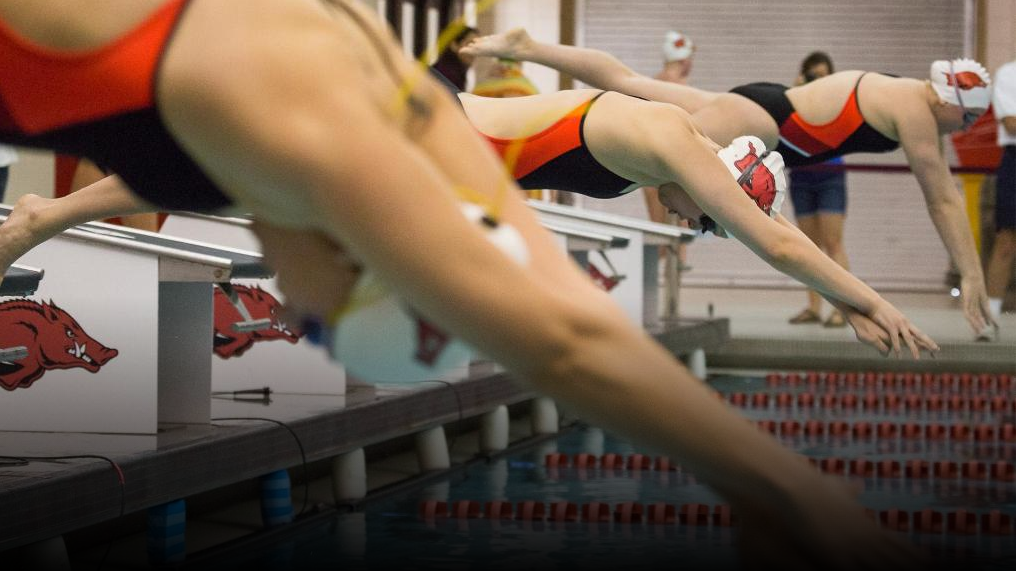 @RazorbackSD Set For 2015 NCAA Championships
FAYETTEVILLE, Ark. – Seven swimmers are set to represent Arkansas swimming and diving at the 2015 NCAA Swimming and Diving Championships at NC State in Greensboro, N.C., March 19-21. Seven Razorbacks ties the program-high attendance set in 2013, which was matched in 2014.
Razorback fans can follow all the action live action on ESPN3 and GoPack.com. ESPN3 will carry the finals on Friday and Saturday, with Sam Gore on play-by-play and Rowdy Gaines and Cynthia Potter providing commentary. GoPack.com will stream all other sessions. Fans can find all the championship information at here and live results here.
Arkansas Schedule of Appearances:
Thursday, March 19 (Prelims/Finals)
200 Free Relay
500 Free (Mayfield)
200 IM (Tatlow)
400 Medley Relay (Finals only)
Friday, March 20 (Prelims/Finals)
400 IM (Tatlow)
200 Free (Monroe, Mayfield)
100 Breast (Daniels)
800 Free Relay (Finals only)
Saturday, March 21 (Prelims/Finals)
200 Backstroke (Mayfield)
100 Free (Monroe)
200 Breast (Daniels)
400 Free Relay
Arkansas swimmers are set to participate in 10 individual events and four relays, tying for the most events in program history.
Seniors Nikki Daniels and Susanna White, juniors Anna Mayfield, Maddie Monroe, Nina Drolc and Rachel Stoehr, and freshman Chelsea Tatlow will all represent Arkansas on the main stage.
The 800 free relay team of Mayfield, Monroe, Stoehr and Tatlow will look to best the program record they set at the 2015 SEC Championships. The time of 7:05.96 was an NCAA 'A' cut time, the third 'A' cut relay time in school history.
Tatlow represents the first Arkansas freshman swimmer since the 2008 NCAA Championships to qualify in an individual event. In addition to Arkansas' relays, the Columbia, Missouri native will look to compete in the 200 and 400 IM and 200 backstroke.
Daniels will make her third appearance at the NCAAs, swimming both the 100 and 200 breaststroke. At the 2013 NCAAs, Daniels placed fourth in the 100 breaststroke, earning an All-American title. Daniels enters the competition as the No. 12 seed in the 100 breaststroke and will look to also compete in Arkansas' 400 medley relay.
The championship marks Mayfield's third trip to the NCAAs and second time swimming in individual events. This year, Mayfield will swim in the 500 and 200 freestyle and 200 backstroke. Mayfield enters the competition as the No. 17 seed in the 200 backstroke and No. 15 seed in the 500 freestyle. Mayfield will also contribute to the Razorbacks' relays.
Monroe is making her first appearance at the NCAAs, swimming individually in the 100 and 200 freestyle. Supplementary to her solo swims, Monroe will also aid Arkansas' relays.
In addition to the 800 free relay, Arkansas will also compete in the 200 and 400 free relay and the 400 medley relay. On hand to contribute to the Razorbacks' relays is Stoehr, White and Drolc.
For more information on Arkansas swimming and diving, follow @RazorbackSD.