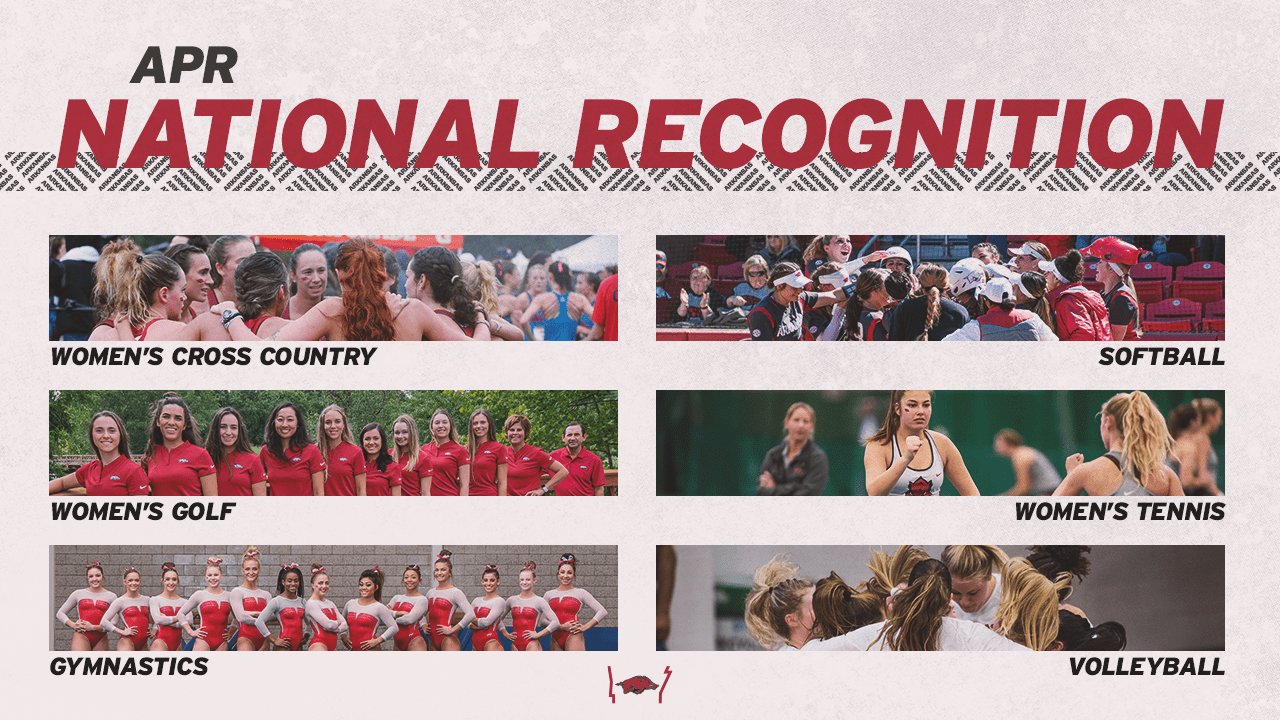 School Record Six Programs Earn APR National Recognition
FAYETTEVILLE, Ark. – A school record six University of Arkansas intercollegiate athletic programs earned public recognition awards for their exemplary academic performance by the NCAA on Wednesday. The Razorbacks' women's cross country, women's golf, gymnastics, softball, women's tennis and volleyball teams were honored for their standing among the top 10 percent of academic performing teams in the country in their respective sports in the multi-year Academic Progress Rate (APR) for the 2017-18 academic year.
The programs earned a perfect 1,000 multiyear APR rate based on scores from the 2014-15, 2015-16, 2016-17 and 2017-18 academic years. The six awards are the most in school history, topping the five programs that were recognized in 2011-12. The University of Arkansas has earned a total of 29 awards since the start of the APR Public Recognition program.
"For the first time in school history, six different Razorback programs have been identified among the nation's best academically within their respective sports," Vice Chancellor and Director of Athletics Hunter Yurachek said. "To be recognized among the top 10 percent of programs in the nation is a tremendous accomplishment and a credit to our student-athletes, coaches and staff. Congratulations to all those who have contributed to this remarkable accomplishment. We look forward to even greater success to come as Razorback Athletics continues to focus on student-athlete success on the way to achieving our mission of building champions and Razorbacks for life."
For the 10th time, including the sixth-consecutive year, the University of Arkansas women's golf program earned a public recognition award for its exemplary academic performance. The 10 recognitions for women's golf are a program record. In addition to this year's selection, the Razorback women's golf program was previously recognized for the 2004-05, 2005-06, 2006-07, 2007-08, 2012-13, 2013-14, 2014-15, 2015-16 and 2016-17 seasons.
The Arkansas Gymnastics program was honored with an NCAA Public Recognition Award for the fifth time. Prior to the most recent award, gymnastics was recognized in 2009-10, 2010-11, 2011-12 and 2016-17. Arkansas made its 16th-consecutive NCAA Regional appearance this season in Coach Mark Cook's final season as head coach.
Volleyball returned to the listing of programs honored by the NCAA for APR excellence. The recognition was the fourth for volleyball, including the first such recognition since 2013-14.
For the second straight year, women's tennis earned distinction from the NCAA as part of the NCAA Public Recognition Awards. The program earned its first award in 2016-17 before repeating the honor this year.
Two Razorback programs earned their first honors as part of the program in 2017-18. Women's cross country and softball became the eighth and ninth sport programs at the University of Arkansas to earn a public recognition award.
Each year, the NCAA honors selected Division I sports teams by publicly recognizing their latest multiyear NCAA Division I APR.  This announcement is part of the overall Division I academic reform effort and is intended to highlight teams that demonstrate a commitment to academic progress and retention of student-athletes by achieving the top APRs within their respective sports. Specifically, these teams posted multiyear APRs in the top 10 percent of all squads in each sport. 
The University of Arkansas has earned a public recognition award in 13 of the 14 years since the program was initiated. In addition to women's cross country, women's golf, gymnastics, softball, volleyball and women's tennis three other programs have previously been recognized.
Men's golf was recognized in 2011-12, 2012-13 and 2013-14. Men's tennis was honored in 2010-11 and 2011-12. Swimming and diving was recognized in 2011-12.
The APR measures eligibility, graduation and retention each semester or academic term and provides a clear picture of the academic performance for each team in every sport. The NCAA is announcing multiyear APR scores for all Division I teams, including those earning public recognition awards, on May 8.