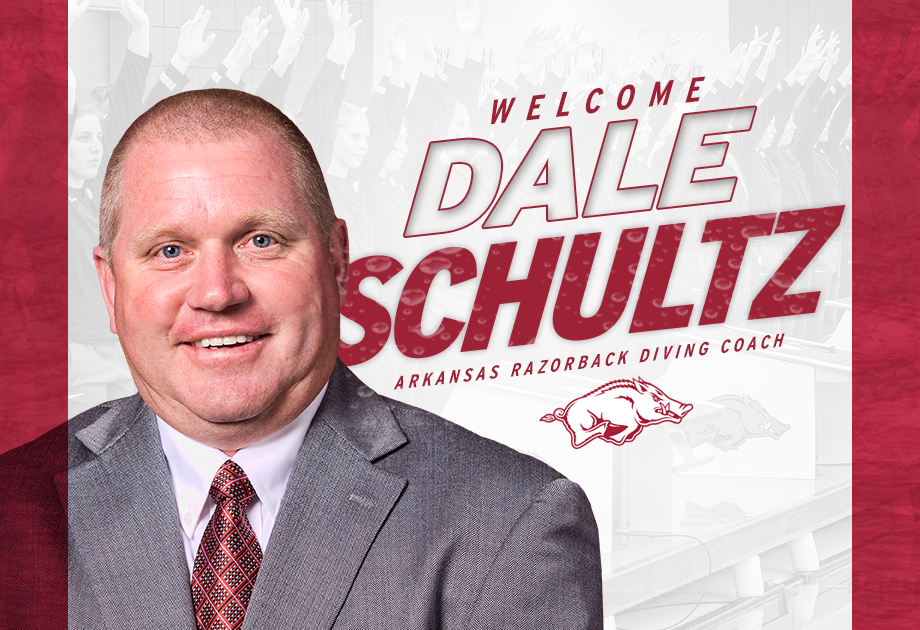 Schultz Returns As Head Diving Coach
FAYETTEVILLE, Ark. – Arkansas head swimming and diving coach Neil Harper announced on Monday the hiring of Dale Schultz as the program's head diving coach.
This will be Schultz's third stint with the Razorbacks (1989-2000, 2008-13). He most recently served as the head diving coach at the University of Florida during the past two seasons. Schultz returns to Fayetteville after being named Southeastern Conference Women's Diving Coach of the Year for the 2015-16 season.
"I am extremely excited to announce Dale Schultz's return to the University of Arkansas," Harper said. "Having been around SEC and NCAA Swimming and Diving for the past 30 years, Dale's name is synonymous with the University of Arkansas and his teams have enjoyed extremely high levels of success. The current team is very fortunate to now have a coach of Dale's national and international expertise and experience. He wasn't the 2016 SEC Diving Coach of the Year at Florida by accident. We are excited about the opportunity our divers will have to reach their fullest potential under Coach Schultz's leadership. With his addition to our coaching staff, we immediately have the ability to recruit the best divers in the world to the University of Arkansas."
A native of Akron, New York, Schultz boasts more than 30 years of collegiate coaching experience including stints at Arkansas, Florida and Purdue.
"I am extremely excited to be returning to the University of Arkansas to be a part of Coach Harper's program," Schultz said. "All of the collegiate programs that Neil has guided have a history that is rich in diving tradition. Fayetteville is home for my family and me. We are looking forward to being back with family and friends and exciting things in the next few years with our swimming and diving program."
In addition to being named SEC Women's Diving Coach of the Year during the 2015-16 season, Schultz coached Florida female diver Kahlia Warner to SEC titles in the one-meter and three-meter springboards, which had not been accomplished by a Gator in 30 years. Warner also was named SEC Diver of the Year for her efforts and went on to earn two All-America honors after placing third (three-meter) and sixth (one-meter) off the springboards at the NCAA Championships. Schultz also helped Warner to All-America honors during the 2014-15 season (one-meter) as well as male diver Zach Hernandez to honorable mention All-America honors (platform).
Prior to Schultz's arrival at Florida in 2014, he spent one year as the associate head coach at Ripfest Diving in Noblesville, Indiana.
During his second stint at Arkansas (2008-13), Schultz coached the Razorback divers to a fourth-place SEC finish in 2011.
The 2011-12 season was highlighted by the accomplishments of Kesha Naylor, who earned SEC All-Freshman Team honors after breaking three school records. In 2008, Schultz guided one-meter diver Madison Palmer to All-America honors.
During his first tenure with the Razorbacks (1989-2000), Schultz was named the SEC Diving Coach of the Year in 1993 and coached seven Arkansas student-athletes to a total of 18 All-America honors.
Schultz produced a pair of platform SEC champions, with P.J. Murphy taking the men's title in both 1993 and 1994. In addition, his 1994 Razorback divers scored 38 points at the men's NCAA Championship to place Arkansas 20th as a team.
Prior to his first term with Arkansas, Schultz coached at Purdue, Northern Michigan and Idaho. With the Boilermakers, Schultz coached a Canadian Games gold medalist as well as Big 10 diving finalists and NCAA top-20 finishers. At Northern Michigan, he had five Division II All-Americans and three CoSIDA Academic All-Americans. In one season at Idaho, Schultz added another All-American.
Schultz served as the team leader for the United States team at the World University Games in Buffalo, New York, in 1993. Schultz is a 1984 graduate of Kansas State. Prior to KSU, Schultz dove for the University of Maine from 1979-81. He earned his master's degree in physical education at Northern Michigan.
Schultz and his wife Darby have three children, Hayden, Brooke and Collin.
SCHULTZ'S COACHING RESUME
1984-85
Head Diving Coach
Idaho
1985-88
Head Diving Coach
Northern Michigan
1988-89
Head Diving Coach
Purdue
1989-2000
Head Diving Coach
Arkansas
1992
Diving Coach
Japanese National Divers
1993
Team Leader
World University Games
2008-13
Head Diving Coach
Arkansas
2014
Associate Head Coach
Ripfest Diving
2014-16
Head Diving Coach
Florida
2016-pres.
Head Diving Coach
Arkansas