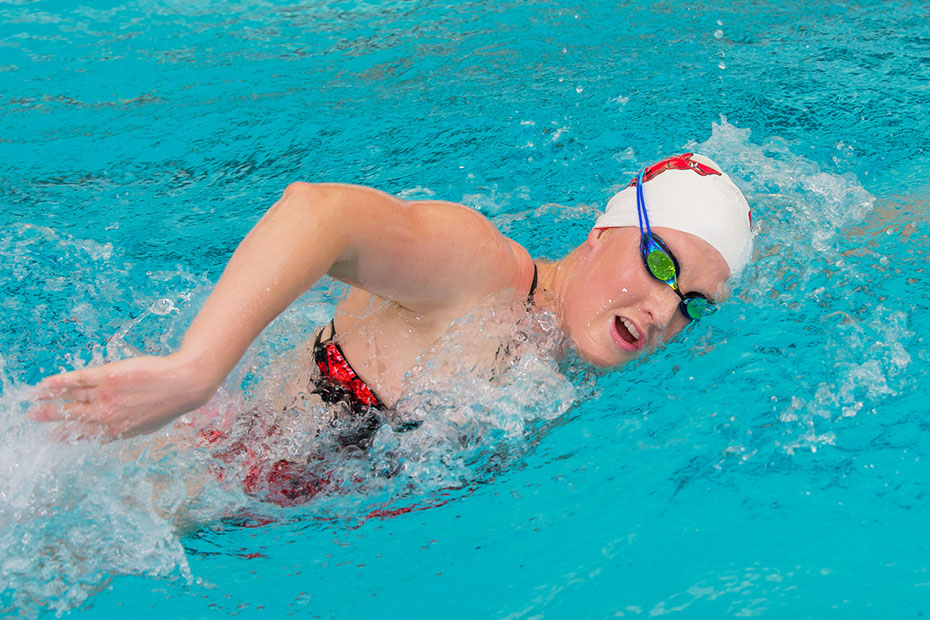 SD Downs SEC Foes; Wins GT Invitational
ATLANTA, Georgia- The University of Arkansas swimming and diving team downs the competition at the Georgia Tech Invitational, beating 19 teams with a total score of 1112 points.
The competition consisted of Alabama, Auburn, FGCU, Georgia Institute of Technology, Indian River State College, Campbell, Carson-Newman, Stanford, Hawaii, Clemson, South Carolina, Florida Atlantic, Nevada- Las Vegas, Georgia Southern, Minnesota, Tulane, and UNC Asheville.
Arkansas finished first with 1112 points, followed by Alabama with 1022.5 points, FGCU in third with 850 points and in fourth South Carolina with 819.5 points.
"We are in a good spot for November. I am extremely proud of the work the team has done up to this point." Head coach Sean Schimmel said. "It was a very exciting weekend and a great win for the program and Arkansas."
Aiden Lister went a personal best time in the 1650 freestyle with a time of 16:29.23. Co-Captain and teammate Rachel Stoehr finished third (16:46.16). Lister and Stoehr totaled 48 points in the 1650 freestyle.
The Razorbacks had five swimmers in the 200 backstroke finals. Senior Anna Mayfield finished second (1:54.09), sophomore Chloe Hannam finished right behind Mayfield (1:56.21), freshman Madison Umberger in 12th (2:00.40), sophomore Chelsea Tatlow finished 15th (2:00.97) and junior Sarah Easterling finished 24th (2:03.22).
Maddie Monroe had an exceptional weekend at the GT Invitational. She finished first in the 100 freestyle in a time of 48.73, followed by Nina Drolc in fourth (49.61), Natalie Burnett finished eighth (50.23) and Caitlin Tootill placed 19th (51.73).
"Maddie not only broke team records, she also had lifetime best swims in all her events, plus she was on all five relays." Schimmel said.
Freshman Madison Strathman had a personal best time in the 200 breaststroke and finished third (2:13.56). She had big drops in her breaststroke events this weekend. Freshman Sydney Angell finished seventh (2:15.40) and teammate Easterling finished 18th (2:19.93).
Arkansas represented in the 200 butterfly with six swimmers in the finals. Sophomore Jessie Garrison finished fifth in a time of 2:00.33, followed by Tatlow in seventh (2:00.66) and Taylor Weiss in ninth (2:00.93). Senior Rachel Kessler finished 14th, Lister placed 17th, and Olivia Weekley in 20th.
The last and final event of the weekend, Arkansas downed the competition in the 400 free relay. Monroe (49.26), Drolc (49.38), Burnett (49.26), and Mayfield (49.42).
DIVING
On the last day of the GT Invitational, sophomore Nicole Gillis finished ninth in the platform diving (243.30). Senior Shelby Bartlett finished 11th (224.15), senior Hannah Bortnick finished 23rd (190.50), and freshman Marissa Green finished 32nd (165.10).
"The divers did a fantastic job on the one meter and tower this weekend. The three meter was a little off, but as a whole, we're developing and progressing like we should be."' Diving coach Jeff DiNicola said. "Mid seasons are always a good trial run to see where we need to modify to make us better for SEC Championships, Zones and NCAA."
UP NEXT:
Arkansas will compete in the LC Time Trials in Atlanta, Georgia on Sunday, Nov. 22. The team will then head to Seattle, Washington from Dec. 3-5 for the US Winter LC Swim Nationals.
For more information on Arkansas swimming and diving, follow @RazorbackSD on Twitter.