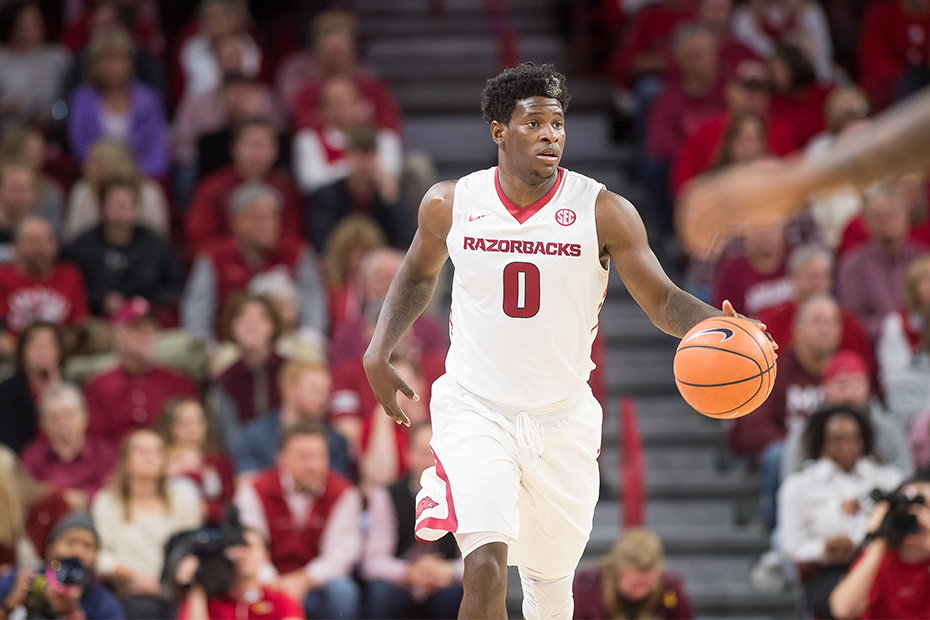 Second-Half Comeback Falls Short At Auburn
AUBURN, Ala. – After a slow start on the road Saturday, the Arkansas men's basketball team fell to the Auburn Tigers 88-77, after its second-half comeback fell short.
Down by as many as 21, Arkansas used a 19-5 run midway through the second half to cut the Auburn lead to seven. That was as close as Arkansas would get.
Auburn hit its first shot from deep to start the game and continued to roll from there. The Tigers sank their four shot attempts of the contest to take a 10-2 lead and later expanded it to as many as 16. Arkansas clawed back to 11, prior to Auburn closing the half on a 6-0 run to take their largest lead at that point of the game to the break, up 47-30.
Arkansas shot well from inside the arc, but was not very successful from beyond. The Razorbacks shot just 1-of-9 (.111) from deep in the opening period compared to 12-of-22 (.545) from inside the arc. On the other hand, Auburn shot 7-of-13 (.538) from three and 12-of-23 (.522) from inside the arc.
The Hogs only made three in the first half came from senior guard Anton Beard, who led Arkansas at the break with nine points on 4-of-8 shooting.
Arkansas came out the locker room on a 4-0 run to cut the Auburn lead to 13. The Tigers would stretch it back to 17, before senior guard Jaylen Barford would take over for Arkansas. Barford would score seven of Arkansas' next nine points to chip the deficit to 11.
Arkansas would use a 14-2 run to cut the Auburn lead to seven, but that is as close as the Razorbacks would get. Barford led the Razorbacks with 21 points, his sixth 20-point effort of the season. Barford has 11 career 20-point games, eight coming away from home.
One of the bright spots for Arkansas was its ability to rebound against one of the best rebounding teams in the country. Arkansas out-rebounded the Tigers 35-30, including 9-5 on the offensive end.
Beard finished the game with 11 points, while senior guard Daryl Macon scrapped together 10 of his own, scoring eight in the second half.
The Razorbacks return home on Wednesday, as Arkansas hosts the LSU Tigers (10-4, 1-1) for an 8 p.m. tip on SEC Network.
Ticket Packages
Mini plans, mobile passes and single-game tickets for the 2017-18 season are available now at the Razorback Ticket Center by calling at 1-800-982-HOGS (4647) and online by clicking here.