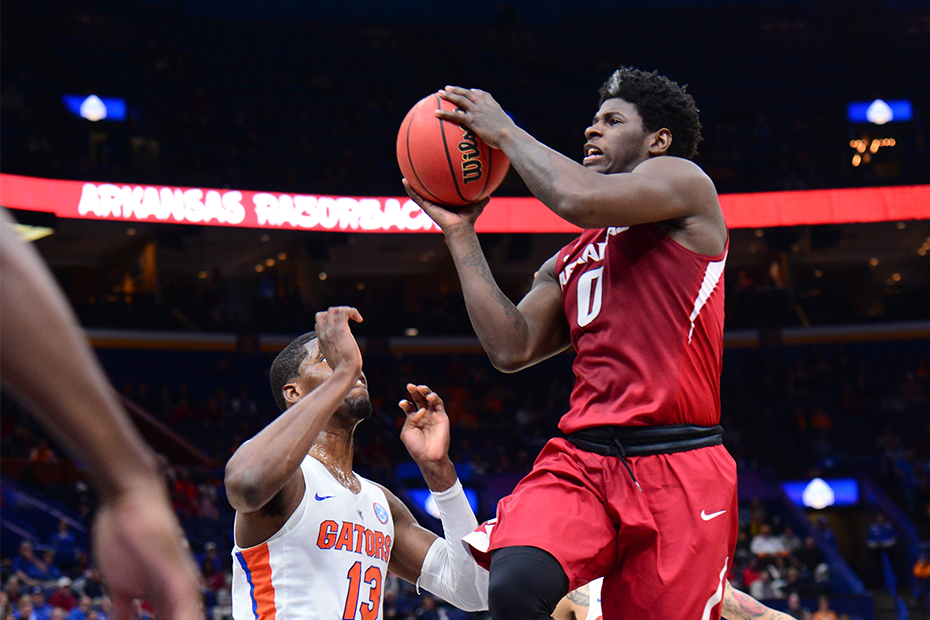 Second-Half Run Sends Hogs To Semifinals
ST. LOUIS, Mo. –  Behind a big night from Jaylen Barford and Daniel Gafford, the No. 6 seed Arkansas men's basketball team defeated the No. 3 seed Florida Gators 80-72 Friday night, advancing to the semifinals of the SEC Tournament for the third time in the last four years.
Using a 16-2 run in the second half, the Razorbacks were able to gain control of the game and defeat the Gators for the first time since 2013.
From the tip, the pace of the game was at one Arkansas feels comfortable with. Thanks to their hot shooting early, the Gators led 13-10 at the first media timeout and would eventually extend it to eight. The Gators drilled six of their first 10 three-point attempts, but Arkansas would answer, eventually cutting the Gator lead to one.
With less than three minutes left in the first half, Florida would stretch it back out seven, hitting two of its seven first-half three pointers. Turning up the defense, Arkansas would weather the storm and hold Florida scoreless for the final four minutes and 54 seconds of the first half. The Hogs would go on an 8-0 run to take a 30-29 lead into the break.
The second half, much like the first, was an absolute battle. The two teams traded baskets for the first couple of minutes before Arkansas ran off a 7-0 run to take its largest lead at that point at five. The Gators would claw back and even it up with 12 minutes left in the game.
The Razorbacks would go on a 16-2 run over the next five minutes, scoring 12 straight to take a 14-point lead.
Barford would pick up his second double-double of the season, finishing one point shy of a career high with 27 points and tying his career high with 10 rebounds. Gafford earned his second double-double of the season, addingn 16 points and tying his career high with 12 rebounds and one monster windmill to cap it off.
Daryl Macon posted 13 points, four rebounds and three assists, while Anton Beard added 10 points, three rebounds and three assists.
Arkansas owned the paint, out rebounding Florida 43-28 and scored 30 points around the basket.
Game Notes
• Arkansas has advanced to the semifinals of the SEC Tournament in three of the last four years.
• The Razorbacks improve to 26-25 all-time in the SEC Tournament.
• Arkansas is 6-6 in the SEC Tournament since the league went away from divisions after the 2010-11 season, with two victories coming in 2015, 2017 and 2018.
• During the Mike Anderson era, Arkansas is 125-7 in games it led at the half, including 40 consecutive victories. This year, the Razorbacks have led by an average of 9.7 points at the break in 23 wins.
For more information on Arkansas men's basketball, follow @RazorbackMBB on Twitter.