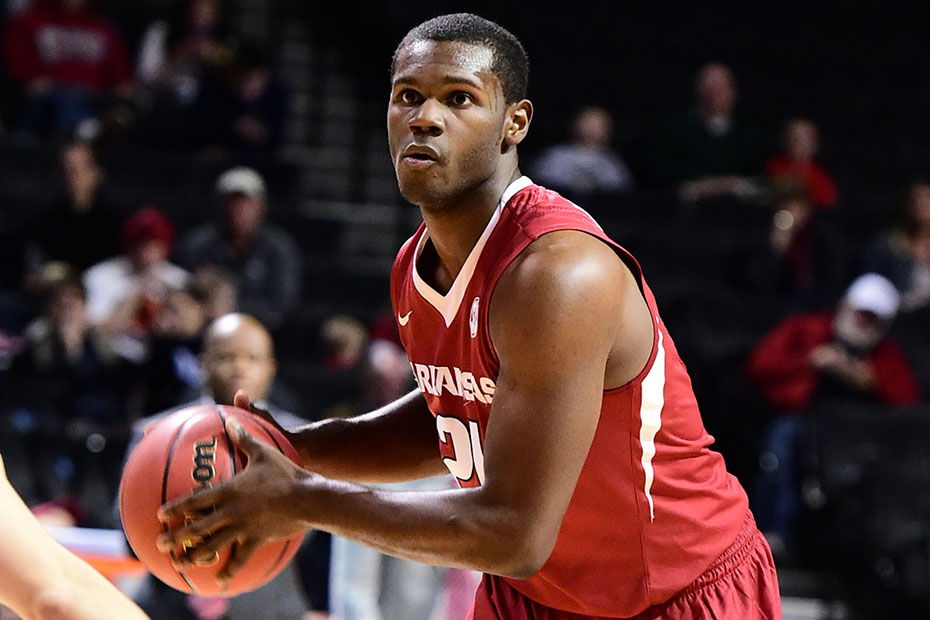 Second-Half Run Sends No. 6 Kentucky Past Hogs
LEXINGTON, Ky. — The Arkansas men's basketball team (12-3, 1-2 SEC) fell to No. 6 Kentucky Wildcats (13-2, 3-0 SEC) 97-71 Saturday night in Rupp Arena.
Kentucky built an early five-point lead before Arkansas went on a 9-0 run with the help of four straight Kentucky turnovers, giving the Razorbacks a 24-20 lead with 8:04 left in the first half. Jaylen Barford contributed seven of his 14 first half points during the run. The Wildcats responded with a 12-0 run of their own to take an eight-point lead, before Arkansas clawed back within three, taking it to half down 41-38.
Kentucky came out in the second half on fire, making seven of its first eight shots to pull to a 57-48 lead with 15:09 left in the game. The Razorbacks could not manufacture any sort of run to climb back as the Wildcats stretched their lead to double figures shortly after.
Three Razorbacks finished in double figures as Daryl Macon led the way with 15 points. Macon has scored 10 or more points in eight straight games, leading the team in scoring in five out of the last six contests.
Barford scored 14 points on 6-of-9 shooting off the bench, while Moses Kingsley also put up 14 points and pulled down seven rebounds. Manuale Watkins tied his season high with seven rebounds, tying Kingsley for a team-high in boards.
The Razorbacks were strong from the charity stripe once again, going 81 percent (17-21) from the line, led by a 5-of-5 performance by Kingsley. Trey Thompson made all four of his attempts from the free throw line, finishing with four points and four rebounds.
UP NEXT
Arkansas will return home on Tuesday, Jan. 10 as the Razorbacks are set to square off against the Mississippi State Bulldogs in Bud Walton Arena at 8 p.m. on SEC Network.
TICKETS
Mini plans, mobile passes and single-game tickets for the 2016-17 season are available now at the Razorback Ticket Center by calling at 1-800-982-HOGS (4647) and online by clicking here.
For more information on Arkansas Men's Basketball, follow @RazorbackMBB on Twitter.