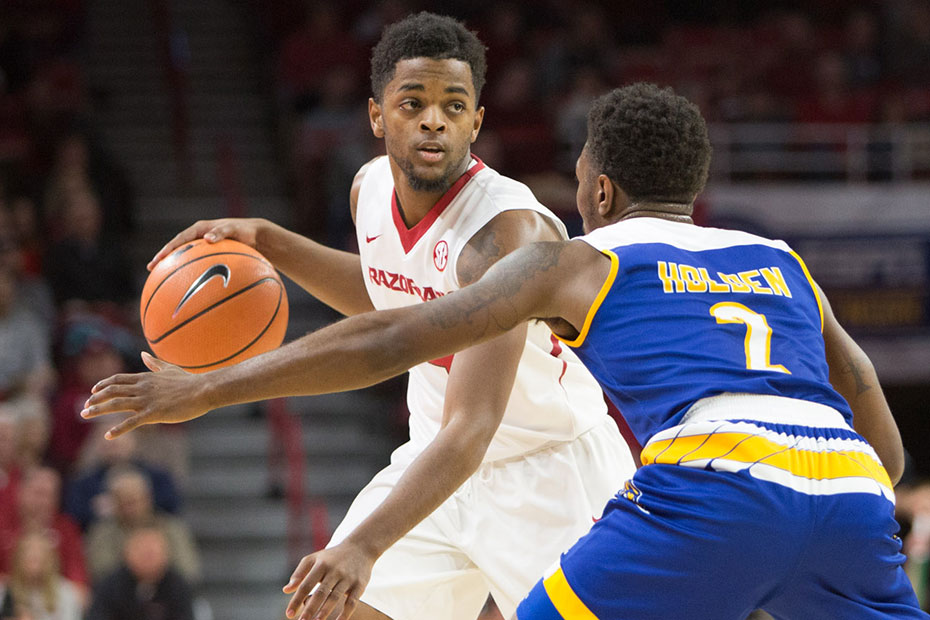 Arkansas Secures Blowout Victory Over Bakersfield
FAYETTEVILLE, Ark. – The Arkansas men's basketball team used a second-half run Wednesday to cruise past CSU Bakersfield, as Arkansas defeated the Roadrunners 95-68 in its final game before conference play.
The 27-point win is Arkansas' sixth by 25 or more points this season, as the Razorbacks eclipsed the 90-point mark for the eighth time in 12 games.
Arkansas' leader in dunks Daniel Gafford, electrified a toasty Bud Walton Arena early, as the freshman forward slammed home the Razorbacks' first two baskets of the game, including an alley-oop dunk in transition. After trailing 3-0, Arkansas would score 10 straight to claim a 10-3 lead.
Arkansas would lead by as many as 11 in the first half, but the Roadrunners would claw back before the break and tie the contest at 38-38. The Razorbacks would score the final four points of the half to take a 42-38 lead into the locker room. It is the 10th time in 12 games that Arkansas has led its opponent at half this season.
Senior Dustin Thomas recorded his first double-figure scoring effort of the season, leading the Razorbacks with 10 points and five rebounds in the first half. It is just the fifth time as a Razorback that Thomas has scored 10-plus points in a game.
After just one made basket and five total points in the first half, senior guard Daryl Macon hit Arkansas' first two shot attempts of the second half, both from deep, to stretch Arkansas' lead back to 10. Following a Bakersfield basket, senior guard Anton Beard would duplicate Macon's run, hitting back-to-back, wide-open three-pointers. This was all part of a 14-2 run to open the second half that gave the Razorbacks a 56-40 lead.
Arkansas would maintain a lead that hovered around 12, before senior guard Jaylen Barford took over. Barford would score 12 points, including eight straight, as part of a 16-2 run by the Razorbacks to give Arkansas an 80-55 lead.
Barford would finish with a game-high 19 points, while Macon scored 16 points and tied his career high with eight of Arkansas' 15 assists. Beard finished with 15 points and freshman Darious Hall tallied 14. Gafford pulled down a season-high 12 rebounds to go along with six points.
Arkansas' ball security continues to be a key for the Razorbacks. Arkansas turned the ball over just nine times Wednesday, improving its streak to five straight games with less than 10 turnovers.
Next up for Arkansas is the 19th-ranked Tennessee Volunteers, as the Razorbacks open conference play on Saturday against the Vols in a noon tip-off in a sold-out Bud Walton Arena.
Game Notes
• Arkansas has a 10-game winning streak in Bud Walton Arena, dating back to last year.
• The Razorbacks have a season-long five-game winning streak.
• Arkansas has won 21 consecutive non-conference games in Bud Walton Arena.
• The win gives Arkansas seven straight wins in Bud Walton Arena (7-0) to start the season for the fifth time in seven seasons under Mike Anderson.
• In seven games in Bud Walton Arena this year, the Razorbacks are 7-0 with a +179 scoring margin, including a +123 scoring margin in the first half.
• For the first time since the National Championship run in 1994, Arkansas has scored 90-plus points in eight of its first 12 games.
• The Razorbacks have five straight games with fewer than 10 turnovers for the first time in the last 20 years.
• During the Mike Anderson era, Arkansas is 115-7 in games it led at the half, including 30 consecutive victories.
• Arkansas is 10-0 this year when Daniel Gafford records at least one dunk. He has 28 dunks, which is more than six teams in the SEC.
Ticket Packages
Season tickets, mini plans, mobile passes and single-game tickets for the 2017-18 season are available now at the Razorback Ticket Center by calling at 1-800-982-HOGS (4647) and online by clicking here.