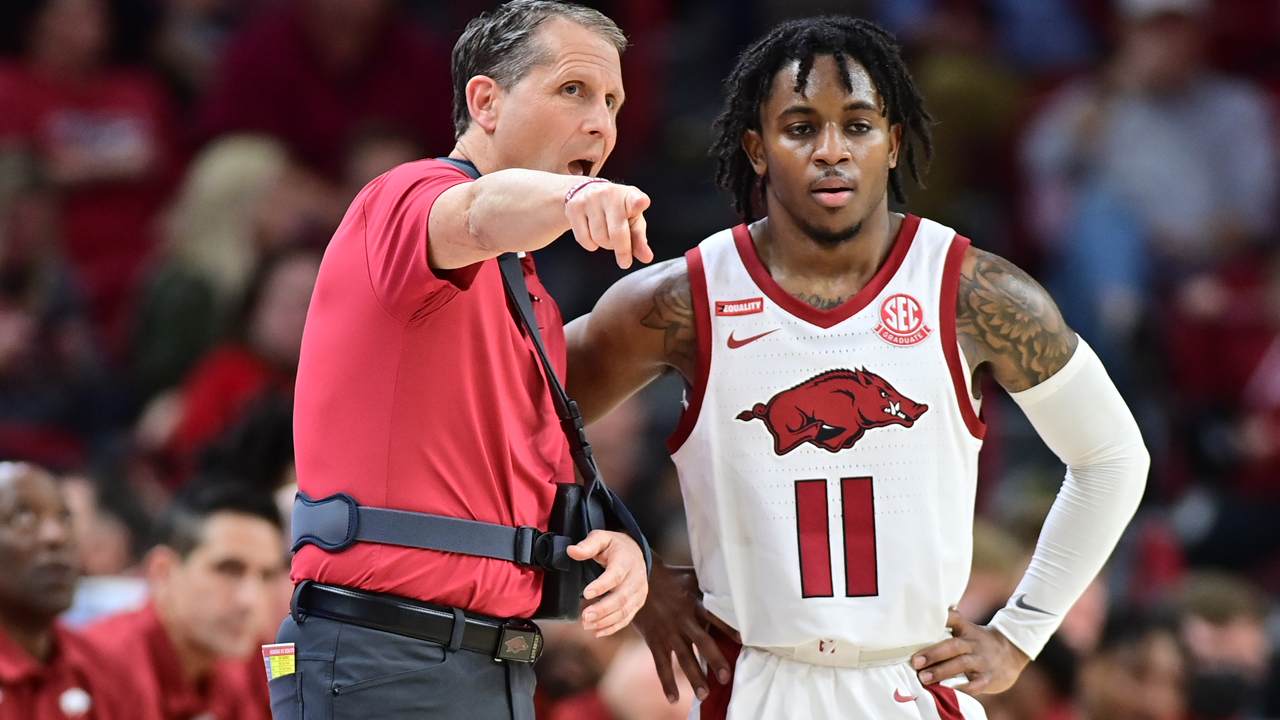 Second Half Start Leads to Win; 3-Point Streak Ends
FAYETTEVILLE – Arkansas opened the second half with an 18-1 run to grab a 10-point lead and pulled away for a 16-point, 75-59 victory over South Carolina Tuesday night at Bud Walton Arena.
Jaylin Williams had a career-high 19 points, sinking career-high 9-of-10 from the free throw line, with nine rebounds, just missing his fourth straight double-double JD Notae was 7-of-8 at the line and scored 17 with seven rebounds, five assists, three blocked shots – tying his career-high – and one steal. Au'Diese Toney added 13 points and eight rebounds while Stanley Umude had 12 points and six boards.
Arkansas wins its third straight but had a 33-year-old streak end as the Razorbacks went 0-of-11 from 3-point range. Arkansas had made a 3-pointer in 1,092 consecutive games – dating back to Jan. 7, 1989 – which ranked as the third-longest such streak in the NCAA.
The Razorbacks were able to win, in part, despite not making a 3-pointer by going 27-of-33 at the free throw line – the second-most makes and attempts this season.
Arkansas, which only got a combined 17 minutes from Williams and Notae due to foul trouble, was down four with 31 seconds left in the first half. However, after a missed 3-pointer with 15 ticks left, South Carolina's Devin Carter drained a triple with three seconds left to provide the 40-33 halftime lead for the Gamecocks.
The Razorbacks had the ball to start the second half and scored the first three points of the period. South Carolina made 1-of-2 at the line at the 17:32 mark and would not score again for over three minutes as the Hogs completed their 18-1 run.
South Carolina, which scored 40-first-half points, was held to 19 points in the second half while shooting just 22.2% (6-o-27). On the other side, Arkansas scored 42 second-half points while shooting 50% (15-of-30) While the Gamecocks made seven triples, they were 1-of-10 from deep in the second half.
Arkansas stays home to host Texas A&M on Saturday (Jan 22). Game time is set for 7:30 pm on the SEC Network.
FIRST HALF: Arkansas: 33 – South Carolina: 40
Arkansas was without JD Notae (9:34 played) and Jaylin Williams (7:22 played) as each had two fouls.
Au'Diese Tone led Arkansas with seven points and seven rebounds.
Arkansas had 15 defensive rebounds compared to five offensive rebounds for South Carolina.
Devin Carter led South Carolina with 14 points and James Reese added 10.
SECOND HALF: Arkansas: 42 – South Carolina: 19
Arkansas opened the second half with a 12-1 run to lead 45-41 and force a Gamecock timeout. Trey Wade converted an old fashion 3-point play to give Arkansas its first lead of the second half, 43-41. Au'Diese Toney then hit a layup to cap a 7-0 run and force the timeout.
Arkansas pushed the run to 11-0 (18-1 to start the second half) to force another USC timeout and lead 51-41 with 14:00 left. Arkansas forced six turnovers during the run. The run ended at 12:37 with two US free throws.
GAME NOTES
Arkansas' starting lineup was JD Notae – Au'Diese Toney – Stanley Umude – Trey Wade –Jaylin Williams for the second straight game. It is just the second starting lineup combination that has been used more than once this season.
Arkansas won the opening tip.
Jaylin Williams scored the game's first points, two free throws at 19:24.
Davonte Davis was the first Razorback sub.
UNLV owns the longest 3-point streak, making a 3-pointer in 1,144 straight games. UNLV and Princeton (974-game streak) are the only two teams in the NCAA to make a 3-pointer in every game they have played since the 3-point rule was added for the 1986-87 season. Duke has the second-longest streak at 1,130 games while Western Kentucky now has the third-longest streak at 1,087 games.
The last time Arkansas did not make a 3-pointer was going 0-of-2 in a win over Texas on Jan. 7, 1989.
Ironically, Arkansas made a 3-pointer in its 1,000th straight game at South Carolina on Feb. 9, 2019 when Mason Jones made one at 18:43 mark of the first half.
According to HogStats.com, Arkansas is 7-0 in games it has not made a 3-pointer since the NCAA adopted the rule.
This is the third straight game Arkansas has held its opponent below 60 points. Arkansas is 16-0 under Coach Musselman when holding opponents below 60 points and Musselman is 36-1 all-time as a collegiate coach when doing so.
This is the third consecutive game Arkansas has used an impressive run to take control of the game. Arkansas started the Missouri game with a 26-3 run, ended the LSU game with a 17-2 run and now had an 18-1 run to start the second half.
Arkansas had 29 defensive rebounds compared to 15 offensive rebounds for South Carolina. The Gamecocks entered the game as the nation's leader in offensive boards while Arkansas is one of the nation's top defensive rebounding teams.
The last three games, the Arkansas defense has held Missouri to 29.2 percent (14-of-48) shooting from the field, held LSU to 38.2 percent (21-of-55) and held South Carolina to 33.9 percent (20-of-59).
This was the fifth time JD Notae has blocked three shots in a game.
This is the second straight game JD Notae has led the team in points and assists.
JD Notae was +31 for the game (+23 in the second half) while Jaylin Williams was +24 for the game (also +24 for the second half).
For more­­ information on Arkansas Men's Basketball, follow @RazorbackMBB on Twitter.