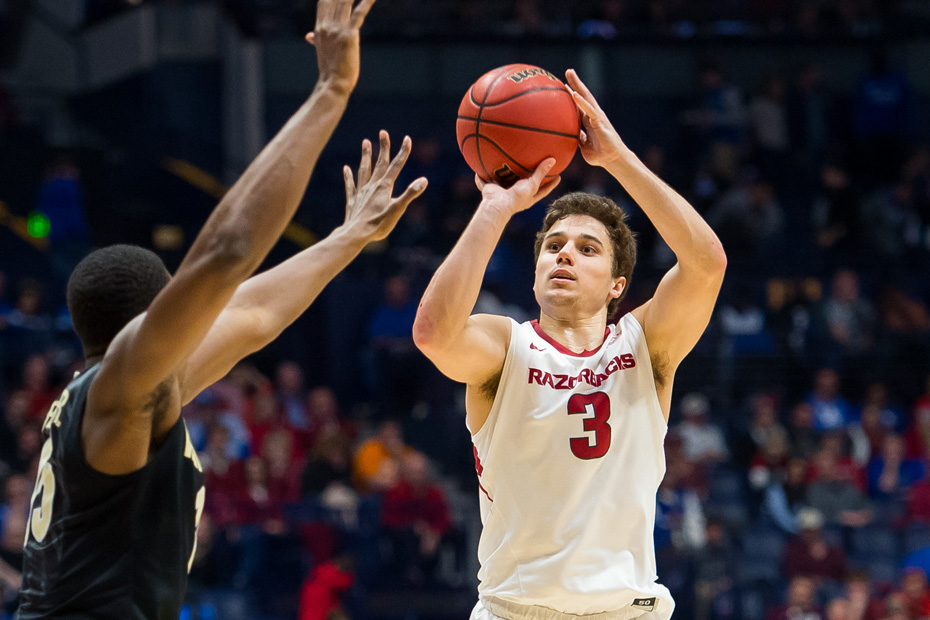 Second-Half Surge Sends Arkansas To Title Game
NASHVILLE, Tenn. — An early second-half run broke the game wide open Saturday afternoon and sent the Arkansas men's basketball team to the SEC Tournament championship game for the second time in three years, knocking off Vanderbilt 76-62 at Bridgestone Arena.
The win is the 25th victory of the season, marking the second time in three years Arkansas (25-8) has totaled 25-plus victories. The last time a Razorback team manufactured that level of success in a three-year span was when Arkansas won 31 games in 1993-94 and 32 games in 1994-95.
The Razorbacks advance to their seventh SEC Championship game in school history and will battle top-seeded and 8th-ranked Kentucky Sunday at noon CT on ESPN.
Arkansas opened the second half much like it started the game. The Razorbacks converted missed shots and turnovers by the Commodores (20-14) into baskets on the other end. Arkansas came out of halftime on a 21-4 run to stretch its four-point halftime lead to 21. The Razorbacks led by as many as 27 points before settling for a 14-point victory.
The Razorbacks turned up the defense early, forcing three turnovers in the first five minutes of the game to send Arkansas racing out to a 9-0 lead. After missing its first nine shot attempts, Vanderbilt finally settled in and made its next three shots to cut the Arkansas lead to just one. Behind 10 first-half points from Jaylen Barford, the Razorbacks took a 35-31 lead to the locker room.
Arkansas got tremendous production from its guards, as Barford had a game-high 18 points to go along with four rebounds. Dusty Hannahs finished with 16 points and Daryl Macon tallied 15 of his own. Manuale Watkins scored nine points, pulled down five rebounds and recorded four assists, while Anton Beard paced the team with four steals.
Hannahs used a first-half three-pointer to become just the fifth player in program history to reach 1,000 points as a Razorback in two seasons, joining Todd Day, Scotty Thurman, Martin Terry and Bobby Portis.
Moses Kingsley was huge down low, recording his seventh double-double of the season, 24th of his career, finishing with 12 points and a game-high 13 rebounds.
QUOTABLES 
"I'm really proud of our guys. We came out and got off to a good start against a Vanderbilt team that was probably one of the hottest teams in the country. I thought the second half we came out and our defense really turned up the pressure and gave us easy opportunities to score." – Head Coach Mike Anderson
"Vanderbilt is a really good team, but so are we. We are playing really good basketball right now and we're ready to face anybody in the country, so it should be a great challenge tomorrow." – Senior guard Dusty Hannahs
For more information on Arkansas Men's Basketball, follow @RazorbackMBB on Twitter.