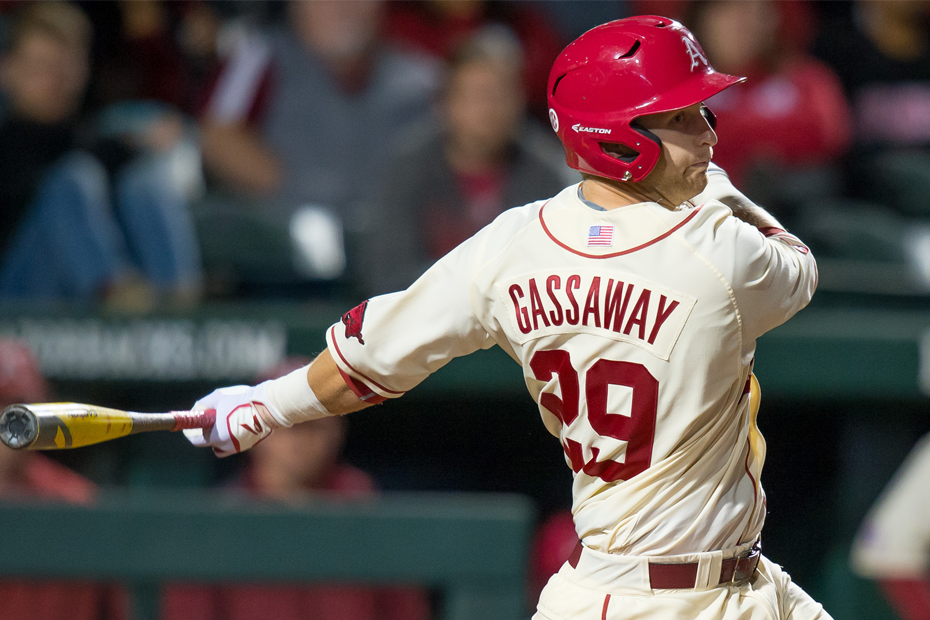 Senior Weekend As Arkansas Hosts Alabama
Arkansas Notes vs. Alabama (PDF)
FAYETTEVILLE, Ark. – The Razorback baseball team will play their final home conference series of the season this weekend at Baum Stadium and it will also be the final home weekend for five seniors as the Razorbacks (26-22, 7-17) take on the Alabama Crimson Tide (27-21, 12-12) for three games starting Friday. First pitch for game 1 is set for 6:30 p.m. CDT on SEC Network+.
Michael Bernal, Rick Nomura, Cullen Gassaway, Doug Willey and Tucker Pennell will each be honored before Saturday's game with the Crimson Tide as part of Senior Day.
The Hogs have won 11 of their last 13 against the Crimson Tide including a 3-game sweep in Tuscaloosa, Alabama, last year. Arkansas leads the all-time series 21-15 in games played at Baum Stadium and haven't lost a series to Alabama in Fayetteville since 2008.
Arkansas' offensive numbers have still been strong even with the team's string of losses as Carson Shaddy and Rick Nomura are both hitting .300 or better in conference play. Nomura leads all Hog hitters with a .319 average in 24 conference games and has 10 doubles to go with his 15 runs scored.
The Razorbacks will be making a slight change to the rotation before its series with Alabama. Dominic Taccolini will get the start on Friday, followed by Keaton McKinney on Saturday. Zach Jackson, who had started in each of the last five weekends, will move back to the bullpen to help bolster the staff for late-inning situations.
Things to know
Nomura leads all Hog batters in conference play with a .319 average, including a team-leading 10 doubles and 15 runs scored. He is coming off a very good series against LSU where he went 5 for 10 (.500) at the plate during the final two games of the series with 2 doubles and 2 runs scored.
Catchers Tucker Pennell and Grant Koch have tallied up the caught stolen bases at a rapid pace this year. Pennell added three more to his now 25 caught stolen bases this year after finishing up the series with LSU. Koch also added one, himself, giving him 10 for the year. This year, Pennell has the most runners thrown out by an Arkansas catcher since Brady Toops threw out 27 runners in 2004.
Pennell leads all SEC catchers in caught stolen bases this year and with Koch added in the mix, the 35 runners that have been thrown out is the most out of any catching tandem in the conference.
Follow Live
All games this weekend can be seen online on SEC Network+ with Alex Perlman (Play-by-Play) and Troy Eklund (Analyst) calling the action.
Game 1 (SEC Network+)
Game 2 (SEC Network+)
Game 3 (SEC Network+)
Phil Elson (Play-by-Play) and Rick Schaeffer (Analyst) can heard on the radio via the Razorback Sports Network from IMG. Fans in the Fayetteville area can listen to the game on the flagship station 92.1 FM The Ticket or online at ArkansasRazorbacks.com.
Probable Starters
Fri | 6:30 p.m. | (ARK) RHP Dominic Taccolini (5-3, 5.00 ERA, 54/20 K/BB) vs. (UA) RHP Geoffrey Bramblett (4-3, 2.69 ERA, 64/25 K/BB)
Sat | 6:00 p.m. | (ARK) RHP Keaton McKinney (1-4, 6.06 ERA, 28/29 K/BB) vs. (UA) RHP Jake Walters (4-3, 1.98 ERA, 67/26 K/BB)
Sun | 1 p.m. | (ARK) TBA vs. (UA) RHP Nick Eicholtz (3-3, 2.33 ERA, 31/17 K/BB)