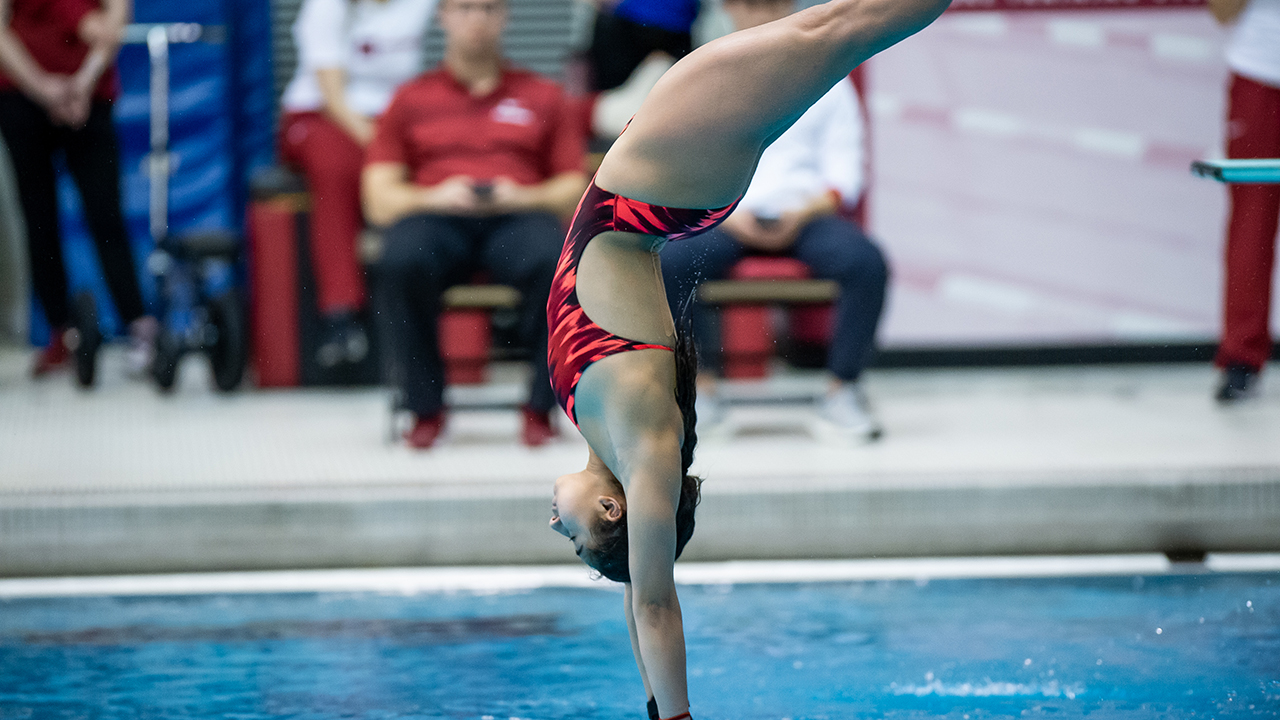 Seven Named to CSCAA Scholar All-America Team
FAYETTEVILLE – Seven members of the Arkansas swimming and diving team were named to the College Swimming Coaches Association Scholar All-America Team, the CSCAA announced Tuesday.
The announcement comes one week after Arkansas earned CSCAA Scholar All-America Team honors with a 3.66 Spring GPA, ranking them the second among its Southeastern Conference Peers. At 3.45, the median GPA among women's teams was the highest on record.
A total 218 student-athletes from the Southeastern Conference were named to Scholar All-America teams.
Arkansas Scholar All Americans
Maha Amer // Economics & Public Health
Sydney Angell // Childhood & Education
Anna Hopkin // Kinesiology Exercise Science (MS)
Kobie Melton // Animal Science
Molly Moore // Human Nutrition & Dietetics
Marlena Pigliacampi // Kinesiology Adapted Movement Science
Brooke Schultz // Business Management
The CSCAA saw 1,221 first-team selections, in addition to 890 students that were named as Honorable Mention selections. These students have similarly achieved a GPA of 3.50 and achieved a "B" time standard or competed at an NCAA Regional or Zone Diving qualifier. In total, 282 teams placed at least one individual on the First or Second teams.
The award-winners studied a multitude of subjects ranging from A (Accounting) to Z (Zoology). Business majors accounted for just under 14% of all award-winners. They were followed by Engineering (all fields) and Biology at 9% each. Fully one third of all award-winners are pursuing a major in STEM (Science, Technology, Engineering and Math) field.
To be selected to the CSCAA Scholar All-America Team, swimmers and divers must have achieved a GPA of 3.50 or higher and have participated in their respective NCAA/NAIA/NJCAA Swimming and Diving Championships.  Honorable mention selections have similarly achieved a GPA of 3.50 and achieved a "B" time standard or competed at their respective diving qualifying meets.
Founded in 1922, the CSCAA – the oldest organization of college coaches in America – is a professional organization of college swimming and diving coaches dedicated to serving and providing leadership for the advancement of the sport of swimming & diving at the collegiate level.
For more information on Arkansas Swimming and Diving, follow @RazorbackSD on Twitter.