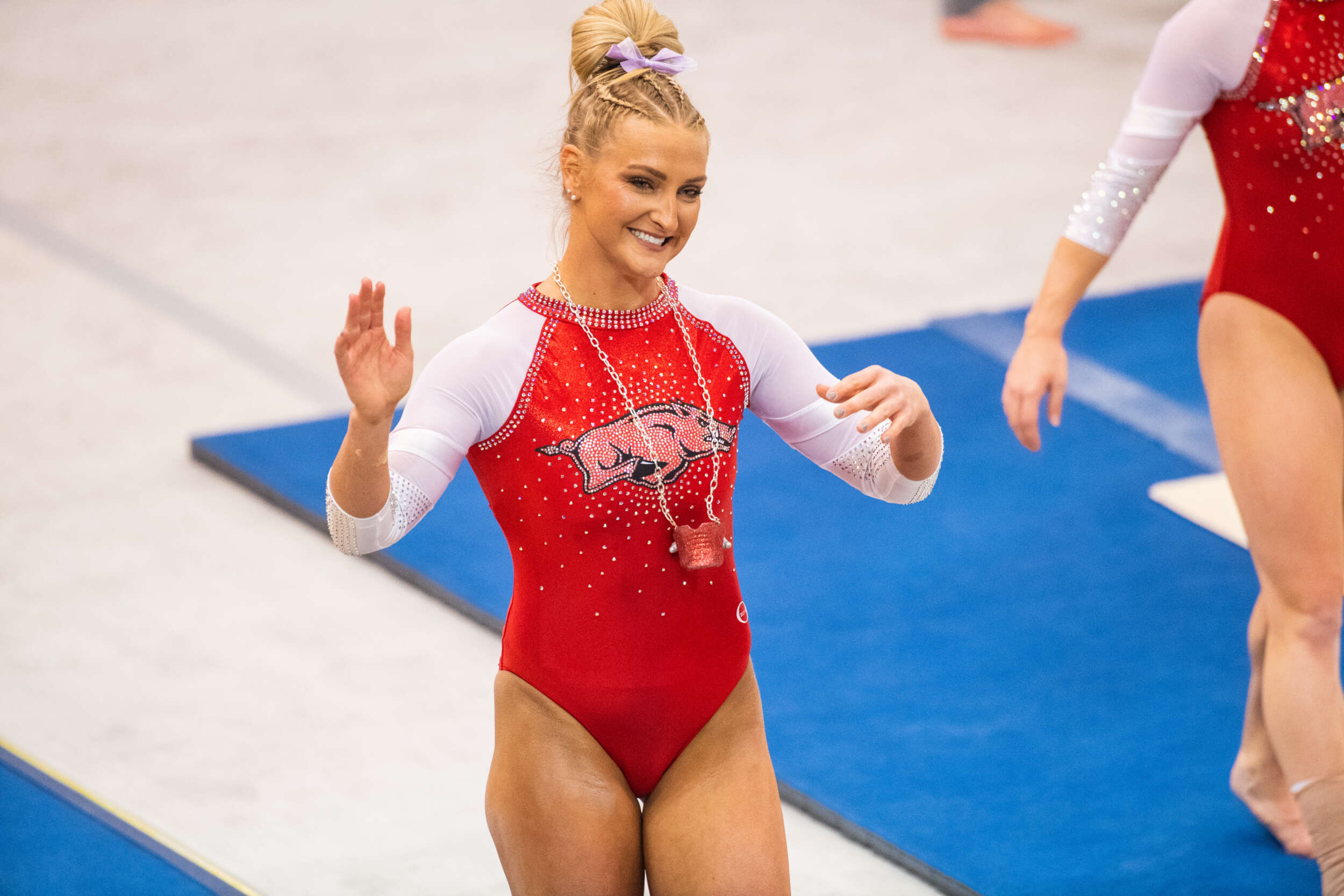 Shaffer's Story: The Setback, the Comeback, the Rise
For redshirt-senior Sarah Shaffer, it has always been gymnastics, but the journey hasn't always been smooth. Just weeks away from her last season at Arkansas, the Tyler, Texas native reflects back at her recruiting process, the injury that set her back and the rise that brought her back.
For gymnasts, the recruiting process starts fairly early compared to other collegiate athlete. "I remember the recruiting process for me started during the summer before my freshman year of high school," Shaffer said. "I took several visits to different Universities and went to gymnastics summer camps."
"It was the summer before my sophomore year that I went to a Region 3 College Bound camp. The week after College Bound camp, the assistant coach at Arkansas at the time offered me a scholarship over the phone. I was obviously very excited, but I did not know much about the gymnastics program."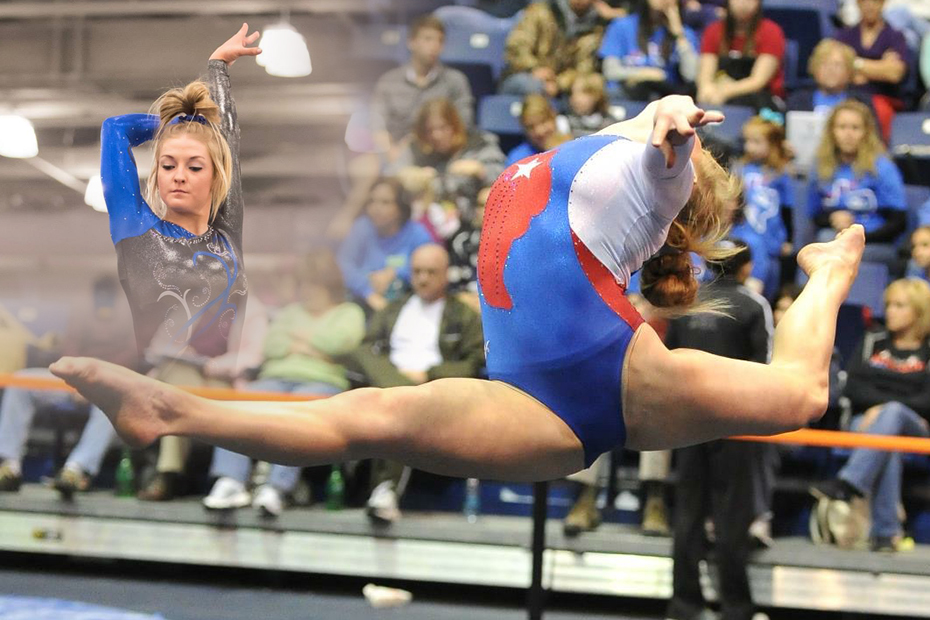 That same summer, Shaffer took her first visit to the University of Arkansas. "As soon as I stepped on campus, I was just amazed by the facilities and the city of Fayetteville in general. I came on a second visit during football season and got to experience a game day in Fayetteville. I also got to meet the team and watch a couple of practices. I committed a month later and I have never looked back!"
Shaffer arrived on campus in July of 2016. "I was itching to get in the gym that whole summer," she said. "I was excited to be in a new environment and to set new goals for myself."
It was during finals week in December of her freshman year, that Sarah was at practice and fell off the uneven bars, her arm taking the hardest hit. "At first, I thought it was okay to continue and I got ready to take another turn."
Former head coach Mark Cook convinced her to rest her arm after the fall, to see the trainer and put some ice on it. The coaching staff, trainer and Shaffer agreed that it would be in her best interest to see a doctor; with the season nearing, she went that very same day. Over the next week, Shaffer had multiple tests and an MRI would show a complete UCL tear. A week later, she underwent Tommy John surgery.
"At first I was devastated, angry and sad," said Shaffer. "I felt like I had worked so hard during preseason and I was so mad that one fall took away the season for me three weeks before it started, but I gave myself less than a day to feel those emotions and I woke up the next morning ready to work hard during the recovery and come back better than I was before."
Shaffer and the coaches made the decision to redshirt her freshman year to focus on her recovery. "I wanted my freshman season back," Shaffer said. "It was an easy decision for me to make and even easier knowing that I had full support from my trainer, my coaches, my family and my teammates."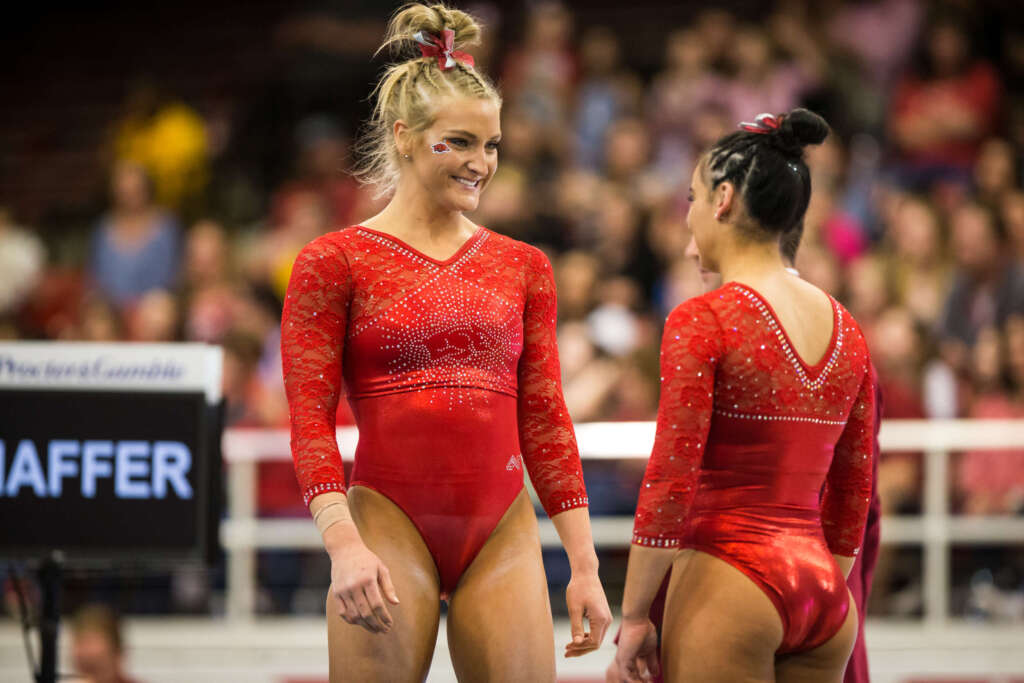 "Redshirting my freshman year taught me a lot about my self and helped me grow and mature as a person and teammate," said Shaffer. "I was able to be there for the team in a different role than I had planned on, but it made me appreciate the sport and my teammates even more. The team had gone through a lot of adversity that year and I was so inspired with how each individual handled that adversity."
"During each warm up at every competition, I took the time to visualize my routines in the arena. Although I wasn't competing, I pretended that I was. I felt the adrenaline, the nerves and the excitement. I think this helped prepare me and stay motivated for my return next year."
Shaffer took her recovery process very seriously, anxious to be back in a leo and back on the mats. "Getting back in the gym was so exciting for me. I had missed the sport so much," she said. "The recovery process was hard at times, but I had great coaches and great teammates who helped me through it. They worked with me through the hard days and kept believing in me."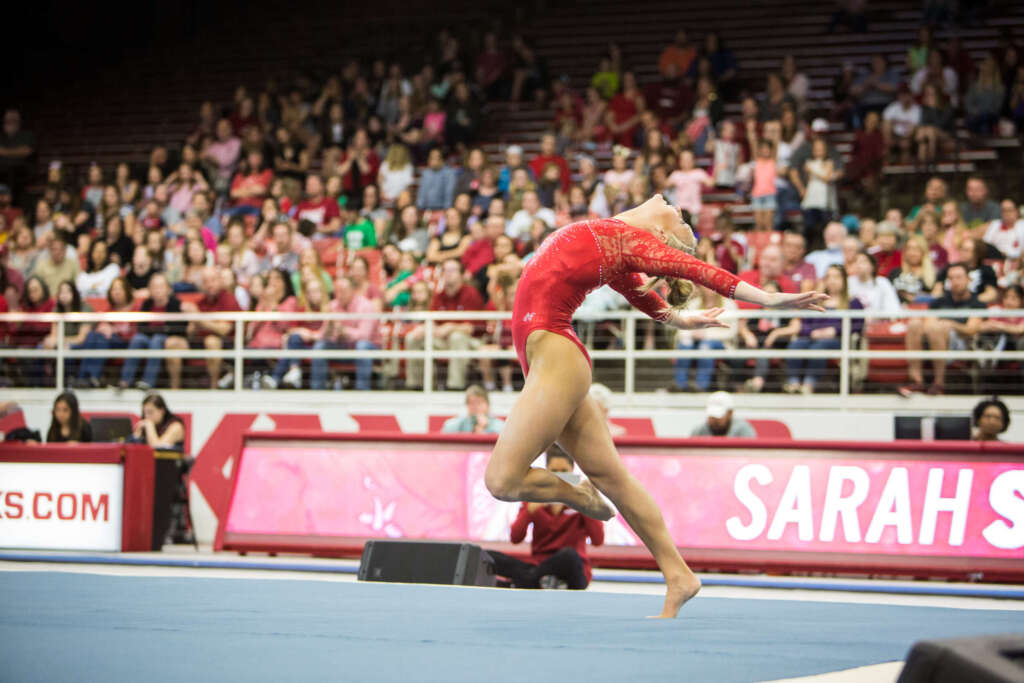 Shaffer went on to have an absolutely stand out freshman season in 2018. She was recognized as the SEC Freshman of the Week three times throughout the season she finished her rookie campaign as the SEC Freshman of the Year for her performance at the SEC Championships and earned All-SEC Team and All-SEC Freshman Team honors that year as well.  At the NCAA Regionals on April 7 she scored a 9.850 on vault, a 9.825 on uneven bars and 9.900 on floor exercise to help Arkansas advance to the NCAA Championships.
In the shortened 2020 season, Shaffer continued to rise. She competed on the vault in every meet and with a 9.925 in the event on March 6, took home her first vault title of the season. She made her return to the uneven bars on Feb. 21 when the Hogs hosted Auburn and with her first bars routine of the season, stuck her landing and claimed the title with a 9.900 from the judges.
As the University begins returning athletes to their gyms this summer, Shaffer anxiously awaits her last season in Barnhill. "I am so excited to be back for one more year," she said. "I always get a huge smile on my face when I think about it. I am so grateful that I have another opportunity to compete as a Razorback and to compete for [head coach Jordyn Wieber] and the rest of the staff one last time. I do have some jitters, but I am just excited to give everything I have in practices and in competitions."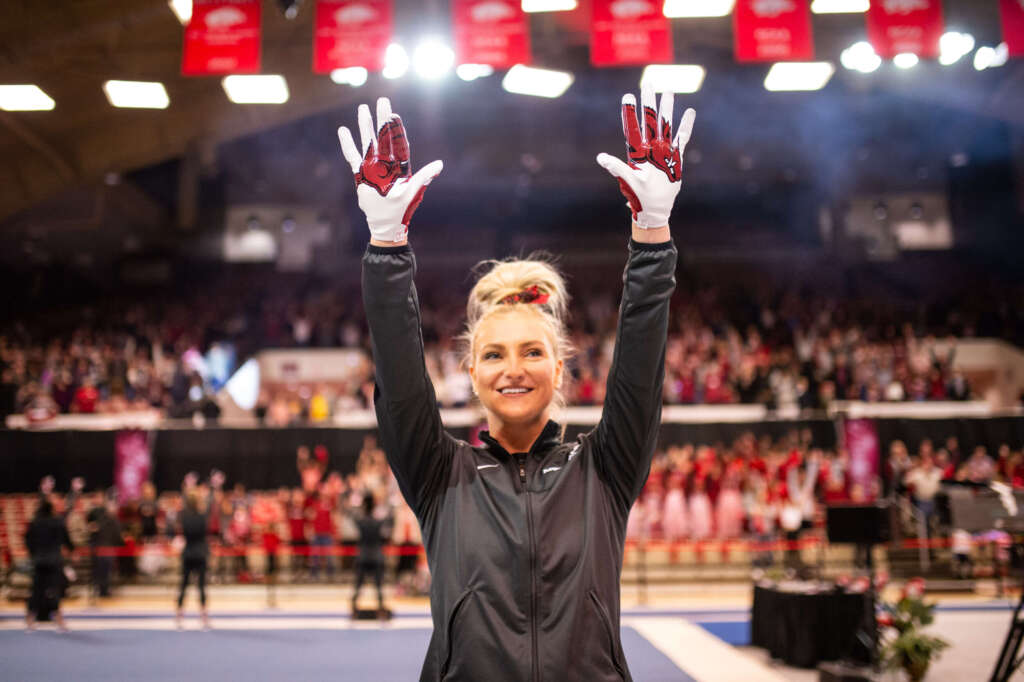 If I could give any advice to myself before college, I would tell that Sarah to live in the present and to not worry about things you cannot control. Two very important traits that I strive to be better at every day!
Visit ArkansasRazorbacks.com for the latest information on all things Arkansas Gymnastics. You can also find the Hogs on social media by liking us on Facebook (Arkansas Razorback Gymnastics) and following us on Twitter and Instagram (@RazorbackGym).