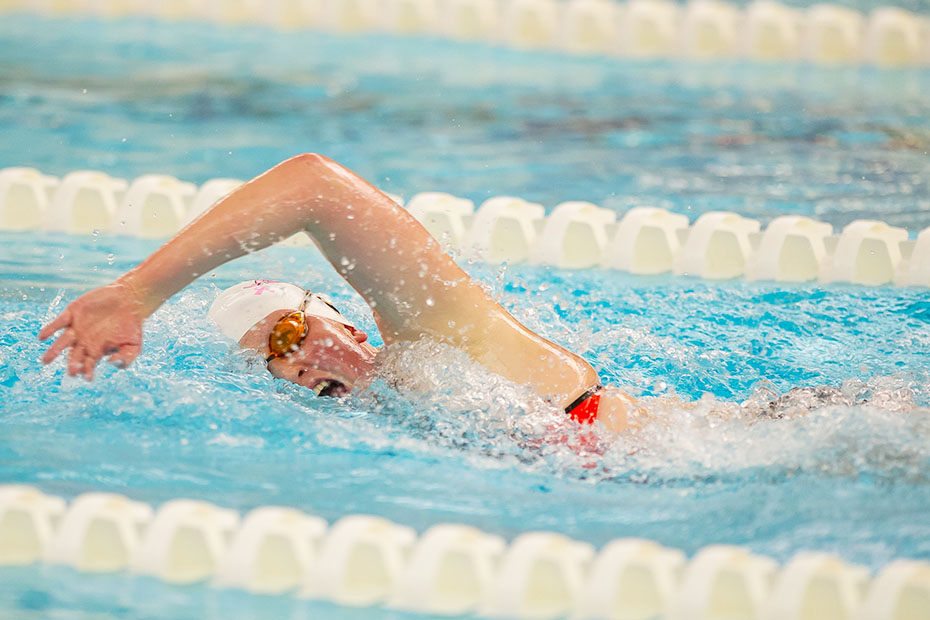 Strong Showing for Lister at Day One of USA Winter Nationals
FEDERAL WAY, Wash.- Junior Aiden Lister picked up an Olympic Trial Cut and broke a school record at the first day of USA Swimming's 2015 AT&T Winter National Championships at the Weyerhaeuser King County Aquatic Center.
In the prelims of the 400 freestyle, Lister finished first in her heat and picked up an Olympic trial cut. The time she had to beat was 4:17.99 and Lister finished in a time of 4:16.12. Going into the finals, Lister was seated 17th and finished second in the bonus finals. She improved her time to a 4:15.69 and shattered the team record.
"Aiden had two great races today and tonight breaking her first team record was exciting and well earned." Head coach Sean Schimmel said. "This was her personal best by four seconds and that is always great to see. Aiden also will be heading to the Australian trials in April."
Sophomore Chloe Hannam finished 34th out of 54 swimmers, in the 400 freestyle, in a time of 4:20.35. Hannam will compete in the 400 Individual Medley and the 100 backstroke on Friday, Dec. 4th.
Sophomore Chelsea Tatlow finished 54th (2:22.53) and junior Mary Margaret Soderberg finished 57th (2:23.36) in the 200 Individual Medley. Tatlow is set to compete in the 400 Individual Medley on day two of the competition. Soderberg will have the day off to rest and prepare for the 200 breaststroke on Saturday, Dec. 5th.
Maddie Monroe finished 64th (26.68) and Caitlin Tootill finished 79th (27.07) in the 50 freestyle out of a total of 92 swimmers. Monroe will compete in the 200 freestyle, alongside teammate Tootill on Friday, Dec. 4th.
Competition for junior Natalie Burnett will begin on the second day. She is set to compete in the 100 butterfly and the 100 backstroke. Madison Strathman will compete in the 100 breaststroke.
"This weekend we are looking to get some personal best times in the long course competition and getting as much preparation as possible in the Olympic year." Schimmel said.
Preliminaries will begin at 9 a.m. PST, with finals at 6 p.m. PST. There will not be any relays at the meet. A live webcast of the entire three-day meet along with meet results will be available via usaswimming.org. NBC will also televise competition on tape delay from the AT&T Winter Nationals on Sunday, Dec. 6, from 12-1 p.m. A full order of events for the long-course meters competition is available at usaswimming.org.
Despite the different distance, swimmers at the meet will still attempt to claim as many automatic (A) or provisional (B) qualifying times as possible, though at this meet, those times will be converted. The standards are used to populate the field for the NCAA Championships in March. Some of the best swimmers in the world are scheduled to compete, including Olympic medalists Allison Schmitt, Natalie Coughlin, Dana Vollmer and Missy Franklin.
Psych Sheet | Winter Nationals Homepage
SCHEDULE OF EVENTS 
Thursday, Dec. 3
400-meter Freestyle
200-meter Individual Medley
50-meter Freestyle
Friday, Dec. 4
400-meter Individual Medley
100-meter Butterfly
200-meter Freestyle
100-meter Breaststroke
100-meter Backstroke
Saturday, Dec. 5
800-meter Freestyle (Women)
1,500-meter Freestyle (Men)
200-meter Backstroke
100-meter Freestyle
200-meter Breaststroke
200-meter Butterfly
UP NEXT
Dec. 29- Jan. 4- Puerto Rico Training Trip
Jan. 15- at Auburn
For more information on Arkansas swimming and diving, follow @RazorbackSD on Twitter.