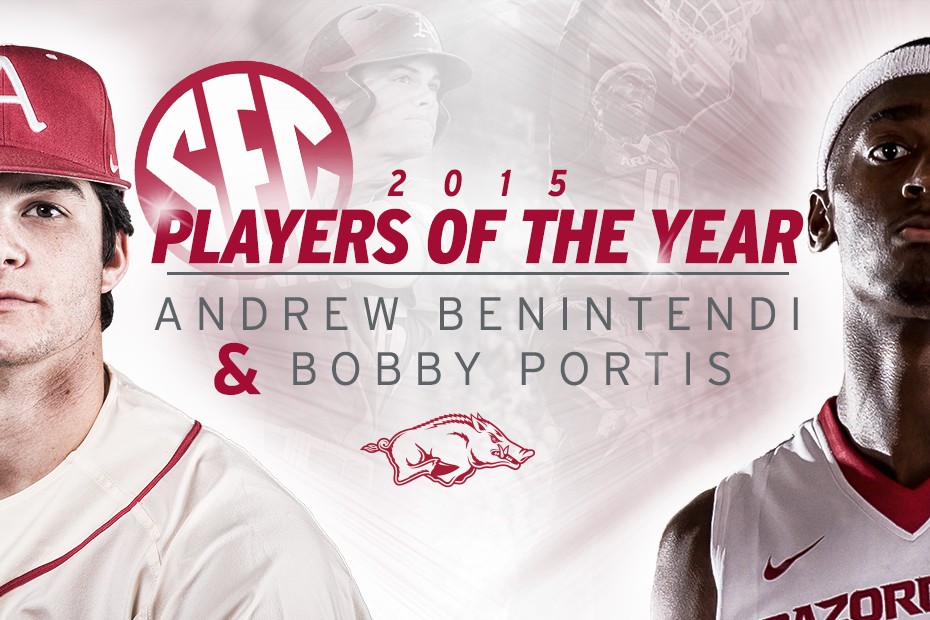 The Benny & Bobby Show
FAYETTEVILLE, Ark. – There may not be a better sophomore combo in the country and on Monday, Arkansas baseball standout Andrew Benintendi joined men's basketball classmate Bobby Portis in earning SEC Player of the Year honors.
Just a few months removed from being donned the SEC Player of the Year by both the league head coaches and the Associated Press, Portis was finishing up a five-day stay at the NBA Draft Combine when Benintendi became the program's first SEC Player of the Year. Portis was just the second in men's basketball program history and the first in 20 years.
Benintendi's Player of the Year accolade didn't slip by Portis or his teammates …
— Bobby BP Portis (@BPortistime) May 18, 2015
How cool is this? #BennyBaseball is the #SECPOY!! pic.twitter.com/oZimJiv27z — Razorback Baseball (@RazorbackBSB) May 18, 2015
Benintendi and Portis are one of only two baseball and men's basketball SEC Player of the Year combos in the same calendar year in league history. The only other duo to accomplish the feat is Mike Zunino and Chandler Parsons (men's basketball) in 2011.