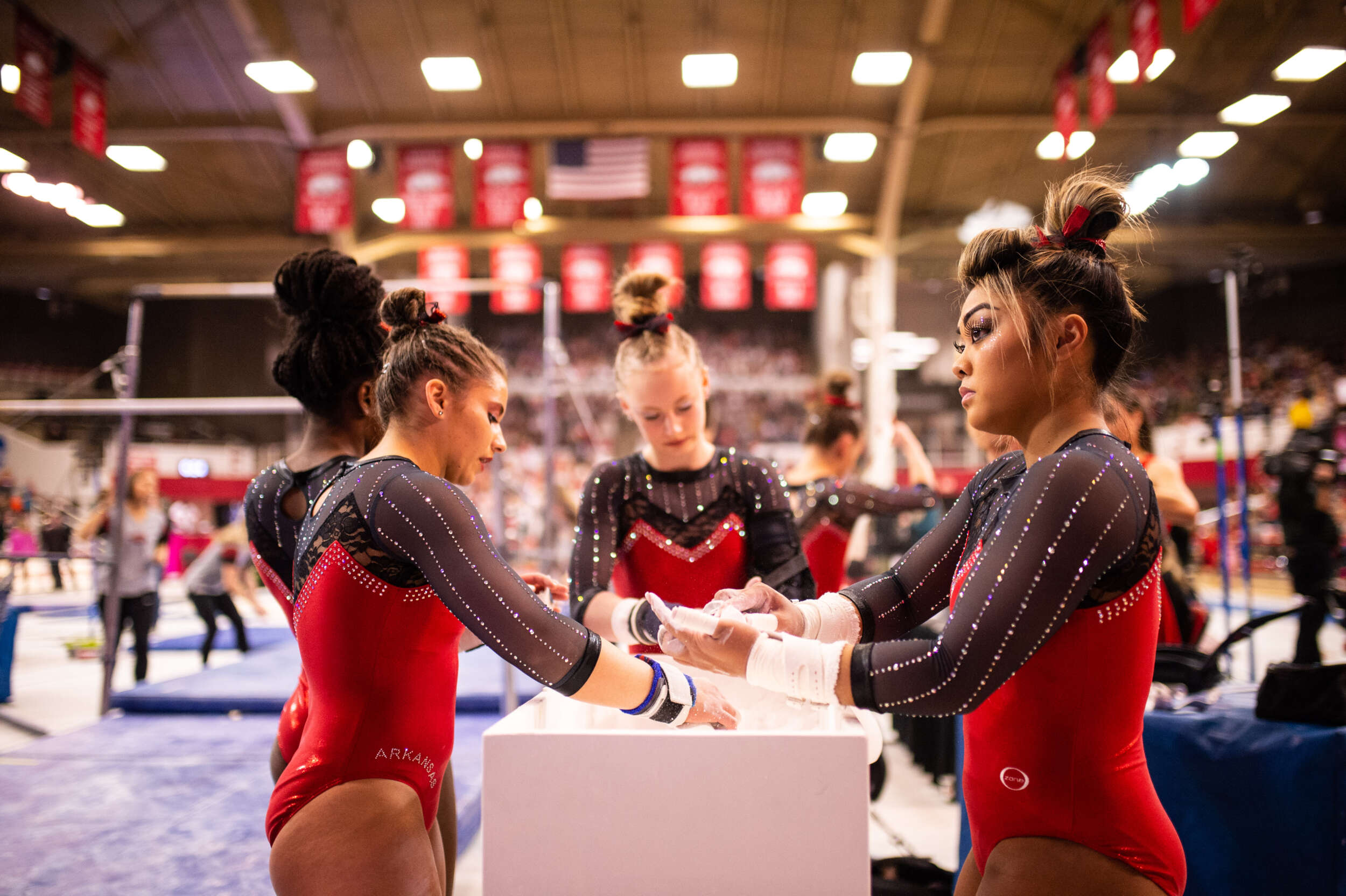 Setting the Tone
It wasn't long after Kiara Gianfagna stepped foot on campus during her first visit to Fayetteville that she fell in love with Arkansas. "My first impression of Arkansas was that it was just indescribable, amazing," Gianfagna said. She was taken in by the rich tradition and the fans made her feel at home.
Flash forward to the fall of 2019, 600 miles from her home in Brownsburg, Ind., Gianfagna was excited to get to work in the Huntley Training Facility, proud to be doting the cardinal and white. "My first day at the gym was better than I expected," she said. "I just went in and did exactly what I had been doing for years. I had fun and stayed very open to anything that the coaches were telling me. As soon as that first practice was over I thought to myself 'this is exactly where I'm meant to be'."
This was not only Gianfagna's first year, but new head coach Jordyn Wieber's as well.
It's easy to understand that Gianfagna was a little nervous when she first met the former Olympic gold medalist. "When I first met Jordyn I was just in awe just because of who she is and what she represents for the sport, what she did and who she is absolutely amazing."
Wieber and Gianfagna instantly hit it off and all of those first-year jitters quickly dissipated, "As soon as we started talking, I knew right then and there that we were going to have a great connection and a great time together. She was so open and I really appreciated that because it immediately helped me feel welcome and at home in the gym."
Gianfagna quickly fell under Jessica's wing and the a new friendship blossomed.  "I remember my first time out of the gym with Jessica, its one of my favorite memories," Gianfagna said. " I picked her up to go to a church gathering and we sat in the car and talked about life for hours," Yamzon added. The time passed and their friendship grew, realizing just how similar they were, now sharing not only a gym, but also a special bond. "We are the exact same person just three years apart," laughed Gianfagna.
"When I first met Kiara, she was super sweet but kind of shy and quiet," said Yamzon. "She's grown so much from when she first arrived in Fayetteville, now she's one of my greatest friends. She's one of the most honest, energetic and trustworthy people I know."
The duo spent countless hours together, as expected with teammates, but its the time they spent together outside of practice that nourished their hearts. "We would hang out and just start laughing and before we knew it, we couldn't stop giggling. We'd be belly-laughing so loud in the Jones Center during meals, so consumed with one another, it was like no one else was in the room."
"My friendship and mentorship of Kiara has helped me in so many ways," said Yamzon. "She has taught me so many things about myself and has shown me so many different ways to look at or approach things."
"I look up to Jessica a lot. One thing I admire about her is her willingness to get to know people," Gianfagna said. "She knows so many people and genuinely cares and wants to know everything about everyone, she always makes her teammates, myself included, feel deserving of respect and capable of more than we knew."
Although Yamzon's time in an Arkansas leo has come to an end, she is excited to be joining the staff as a graduate student coach this upcoming season. "I am so excited to be a graduate student coach this upcoming year! I am excited to learn from the coaches and be able to experience more than just being an athlete. Although it will be different, I am excited to see where it takes me!"
It was known to fans and media everywhere that Yamzon was the "Leadoff Queen," performing as the leadoff routine in every event in every meet of her career. Then a welcomed surprise acme in 2020, as Gianfagana joined Yamzon at the front the lineup as her Wieber's number two in every event.
With Yamzon's departure, there's an empty space where the leadoff would be. Gianfagna has some experience in that position, taking what she learned from Yamzon in practice and applying it during meets in which Yamzon could not compete due to injury.
"I could never fully 'take' Jessica's lead off spot," said Gianfagna. "She will forever been known in that role but I am super excited to take on the challenge. It was an unfortunate situation, but I got some experience with it this year because Jess was resting an injury. Having that opportunity and experience has made me eager and excited for more of those moments."
Visit ArkansasRazorbacks.com for the latest information on all things Arkansas Gymnastics. You can also find the Hogs on social media by liking us on Facebook (Arkansas Razorback Gymnastics) and following us on Twitter and Instagram (@RazorbackGym).