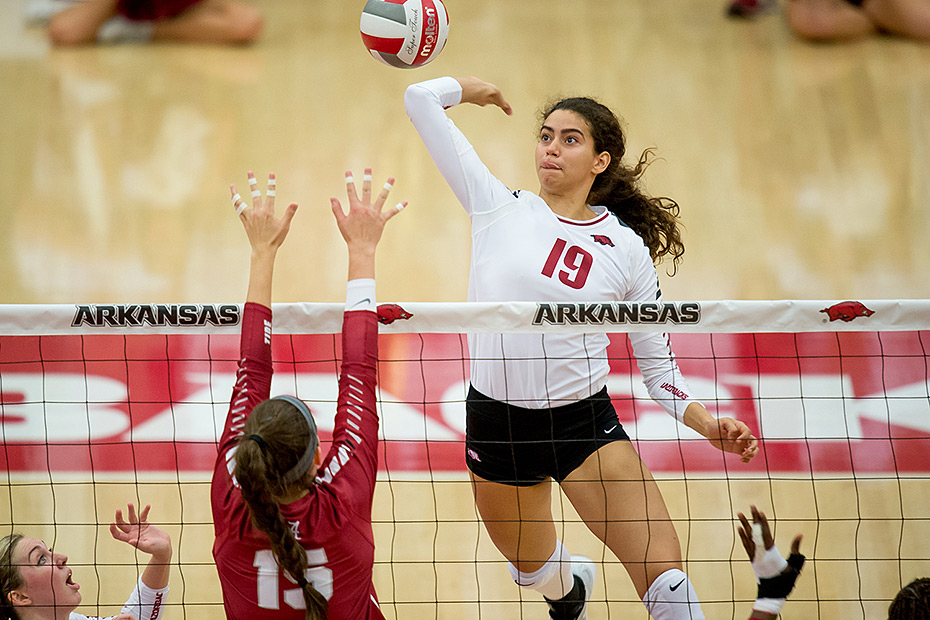 The Road Back To NCAAs
This five-part series on Arkansas Razorbacks head volleyball coach Jason Watson will serve to introduce him to Razorback fans, alumni, and the community. We'll cover his extensive volleyball background, his plans on how to build a winning culture, how he'll engage the community, his vision of leading the program back to the NCAA Tournament, and building his staff. Let's get started.
FAYETTEVILLE, Ark. – How much change is needed to set Razorback Volleyball back on the path toward being a perennial NCAA Tournament presence? Does the entire program need to be rebuilt from scratch in order to achieve this goal? And surely, a new coach who's instituting a new culture to fit a new system will need several years in order to reach the Tournament – right?
These are some of the questions fans, players, parents, alumni and the volleyball community may be asking themselves since Arkansas volleyball head coach Jason Watson was hired to helm the program earlier this year.
But Watson's assessment of Razorback Volleyball – backed up by his years of coaching and building successful, extremely well-attended and Tournament-bound programs in Arizona State and BYU – is confidently concise and clear. With him in charge, it'll mean tweaks here and there, and not a complete tear-down, that will propel Arkansas back to the NCAA Tournament.
"I think the SEC is a conference poised to make a big impact in women's volleyball," Watson said. "With some of the talented coaches coming on as of late, the SEC can be a deeper, multi-bid league with six or seven teams in the Tournament. Arkansas is a team the SEC needs to be good, and last year, we were close."
Watson said based on RPI, the Razorbacks weren't far off from getting into the Tournament last season, with the team's non-conference scheduling and overall health down the stretch playing contributing factors as well.
"As I look at it, this is a program that doesn't need a complete rebuild," Watson said. "The program's junior class are now seniors and they're going to be better, hungrier players. We're not going to make dramatic changes; in fact, quite the opposite. Our tweaks will be subtle, but effective in the long run."
The following are four examples of some of the tweaks Watson said the Razorbacks will focus on improving during the offseason. Mastery of all four points, according to Watson, are key toward setting the team back on the right path:
Tweak No. 1: Be more efficient on serves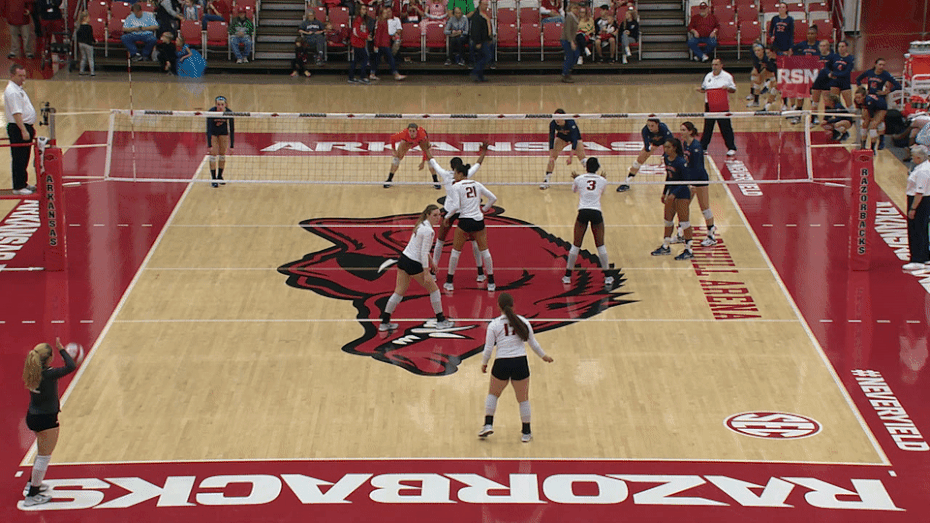 "Our research indicated we can get a really nice return on our investment if we become more efficient on serving," Watson said. "If we can serve a bit better, I think it will allow us to control the game better."
Tweak No. 2: Passing mechanics
"We're looking at our passing mechanics and how we can bring the game away from the net that skews things toward our favor," Watson said. "In order to accomplish all of that, we need to pass the ball a little bit better."
Tweak No. 3: Diversify the offense
"We want to be able to get our middles involved in the offense and not be so Pilar-centric in our offense," Watson said, referring to the All-SEC senior outside hitter. "It's easy to want to rely on Pilar a lot – she's pretty special and it's fun to watch her hit. But we want to maximize her a bit more by creating some more offensive diversity that people have to take into account when they're trying to defend against us."
Tweak No. 4: Utilize middles
"We also have some very nice and physical middles that need to be more impactful in the outcome of matches," Watson said. "We're trying to create a bigger window for them."
Despite his clear plan toward success in the near and long term, it shouldn't be implied that these subtle changes will be easy to implement. But Watson said this is where trust comes into play, and that it's been phenomenal this summer how his student-athletes have bought into the system.
"I think if we get a two percent improvement in this area, and another two percent improvement elsewhere, then we're going to the Tournament," Watson said. "These small tweaks are part of a bigger system that we're trying to play and put into place. So right now in our practices, we're selling this vision. We're a lot like salespeople right now. We're selling this idea that if you make these changes, you're going to get this degree of improvement, and that is what's going to get you into the NCAA Tournament."
The final installment of Introducing: Jason Watson will explore recruiting efforts and tie the entire five-part series together.