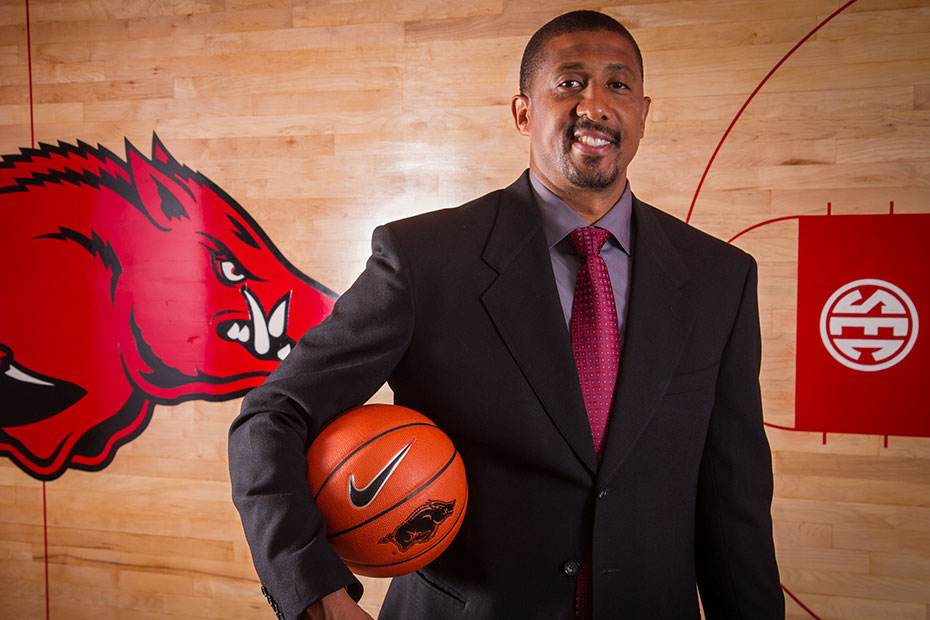 Thurman Joins Mike'd Up on Monday
FAYETTEVILLE, Ark. – Razorback legend and current staff member Scotty Thurman will join Mike Anderson on Mike'd Up, the weekly radio show dedicated to Arkansas basketball at Sassy's Red House in Fayetteville on Monday at 7 p.m.
The one-hour program gives fans an opportunity to interact with Razorback coaches and players, while also getting a chance to learn more about the personalities they witness on the court. Hosted by the voice of the Razorbacks, Chuck Barrett, the program features interviews with Coach Anderson and Arkansas student-athletes, coaches and staff members. Fans in attendance will also have an opportunity to ask the head Razorback their own questions. Fans can also send in questions to Coach Anderson on the day of each show via Twitter to @RazorbackMBB and by using the hashtag #MikedUp.
Responsible for one of the most memorable moments in Arkansas basketball history, Scotty Thurman is in his sixth year as Director of Student-Athlete Development and fifth under head coach Mike Anderson in 2015-16. He is also in his second year with the Razorback Sports Network as a color analyst for the men's basketball season.
No stranger to Arkansas basketball, Thurman provided his signature moment in the final minute of the 1994 NCAA championship game when his three-pointer with 53 seconds remaining secured a 76-72 win over Duke. Thurman returned to the Razorbacks in 2010-11, after successful professional and business careers to assist the student-athletes associated with the men's basketball program with their growth as individuals off the court. He is responsible for coordinating and developing programs that enhance personal and career development, along with participating in various community service efforts.
Arkansas opens a three-game homestand in Bud Walton Arena this week, hosting Auburn Wednesday at 6 p.m. and Missouri Saturday at 6:30 p.m. with both games televised on SEC Network. To purchase tickets click here.
Mike'd Up can be heard across the Razorback Sports Network from IMG College across the state. All three remaining shows are held on Mondays at 7 p.m.
Remaining 2015-16 Mike'd Up Schedule (All Shows At 7 p.m.)
Monday, Feb. 15
Monday, Feb. 22
Monday, Feb. 29
For more information on Arkansas men's basketball, follow @RazorbackMBB on Twitter.