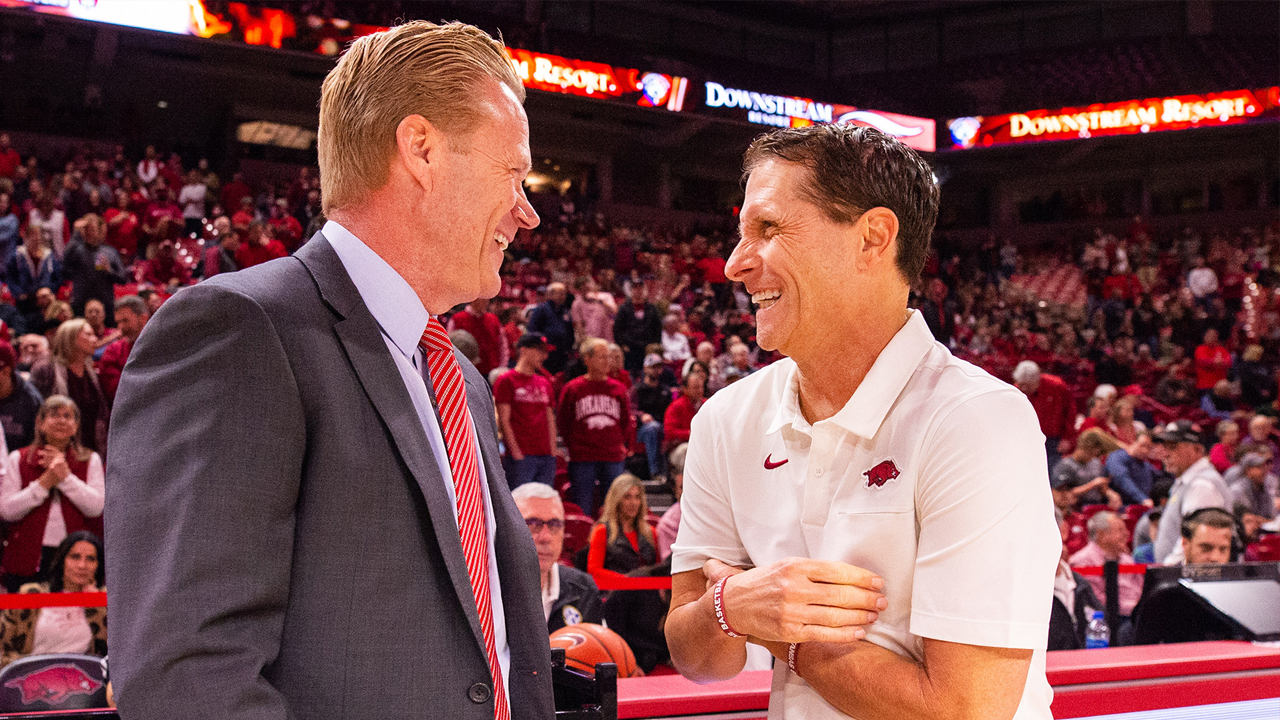 Todd Lee Named Director of Scouting/Assistant to Head Coach
FAYETTEVILLE – University of Arkansas head basketball coach Eric Musselman has named former University of South Dakota head basketball coach Todd Lee the Razorbacks' Director of Scouting and Assistant to the Head Coach.
Lee and Musselman have a relationship that spans 30-plus years. Lee was on Musselman's staff with the Rapid City Thrillers from 1992-94 after serving three years (1989-92) as an assistant coach under legendary University of San Diego head coach Hank Egan, who was Musselman's coach with the Toreros. Also, Lee mentored 2021-22 Razorback Stanley Umude to three All-Summit League honors while playing at South Dakota.
In addition to his connections with Musselman, Lee's has ties to Northwest Arkansas as his parents – M.O. and Wanda – lived in Bentonville for over 20 years after his father retired.
"Todd is exceptionally detailed and specific," Musselman said. "He is a veteran coach and he's here to serve as an additional pair of eyes. He will bring new ideas to the staff on how to view things, how to scheme on both ends of the court and how to attack things. It's always been a collective deal on our staffs. We are always looking for ideas and input which is why and how our staff has been assembled. One of the things about being a former head coach is, when you're not a head coach, you know what it takes to be a great assistant and Todd Lee will be a perfect fit in that regard."
Lee, a two-time conference Coach of the Year and finalist for national Coach of the Year, spent four seasons as head coach at the University of South Dakota and has 12 years of collegiate head coaching experience to his credit. He was 66-52 at South Dakota (2018-22) and was 154-81 in eight years at Kentucky Wesleyan (2005-13). Lee has also been an assistant coach at Southwestern CC (1986-89), Cal State Bakersfield (1994-97), UC Irvine (1997-2005) and Grand Canyon (2013-18).
Lee led South Dakota to a 19-12 record in 2021-22, including a 12-5 mark down the stretch after a two-week shutdown of the program due to COVID, while reaching the Summit League semifinals. Mason Archambault and Kruz Perrott-Hunt were named second team All-Summit League while Tasos Kamateros received honorable mention honors and Boogie Anderson was voted to the league's inaugural All-Defensive team.
In his third season at USD (20020-21), Lee guided a trio of Coyotes to All-Summit League honors in Umude (1st), A.J. Plitzuweit (1st) and Xavier Fuller (HM). Lee also earned the 2021 Summit League Coach of the Year honors while Plitzuweit earned the Newcomer of the Year honor as well as a spot on the All-Newcomer team. The Coyotes started conference play 9-0 for the first time since the 1992-93 season and reeled off 10 straight wins for its longest streak since the 2009-10 campaign. Lee's squad also knocked off South Dakota State in Frost Arena for the first time since the 1999-00 season, snapping SDSU's 32 game conference home win streak.
The Coyotes finished the season ranked eighth in the nation in 3-point FG percentage, 14th in the nation in free throw percentage, and 15th in the nation in turnover percentage. In the Summit League, the Yotes ranked first in free throw percentage and defensive field goal percentage.
Individually, Umude earned NABC All-District second team honors and finished the season as the 10th leading scorer in the country and fifth in field goals made. He is the only Coyote since the program went to Division I in 2008 to score over 21 points per game. He ended his career 11th in program history in points.
In year two, he guided Tyler Hagedorn to first team All-Summit League honors after coming off a redshirt season. Hagedorn also earned NABC All-District 12 first team honors and was a two-time Summit League Player of the Month and two-time Summit League Player of the Week. Umude earned second team All-Summit League honors. Umude also became the first Coyote to garner preseason Summit League Player of the Year honors.
As a team, the Coyotes recorded 20 wins in the 2019-20 season and had an eight-game overall win streak as well as a seven-game conference win streak, the longest such streaks since joining the Summit League. The Yotes finished as one of 11 teams in the nation that had five starters average 10 points or more on the season. In addition, USD finished the season ranked sixth in the nation in both FG percentage and 3-point percentage while ranking fourth in the nation with 1.021 points per possession on the season.
In his first year at the helm of USD, he guided Umude to first team All-Summit League honors after increasing his points per game output by 13.3 points over his freshman campaign to 14.4 points per contest. That number led the nation for all sophomores over their rookie season. Senior Trey Burch-Manning and junior Triston Simpson each earned an honorable mention to the Summit League teams while junior Cody Kelley garnered all-newcomer team accolades. As a team, Lee's defense led the Summit League with the fewest points allowed per game at just 71.2 while the Yotes ranked sixth in the nation in fewest turnovers.
Prior to South Dakota, Lee spent five seasons as the associate head coach at Grand Canyon University, helping the Antelopes to a 103-58 record. He served under former NBA All-Star Dan Majerle and the program accumulated 81 wins during the four-year transition to Division I, beginning in Lee's first year with GCU. The number of wins is the most by any program that has made the leap into Division I.
In his final season at Grand Canyon (2017-18), the 'Lopes totaled 22 wins for the third-straight year and advanced to the Western Athletic Conference (WAC) championship game. GCU finished in the top three of the WAC in all five seasons with Lee and made four consecutive postseason appearances.
In his five years at GCU, Lee mentored five first team all-WAC selections, four second team honorees, four all-defensive team selections and a WAC Freshman of the Year. Additionally, Josh Braun, a three-time all-conference honoree, was a three-time Academic All-American, including two first-team nods.
Lee came to Grand Canyon after eight seasons at Kentucky Wesleyan. After taking over a program with limited scholarships due to NCAA sanctions, Lee had only 20 wins in his first two seasons with the Panthers. However, he went 24-8 in year three and made the first of five consecutive NCAA Division II tournament appearances. The highlight was the 2012 campaign when Lee led Kentucky Wesleyan to a trip to the Sweet 16 and a No. 1 national ranking during the year. The program ended the season ranked in the top 25 on four occasions and the Panthers averaged 22 wins over Lee's final six season with .736 win percentage (134-48).
Lee coached five first team All-Great Lakes Valley Conference (GLVC) selections and 14 total all-conference performers including Jeff Fahnbulleh, the 2007-08 GLVC Player of the Year. Lee was named the 2008 GLVC Coach of the Year in 2008, the NABC Midwest Region Coach of the Year in 2010 and a finalist for the prestigious Clarence 'Big House' Gaines Division II National Coach of the Year in 2012.
He spent eight seasons (1887-05) as an assistant coach at UC-Irvine with the final four as associate head coach under Pat Douglass. The Anteaters claimed a pair of Big West Conference Championships and captured three-straight 20-win seasons for the first time in program history.
UC-Irvine also played in the National Invitation Tournament in 2001 and 2002.
Lee also served as an assistant under Douglass for three years at CSU-Bakersfield, compiling a 75-16 record and capturing the 1997 NCAA Division II National Championship. In all three years (1994-97), the Roadrunners advanced to the NCAA Tournament.
Lee spent two years (1992-94) as an assistant coach for the Rapid City Thrillers of the CBA under Musselman. While with the Thrillers, Lee organized and coached the first CBA or NBA professional basketball team to tour China and compete against the Chinese National Army, posting a 5-0 record in 1992.
Lee's coaching career started as an assistant at Southwestern College (1986-89) before being named assistant coach at the University of San Diego (1989-1992).
A native of Huron, South Dakota, Lee graduated from South Dakota in 1986 with a degree in business administration. He received his master's degree in education from Azusa Pacific in 2003. Lee has three sons, Carson, Jackson and Peyton.
TODD LEE FAST FACTS
Born: February 20, 1964
Hometown: Huron, South Dakota
Alma Mater: South Dakota, 1986
Children: Carson, Jackson and Peyton
Education: South Dakota (1986 – Bachelor's in Business Administration); Azusa Pacific (2003 – Master's in Education)
COACHING CAREER
1986–1989       Southwestern CC (Assistant Coach)
1989–1992       San Diego (Assistant Coach)
1992–1994       Rapid City Thrillers (Assistant Coach)
1994–1997       Cal State Bakersfield (Assistant Coach)
1997–2005       UC Irvine (Assistant Coach)
2005–2013       Kentucky Wesleyan (Head Coach)
2013–2018       Grand Canyon (Assistant Coach)
2018–2022       South Dakota (Head Coach)
2022-pres.        Arkansas (Director of Scouting and Assistant to the Head Coach)