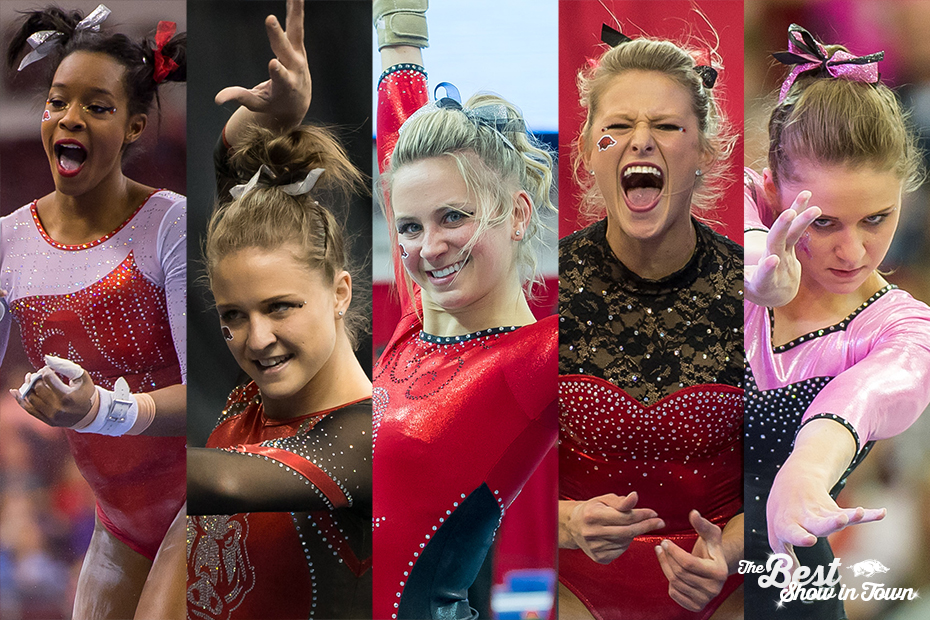 Top 5 Gymnastics Moments Of 2016
The 2016 Arkansas Gymnastics season was undeniably full of excitement, and we are counting down the top five moments from throughout the year.
HONORABLE MENTION
• Ending the season with four consecutive victories
• Snider recognized as top assistant coach in region
• Cook earns second SEC Co-Coach of the Year
• Setting record for highest score in a home opener
• Stellar graduating class honored on Senior Night
5. (LITTLE) ROCK SOLID
THANK YOU FANS! Today you showed this whole conference why you're all such wonderful supporters! #GymbackFamily pic.twitter.com/2EjgKDG9Q6 — Razorback Gymnastics (@RazorbackGym) March 19, 2016
At the 2016 SEC Championship – held in North Little Rock's Verizon Arena for the second time – the #Gymbacks posted a 196.500, the team's best score at the event in program history. Samantha Nelson (9.900 on balance beam and 9.875 on floor exercise), Amanda Wellick (9.875 on floor) and Paige Zaziski (9.875 on uneven bars) earned All-SEC Team honors for their performances.
4. THE AMANDA SHOW
Final event of the day is @ayywelliee on Floor & she KILLS IT! Way to represent #Gymbacks tonight in Fort Worth. pic.twitter.com/NFVoFhHrP3 — Razorback Gymnastics (@RazorbackGym) April 16, 2016
After earning a trip to NCAA Nationals as an individual, Amanda Wellick scored 39.300 in all-around to finish seventh in the evening session and earn Second Team All-American honors. Although she started out with a vault of 9.775, Wellick bounced back tremendously during her final three events.
The run started with a 9.8375 on uneven bars, which was 20th among all evening session competitors. The junior then posted 9.875 on balance beam, finishing tied for 11th. With all eyes on her floor exercise as the final routine of the day, the Arkansas gymnast put forth a score of 9.8125. Wellick's total of 39.300 was her 10th-consecutive all-around performance of that mark or higher to end the season.
3. BATTLE IN BARNHILL
#battleinbarnhill pic.twitter.com/KvVOGhDfer

— Sydney McGlone (@squidness3) January 28, 2016
Coming off one of the biggest wins in program history in Tuscaloosa, Alabama, the week before, the #Gymbacks faced another challenge from No. 9 Auburn on Jan. 29 in Fayetteville. What the team labeled as the "Battle In Barnhill" ending up fulfilling the name, with Arkansas outlasting the Tigers by an overall score of 196.600-195.975.
Amanda Wellick edged 2016 SEC Gymnast of the Year Caitlin Atkinson 39.500-39.400 for the all-around title, won the vault title with a 9.900 and scored a 9.850 on beam to share the event title with Samantha Nelson. On floor exercise, Nelson capped her meet with a career-high 9.925 to take that crown as well. The meet was attended by 4,619 Arkansas fans, the ninth-largest crowd in program history.
2. TURNING THE TIDE
WE. JUST. BEAT. BAMA. AGAIN. pic.twitter.com/KVayX4C91L — Razorback Gymnastics (@RazorbackGym) January 23, 2016
Coming into 2016, the #Gymbacks were winless against Alabama in six meets at Coleman Coliseum, but on the evening of Jan. 22, that all changed. Trailing by .525 points after two rotations, Arkansas turned the tables in the third and gained 1.100 points on the Crimson Tide to close out the victory with a 49.225 on balance beam and emerge victorious by an overall score of 196.700-196.400.
While the Razorbacks' composed beam lineup pushed the squad over the top, Alabama let the win slip away. After falling twice from the apparatus in Barnhill Arena in 2015, the Crimson Tide fell three times in 2016. While Alabama was on beam, the #Gymbacks put together a season-high floor exercise score of 49.425, including a 9.900 from Sydney McGlone featuring the first double layout in program history.
1. 197.225
Remember this night, 🐗 fans!

On February 26, 2016… #Gymbacks TIED THE PROGRAM RECORD SCORE WITH A 197.225!#WPS pic.twitter.com/hOAdcNPxuV

— Razorback Gymnastics (@RazorbackGym) February 27, 2016
On Feb. 26, the #Gymbacks entered their meet against No. 23 Kentucky on the heels of back-to-back underwhelming away meets. Wearing pink leos for breast cancer awareness, Arkansas scored a 197.225 to match the program's all-time record in a meet, tying the mark previously set Jan. 20, 2012 vs. No. 25 LSU.
As anchor of the floor exercise lineup, Amanda Wellick needed a 9.950 to reach the hallowed number for the Razorbacks, and she hit it right on the head. With the 9.950 on floor, 9.900 on uneven bars and 9.900 on balance beam, Wellick tied three career-highs to set a career-best all-around mark of 39.600. The #Gymbacks finished with a 49.550 on bars, good enough for the team's best score on the apparatus in Barnhill Arena history.
For more #Gymbacks content during the season, please follow @RazorbackGym on Instagram, Twitter and Snapchat.