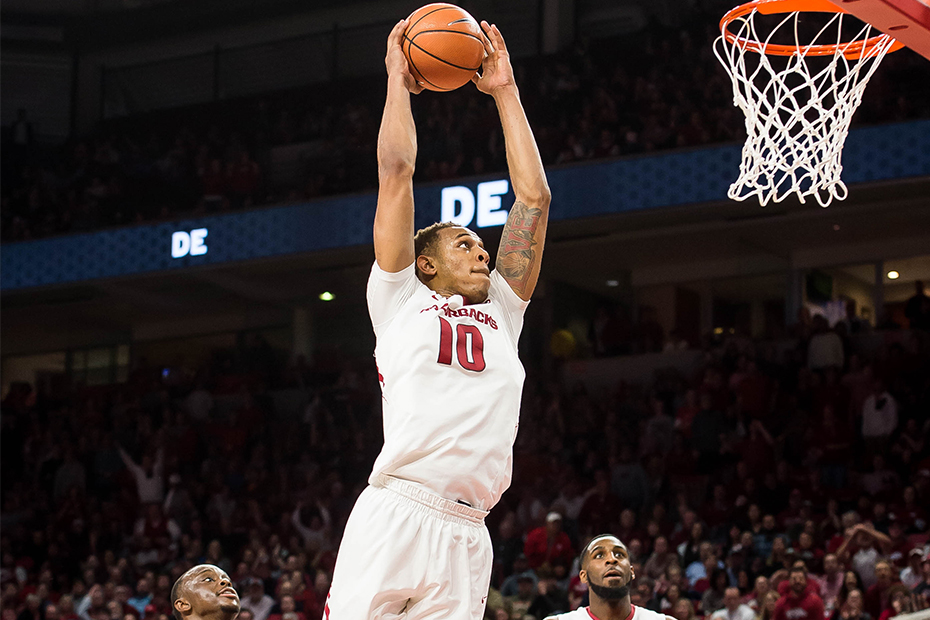 Two Double-Doubles Lift Hogs Over No. 14 Auburn
Box Score | Highlights | Press Conference: Coach A | Players
FAYETTEVILLE, Ark. –  Behind double-doubles from Jaylen Barford and Daniel Gafford, the Arkansas men's basketball team defeated the No. 14 Auburn Tigers 91-82 Tuesday night.
Arkansas has now won six of the last seven games, improving to 21-9 overall and 10-7 in SEC play. The Razorbacks moved to 8-2 against Auburn under head coach Mike Anderson, including a 4-1 mark at home against the Tigers.  Arkansas has won 10 of the last 12 meetings against the Tigers, including six of the last seven at home.
Fittingly, Arkansas started five seniors Tuesday night, just the second time this season the Razorbacks have done so. However, the game did not start as planned.
Arkansas fouled Auburn three times in the first 40 seconds, as the Tigers would hit three of four free throws to take a 3-0 lead. Arkansas would get settled in, going on a 10-0 run to gain control. After going back and forth with Auburn, the Razorbacks gained their first double-digit lead of the half at 24-14 after a small 6-0 run. Auburn would run off a 12-4 spurt to cut make it a two-point game before it turned into the Daniel Gafford show. Gafford recorded dunks on back-to-back possessions before swatting an Auburn shot that led to a transition dunk for senior guard Daryl Macon.
Arkansas would go on to lead by as many as 13 points in the half, as the Razorbacks took a 52-42 lead into the break. It marked the sixth time this season and second time in SEC play that Arkansas scored 50-plus points in the first half. Looking eclipse 1,000 career points, Macon, needing 14 points, would score 11 in the first half. Also looking to surpass the plateau,  Jaylen Barford, needing 17 points, led Arkansas with 13 at the break.
Arkansas opened the half with a plan and executed it to perfection. The Razorbacks found Gafford inside on three-straight possessions, as the big man slammed home his fourth and fifth dunks of the, along with a lay-up to score six straight and force the Tigers to use a timeout.
The Razorbacks would open on a 9-0 run as Macon hit a three in transition to give the Little Rock native 1,000 career points. Macon became the sixth Razorback in program history to record 1,000 career points in just two seasons.
As Arkansas stretched its lead to 19, Auburn responded with a 10-2 run to cut it back to nine.
Barford would help the Razorbacks extend its lead back out, scoring five straight, as the senior would join Macon and become the seventh Razorback in program history to pass the 1,000 career points mark in just two seasons.
Auburn would cut the Arkansas lead to six but Arkansas would hang on to win 91-82.
Gafford would lead the way for Arkansas, finishing with his second career double-double, recording 21 points on 10-of-15 shooting, 10 rebounds and seven blocks. The big man also recorded seven dunks.
Barford recorded his first double-double of his career, scoring 20 points and pulling down a career-high 10 rebounds. Macon added 16 points, going 4-for-4 from deep, to go along with six assists and three rebounds.
Arkansas' bench was key Tuesday night. It outscored Auburn's 40-15. In the last two games, the Razorbacks' bench has outscored its opponents by a margin of 62 to 27.
Game Notes
• Arkansas improves to 110-17 at Bud Walton Arena under Coach Anderson.
• The win marks No. 15 in Bud Walton Arena this season, marking the seventh time in the last eight years that Arkansas has won  15+ wins in BWA.
• The win marks the fourth ranked team Arkansas has beat at home this season, the most in a single season in program history.
• Daryl Macon and Jaylen Barford became the 42nd and 43rd players, respectively, in school history to eclipse the 1,000 career points mark. They are the sixth and seventh Razorbacks to accomplish the feat in two seasons. Four of the seven players will have done it in the last four seasons under Coach Anderson (Bobby Portis, Dusty Hannahs, Daryl Macon, Jaylen Barford).
• The Razorbacks are 38-23 against AP top 25 teams in Bud Walton Arena, including winning five of the last six such games.
• Arkansas is 4-0 at home against ranked teams this year for the first time in 10 years, and have won those games by an average 11.5 points.
• During the last five years, the Razorbacks have posted a 35-15 (.700) regular season record in the months of February and March.
• Arkansas has won 38 consecutive games in which it has led at halftime. During Mike Anderson era, the Razorbacks are 123-7 when leading at the intermission.
• During the Mike Anderson era, Arkansas is 88-11 when scoring 80+ points, including wins in 33 of the last 34 games.
• Arkansas has recorded 12 victories over AP Top 25 teams during the Mike Anderson era, including at least one in six of his first seven years.
For more information on Arkansas men's basketball, follow @RazorbackMBB on Twitter.