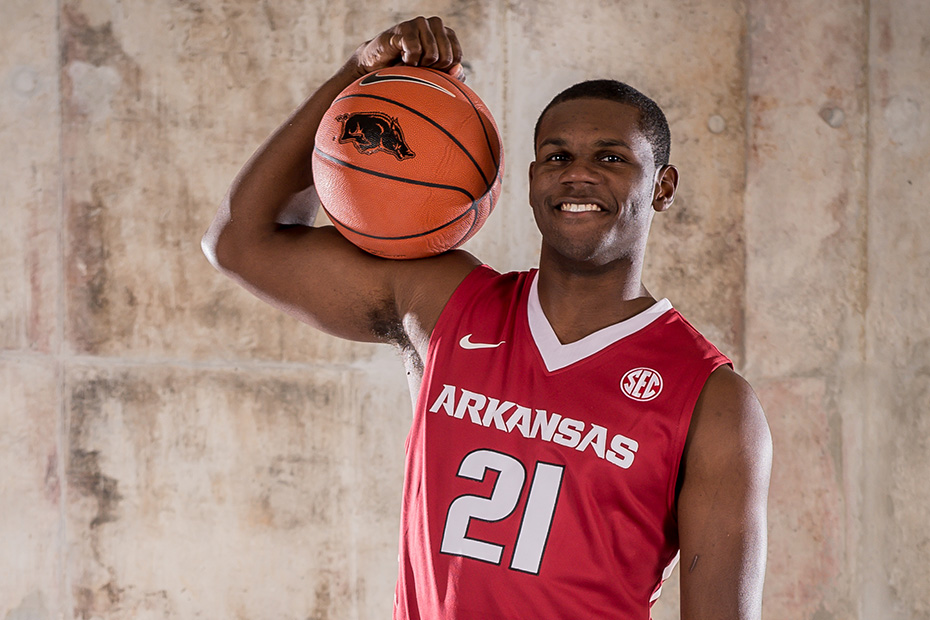 Watkins Earns Scholarship for Upcoming Season
FAYETTEVILLE, Ark. – Arkansas men's basketball head coach Mike Anderson announced Thursday that rising junior Manuale Watkins has been placed on scholarship for the 2015-16 season.
"When Manuale first wanted to become a Razorback he certainly turned down some scholarship offers," said Anderson. "I told him what had to take place for him to be in a position to receive scholarship and he earned it. Ever since he stepped foot on this campus he has been one of the hardest working and most improved guys each and every year."
A walk-on for his first two seasons, Watkins played in all 36 games as a sophomore, averaging 13.9 minutes per game and shooting 55-percent from the field to lead the team. His biggest shot of the year came at Ole Miss on Feb. 14, knocking down the game-winning bucket with 6.4 seconds left to send Arkansas to a 71-70 victory over the Rebels in SEC play.
"He really worked hard in the offseason and when you go back to when he came here it was a little risky because he had scholarships to other places," said Arkansas assistant coach and Manuale's father Melvin Watkins. "But he wanted to play for the Razorbacks and that is where his passion was. We are fortunate that was able to happen."
Watkins finished second on the team in steals in 2014-15, recording 37 takeaways on the year, including multiple steals in eight games. He was named to the SEC Winter Academic Honor Roll last season, helping the program achieve over a 3.0 GPA for the academic year.
"I've been around this coaching staff since I was 10," said Manuale. "They were all at Mizzou and I was always around the gym, so for me it's like having a bunch of dads and not just one. They are all my family."
Arkansas opens the 2015-16 season with three straight home games, opening the year on Nov. 13 against Southern University, before Akron and Charleston come to Bud Walton Arena on Nov. 18 and Nov. 20 as part of the NIT Season Tip-Off.
The Razorback Ticket Center is currently accepting requests for 2015-16 Men's Basketball Season Tickets. Seats will be assigned by Razorbacks Foundation guidelines with season ticket prices ranging from $360 to $450. To purchase tickets call 1-800-982-4647 or click here.