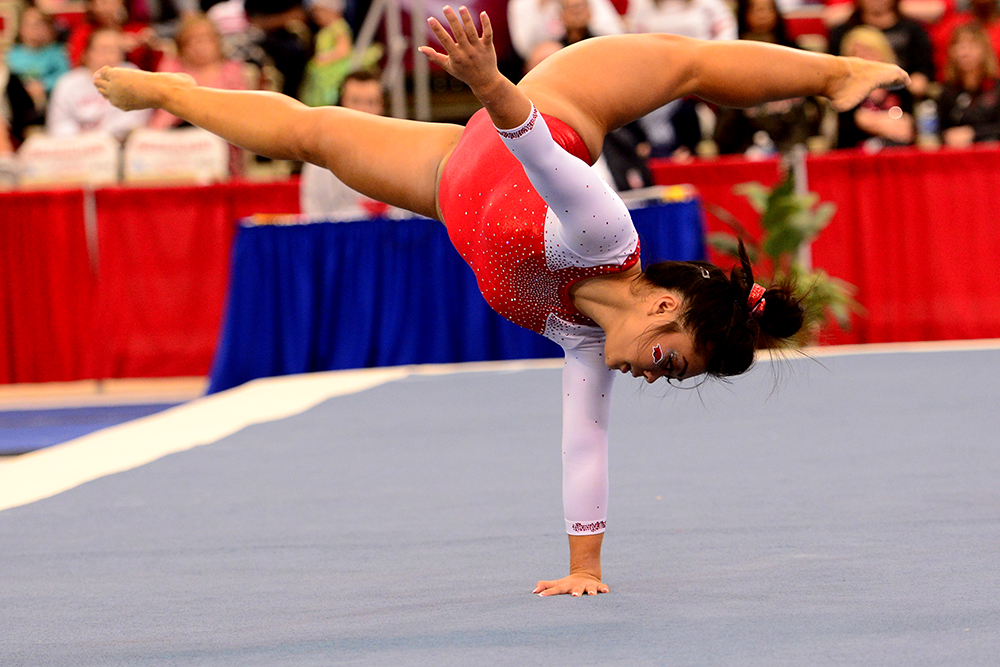 Wellick Leads Razorbacks At GymQuarters Invite
ST. CHARLES, Mo. – Senior Amanda Wellick posted scores of 9.900 on bars and vault, while sophomore Michaela Burton recorded one of her own on beam, to lead Arkansas as the Razorbacks placed fourth at the GymQuarters Mardi Gras Invitational in St. Charles, Mo.
First Rotation: Arkansas Bars: 49.150
Wellick led the Razorbacks with a 9.900 on bars, her second-consecutive meet with a 9.900 on the event and third this season. Arkansas' first three gymnasts each recorded scores over 9.800 or higher as the pair of freshmen in Sarah Shaffer and Sydney Laird tallied scores of 9.850 and 9.825, respectively.
Second Rotation: Arkansas Beam: 49.250
The Razorbacks put up five scores over 9.800, led by sophomore Michaela Burton's 9.900, to pull ahead of George Washington and into third place. It was Burton's third score this season over 9.900. Just behind Burton was freshman Sophia Carter and sophomores Jessica Yamzon and Hailey Garner, who posted scores of 9.850 each. It was Garner's first appearance on the event this season as she competed in the all-around for the first time in her career.
Third Rotation: Arkansas Floor: 48.275
Burton followed up her beam routine with a 9.850 on the floor, her fourth-consecutive meet with a 9.850 or higher on the event. Garner matched her score with a 9.850 of her own, as senior Mia Bargiacchi posted a 9.825 to round out the Razorbacks' top scorers on the floor.
Fourth Rotation: Arkansas Vault: 48.900
Wellick posted her second 9.900 of the night on the final rotation to lead the Razorbacks, her highest score of the season on the event. Fellow senior Braie Speed was just behind her with a 9.875. Shaffer's score of 9.825 was the Razorbacks' other score over 9.800. Yamzon posted a 38.500, while Garner posted a 38.250 in her first career appearance in the all-around.
Team Scores
LSU- 198.075
Missouri- 196.025
George Washington- 195.650
Arkansas- 195.575
Up Next
The Razorbacks are on the road again in Gainesville, Fla. for their final regular season conference meet of the year at No. 5 Florida. The meet will stream live on the SEC Network+ beginning at 7 p.m. There will be a tape delay showing on the following Sunday at 6 p.m. on ESPNU.
For more information on Arkansas gymnastics, including in-meet updates, follow @RazorbackGym on Twitter.