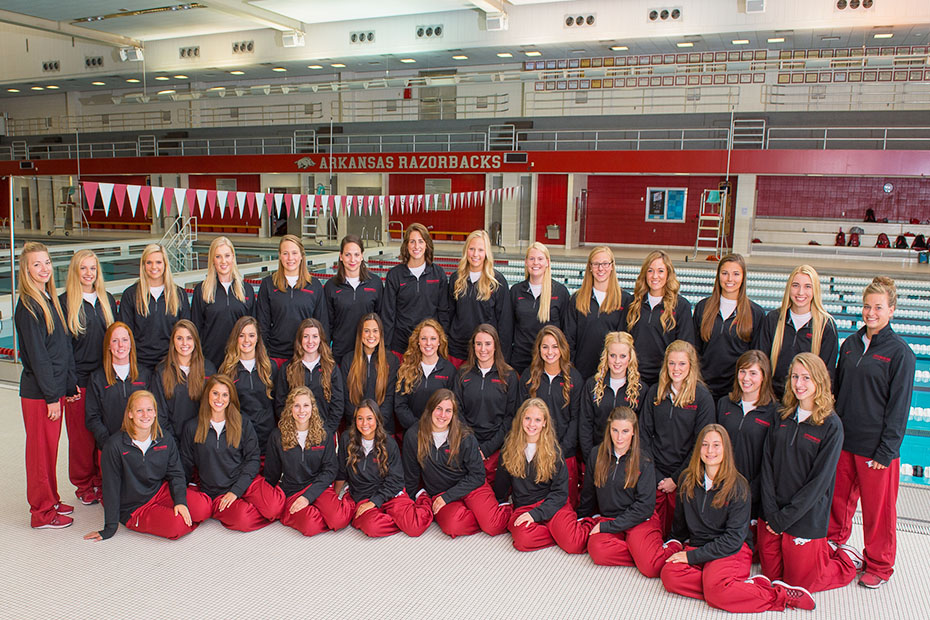 White-152, Defeats Red-84
FAYETTEVILLE, Ark. –The University of Arkansas swimming and diving team kicked off the 2015-16 season with a Red-White Intra-squad meet Wednesday afternoon. The White team defeated Red, 152-84.
"Overall, everyone had great swims and dives that reflected the hard work we have been putting in over the past four weeks." Senior and co-captain Rachel Stoehr said. "Being able to race, even in our inter-squad setting, helps boost the entire teams confidence going into this upcoming season. Now we are even more excited about starting the competitive season next weekend against Nebraska."
Seniors Anna Mayfield and Maddie Monroe (White) both won two individual events, sophomore Jessie Garrison (White) won two, sophomore diver Nicole Gillis (White) won the one-meter and three-meter diving, and freshman Sydney Angell (Red) won one individual event. The White team dominated 10 of the 13 events, including two relays.
"Today was a good starting point for our team. We were able to see our progress thus far and address what we need to work on in the future" Co-captain and senior Jordan Kimmey said.
The intra-squad meet is one of four home meets highlighted in Arkansas' 2015-16 season. The Razorbacks will head to Nebraska Oct. 3 for the first dual meet of the season. Following Nebraska, Arkansas will host Kentucky at the Arkansas Natatorium on Oct. 10th. Oct. 23-24 the Razorbacks will travel to Houston, Tex. for the two-day Rice Invite. The team will be back on the road to Tennessee on Nov. 6 and will also compete in the Georgia Tech Invite from Nov. 19-21.
The Razorbacks had seven swimmers qualify for the 2015 NCAA Championships where they competed in 10 individual events and four relays, tying for the most events in program history. Four of the seven are now seniors including Anna Mayfield, Maddie Monroe, Nina Drolc and Rachel Stoehr.
Arkansas will travel to Lincoln, Neb Oct. 3 against Nebraska and the following weekend Arkansas returns home hosting Kentucky Oct. 10 at 11 a.m.
For more information on Arkansas swimming and diving, follow @RazorbackSD on Twitter.