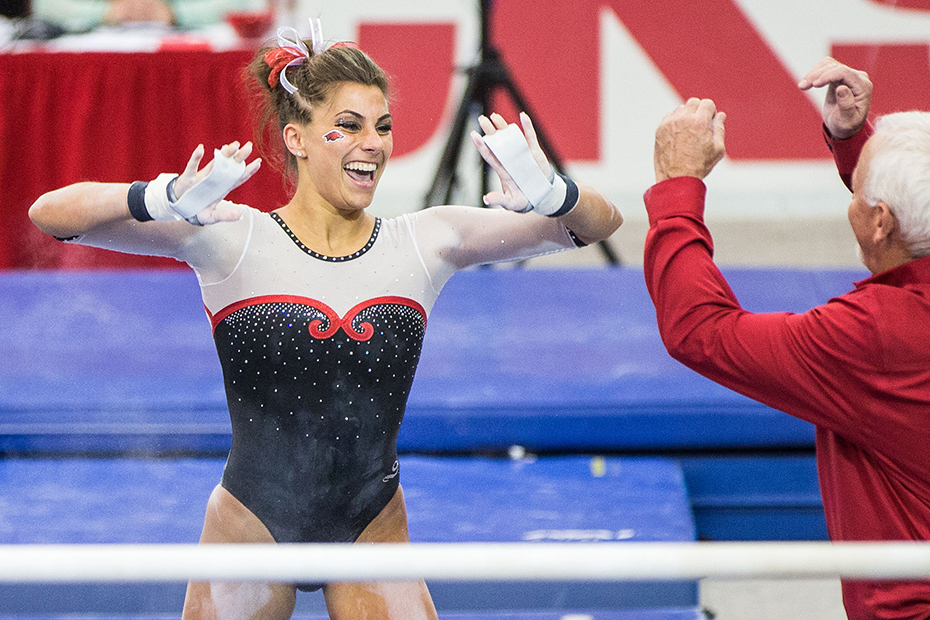 Zaziski Leads Gymnastics with Bars Title
FAYETTEVILLE, Ark. — The Arkansas gymnastics team scored a 195.900 in their second of a back-to-back meet weekend on Sunday afternoon in Barnhill Arena. Visiting team Oklahoma had a 197.050 as the No. 3 Sooners eclipsed the 196.775 team score by Georgia on Friday Night.
Competing in three events, Paige Zaziski tied a career high of 9.875 on balance beam for the second-consecutive meet, while also adding a stunning 9.900 on uneven bars and a 9.800 on vault. Her score on bars notched her fifth-career title on the apparatus.
Freshman Sydney McGlone, shaking off some first-meet jitters from Friday, responded by tying her career bests of 9.875 on vault and 9.825 on floor exercise. The score on floor led the team and finished fourth among all gymnasts.
The Razorbacks started strong on vault, matching their season-high score of 49.200 the team had in Cancun. Amanda Wellick had the high score for Arkansas for the third-consecutive meet, this time with a 9.900. The junior competed in the all-around, adding a 9.850 on bars.
In the beam and floor lineup for the 40th-consecutive meet – having never missed a rotation in her Razorback career – Sydnie Dillard led off on beam with a 9.825, then added a 9.775 on floor.
Samantha Nelson anchored the beam rotation by tying a career-best of 9.825, then joined Dillard with a 9.775 floor score. Meanwhile, Braie Speed matched Wellick's 9.850 on bars and tied her season high with a 9.800 vault score.
GYMQUOTES
"We had a lot of confidence but two meets back-to-back is tough. We have a lot to learn from this and use it as motivation to get better this season. We're only gonna go up from here." — Junior Samantha Nelson
"I learned to have fun and be in the moment, soak everything in and just do my gymnastics. I went over what I kind of had the jitters on, settled in and figured out how to make everything click." — Freshman Sydney McGlone
UP NEXT
Arkansas travels to Tuscaloosa to face No. 4 Alabama for its first true road meet of the season on Friday, Jan. 22 at 6 p.m. Last year, the Razorbacks knocked off the Crimson Tide for the third time in program history, as the score was 196.375-196.175 in Barnhill Arena.