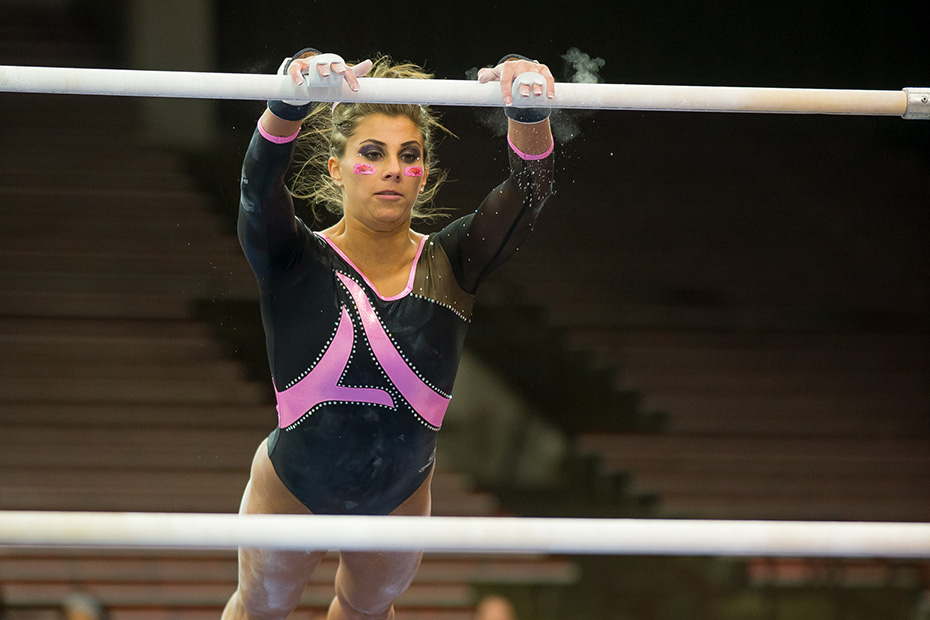 Zaziski Ties Freshman Uneven Bars Record Against No. 23 Mizzou
FAYETTEVILLE, Ark. – Paige Zaziski tied the University of Arkansas women's gymnastics freshman record on the uneven bars en route to a pair of event titles to help the No. 17-ranked Razorbacks to a 195.825-195.275 victory over No. 23 Missouri on Friday at Barnhill Arena.
Zaziski recorded a personal-best 9.925 from the anchor slot of the uneven bars rotation to help Arkansas score a season-best 49.200 in the event. Tonight's 9.925 ties a freshman record at Arkansas, as she matches scores from Melissa Leigh, who set the record back on March 14, 2003 against Missouri, and Emily Peacock, who tied Leigh's mark on Feb. 4, 2005 at LSU.
The freshman's 9.925 on the bars led to her second-straight event title and her third uneven bars win in the last four meets. The Chesterfield Township, Michigan native put together a solid meet overall, as she recorded scores of 9.900 on the vault, 9.700 on the balance beam and 9.675 on the floor exercise to post an all-around score of 39.200 to capture her first career all-around title.
After posting its eighth-straight 49-plus score on the vault to open the meet, the Razorbacks had three gymnasts set a career-high on the uneven bars to post a season-best 49.200 in the event. Arkansas counted a pair of 9.9-plus scores from Zaziski and junior Erin Freier, as the Michigan duo posted a 9.925 and a 9.900, respectively. Freier's score set a new career mark on the bars, making her the second junior to record a new career-best in the event on Friday, joining Heather Elswick, who scored a 9.725.
Arkansas ended the night by collecting its highest score in any event, as the Razorbacks posted a 49.225 on the floor exercise. Five gymnasts recorded a 9.8-or-higher to help the team post it seventh-straight 49-plus score in the event.
Sophomore Amanda Wellick also collected a pair of a 9.9-plus scores on the night, as her 9.925 on the vault and her 9.900 on the floor exercise earned her the title in both events. It was the fourth-straight meet that Wellick has captured the vault title, while it was the second time she has won the floor in the last three meets. Overall, the Wheaton, Illinois native has won 13 event titles through eighth meets this season.
Razorback of the Meet – Freshman Paige Zaziski
• Tied an Arkansas freshman record on the uneven bars with a 9.925.
• Won her second-straight uneven bars title, it was her third in the last four meets.
• Captured her first-ever all-around title with a 39.200.
• Scored her fourth 9.9-or-high of the year on the vault with her 9.900.
• Has now won five event titles (3 UB, 1 BB, 1 AA) in the last four meets.
9.80-Plus Routines
Vault: Nelson (9.8), MacMoyle (9.8), Zaziski (9.9), Wellick (9.925)
Bars: Freier (9.9), Canizaro (9.875), Zaziski (9.925)
Beam: Freier (9.8)
Floor: Canizaro (9.825), Dillard (9.8), Nelson (9.825), Elswick (9.875), Wellick (9.9)
Arkansas All-Around Scores
Paige Zaziski: 39.200
Amanda Wellick: 38.150
Team Scores
No. 17 Arkansas: 195.825
No. 23 Missouri: 195.275
Event Winners
Vault: Amanda Wellick, Arkansas, 9.925
Bars: Paige Zaziski, Arkansas, 9.925
Beam: Briana Conkle, Missouri, 9.825
Floor: Amanda Wellick, Arkansas, 9.900
All-Around: Paige Zaziski, Arkansas, 39.200
Post-Meet Sound: Head Coach Mark Cook
On His Team's Performance
"Well I thought again we performed really aggressively through the whole meet. We had some jitters again with the balance beam, a couple falls, but we just need to tighten up on that event more. It is a mental event and we do the repetition, so we just have to be able to perform better. The other events we were really aggressive. I was very pleased with the girl's execution in many ways."
On Posting a Season-Best on the Bars and Zaziski Tying the Freshman Bars Record
"We were much sharper on bars. We really drilled a lot of handstands and landings in workouts the last couple weeks. That is starting to pay off now. We just have to stay the course. Paige is hitting her handstands better and we have worked on that a lot. She transferred that into the competition and she scored high. Same thing with Erin Freier. She did that routine like she is capable of and she scored big. As long as they believe in the changes present them and they're willing to make those changes, then they are going to continue to improve."
On Zaziski's All-Around Title
"It's just the beginning. She's a very special young lady, and once we get the floor ironed out a little better, she's going to be scoring really high on the all-around. I'm really excited for her future, and in the meantime, she's doing a great job for us."
On Tonight's Win and Gaining Confidence Heading Towards the SEC Championship
"Our conference is so brutal and tough. We get confidence when we are hitting all four events. We have to work on that, but a win is a win. We definitely like the wins, we want more of them. We need to go down to Georgia next weekend and really put together a good meet and try to get that win too."
Up Next
The Razorbacks will conclude the SEC portion of its 2015 schedule next Saturday, as they will travel to the Peach State to take on the ninth-ranked Georgia Bulldogs. The meet will be webcast live on the SEC Network+ via the Watch ESPN app, with start time slated for 5 p.m. CT.
For more information on the Arkansas women's gymnastics, follow @RazorbackGym on Twitter.