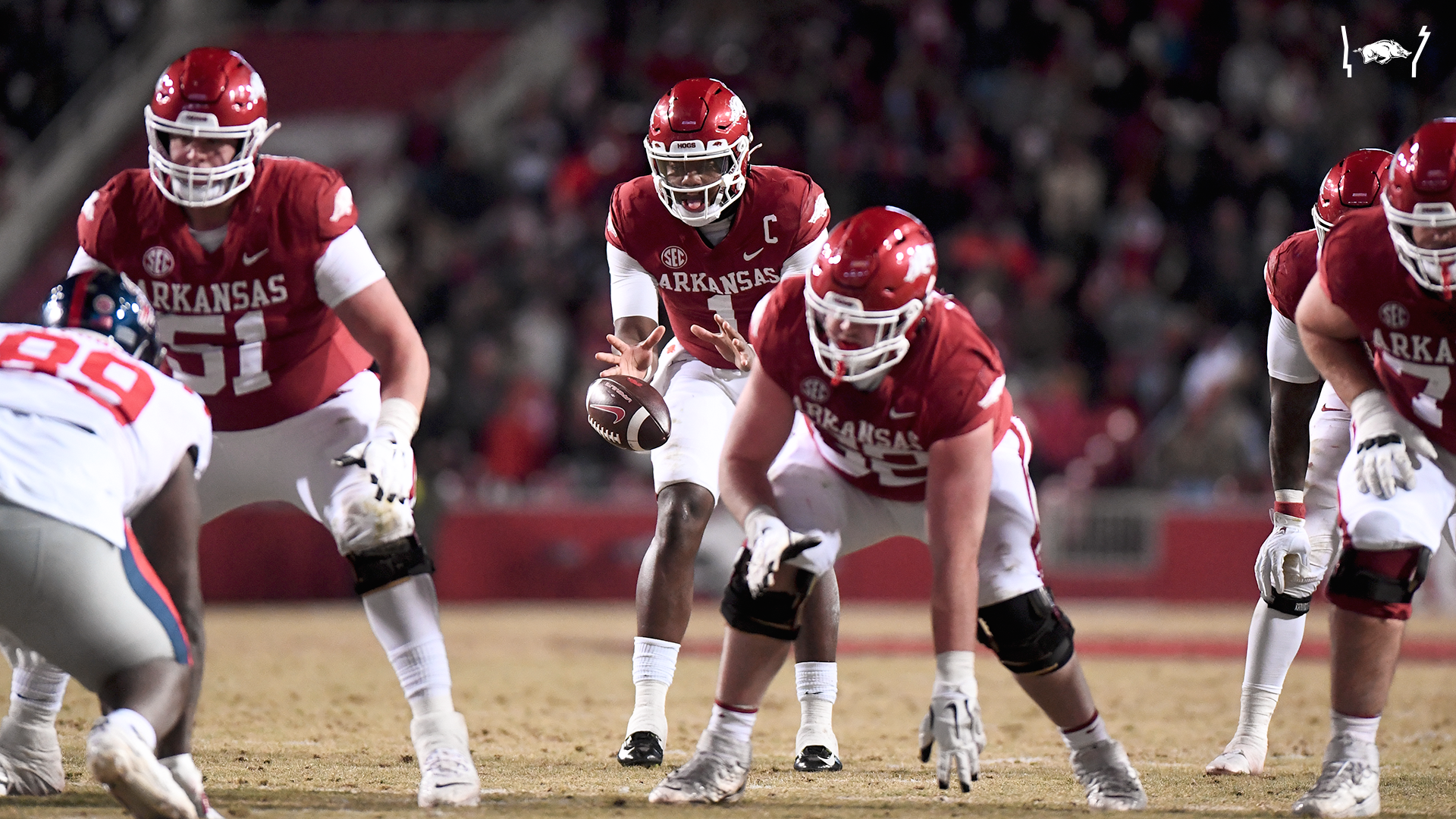 10 Things to Know - Missouri
The Hogs, bowl eligible for the third straight year, wrap up the regular season this week, traveling to Columbia, Mo., for this year's edition of the Battle Line Rivalry. Kickoff between Arkansas and Missouri is set for 2:30 p.m. Friday, Nov. 25, at Faurot Field on CBS.
10 Things to Know vs. Missouri
1. – The Battle Line Rivalry series pits the SEC's Eastern Division against the Western Division and provides a natural rivalry between Missouri and Arkansas. Friday's winner will receive The Battle Line Trophy, which is made of silver and stands more than four feet tall and weighs more than 180 pounds. The trophy depicts the outline of the two states with the border of the two states being divided by interchangeable silver inserts with the words "Battle Line" in either gold or cardinal. The color within the trophy will be reflective of the most recent game's winner. Former Razorback football student-athlete David Bazzel was the designer and project lead for the building of The Battle Line Trophy.
2. – The first meeting between the Razorbacks and Tigers took place in 1906 in Columbia, Mo., with Missouri capturing an 11-0 decision over the Hogs. Since meeting in 1906, the two teams have tussled in 13 matchups with the Tigers leading the all-time series, 9-4.
3. – Last year, Arkansas claimed a 34-17 victory over Missouri in Donald W. Reynolds Razorback Stadium on Nov. 26, 2021. QB KJ Jefferson threw for 262 yards (15-19-0) and a touchdown while adding 58 yards on the ground. Former Hog WR Treylon Burks finished with a game high seven receptions for 129 yards and a score. Defensively, LB Bumper Pool totaled 13 stops against the Tigers.
4. – With a win over Ole Miss last Saturday, Arkansas reached the six-win mark for the second straight season and is headed to a bowl game for the third season in a row. Head coach Sam Pittman became the fourth Arkansas head coach in history to lead the Hogs to bowl eligibility in each of his first three seasons, joining Lou Holtz, Ken Hatfield and Houston Nutt.
5. – QB KJ Jefferson, the unquestioned leader of the Hogs, is set to make his 25th career start Friday. Of his 24 career starts to date, 11 have come against AP top-25 teams. Despite missing two games this season, Jefferson is one of only two SEC quarterbacks (Tennessee QB Hendon Hooker) with at least 20 passing touchdowns and five rushing scores this season.
6. – Arkansas heads into this weekend's clash having never won a game played in Columbia. The Hogs' last road win against the Tigers came in 1944, when Arkansas, led by head coach Glen Rose, defeated Missouri, 7-6, in St. Louis. The two teams have squared off against each other in six different cities (Columbia, Dallas, Fayetteville, Little Rock, Shreveport and Little Rock).
7. – Three different Hogs earned SEC Player of the Week honors on Monday. Sophomore RB Raheim Sanders was named SEC Offensive Player of the Week, junior LB Drew Sanders was tabbed SEC Defensive Player of the Week and C Ricky Stromberg picked up SEC Offensive Lineman of the Week recognition. The trio guided Arkansas to a 42-27 routing of No. 14 Ole Miss.
8. – Arkansas has rushed for 200 yards in an SEC-leading eight games this season. The Razorbacks are averaging 233.5 rushing yards per game, which ranks second in the SEC and eighth nationally. RB Raheim Sanders, the Hogs leading rusher through 11 games, has accumulated 1,379 yards and 10 scored on 209 carries (6.6 average). Sanders ranks second in the SEC in rushing yards (1,379) and rushing yards per game (125.4) and also has 25 catches for 249 yards and a touchdown to lead the SEC in total all-purpose yards (1,628) this season.
9. – In Arkansas' past two games against top-15 foes LSU and Ole Miss, the Hogs have limited opponents to touchdowns in just two of eight quarters. Before the fourth quarter against Ole Miss, the Razorback defense allowed just one touchdown over its previous nine quarters played, dating back to the Liberty game on Nov. 5. Arkansas did not allow an Ole Miss touchdown in the game's first three quarters.
10. – Heading into Arkansas' regular season finale Friday, the Hogs have 5,120 yards of total offense (2,568 rushing and 2,552 passing). With two games remaining, the offense is on pace to become just the third in school history to top 6,000 total yards (2010, 2015).