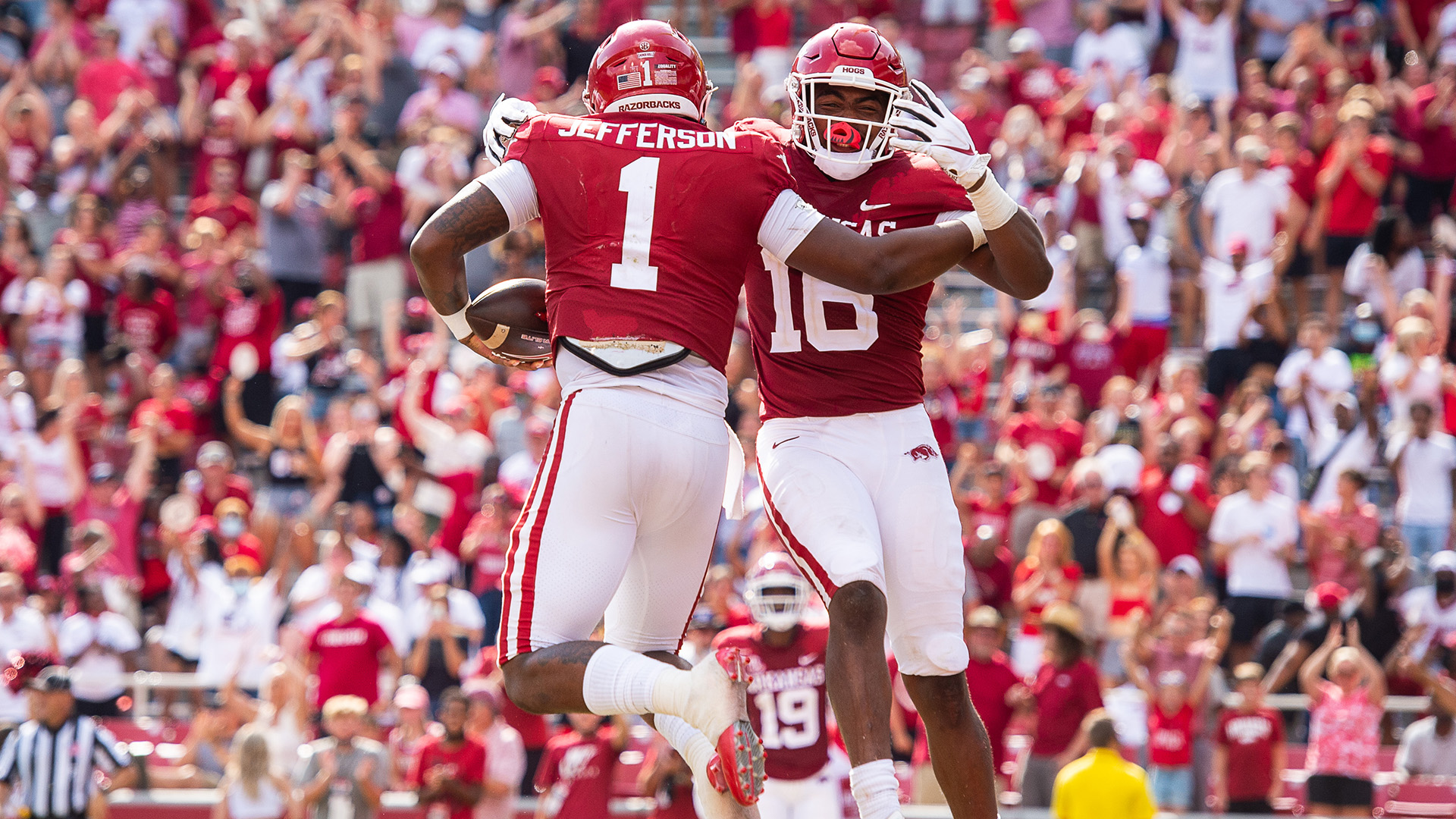 10 Things to Know – Texas
For the second week in a row, Arkansas plays host to a former Southwest Conference rival as Texas makes the trip to Donald W. Reynolds Razorback Stadium for a 6 p.m. kick on Saturday, Sept. 11.
10 Things to Know
1. – Behind a 31-point second half outburst, the Razorbacks overcame a 10-point third quarter deficit, defeating Rice 38-17, to open the season last weekend. Arkansas had not scored 31 points in the second half since a 52-6 throttling of Mississippi State on Nov. 22, 2003. Against the Owls, the Hogs scored 10 points in the third quarter and 21 in the fourth stanza.
2. – AP Preseason All-American defensive back Jalen Catalon lived up to the billing against Rice, posting 11 total tackles with 1.0 tackle for loss while recording his first career two interception game. Both picks were crucial to the outcome as Arkansas' offense turned them into 14 points. With interception returns of 39 and 44 yards, the redshirt sophomore was able to show his quickness and totaled 83 interception return yards, the most by a Razorback since Rohan Gaines' 100 yards on Nov. 22, 2014, against Ole Miss. Catalon is the only player in the country to total at least 10 tackles and two picks in a game this season.
3. – For the 10th time in his career, linebacker Bumper Pool led the team in tackles, recording 14 stops against the Owls. In addition, his 1.5 tackles for loss were a game high. Over the last three seasons (2019-21), the senior has logged 209 total tackles, tied for the fourth most nationally over that span. Due to a targeting penalty called in the second half, Pool will miss the first half of the Texas game.
4. – Arkansas' defense impressed against Rice, especially against the run as the Owls accrued just 81 yards on 39 carries for a paltry 2.1 yards per carry. The Razorbacks had not held an FBS opponent to 2.1 yards per carry or fewer on at least 39 carries since shutting out Troy, 23-0, on Nov. 2, 2002 (95 yards, 50 carries, 1.9 ypc). Rice registered only one rushing first down, which tied for second fewest allowed in Arkansas' record book. Florida only picked up one rushing first down and ran for just 12 yards in a 31-10 Hogs win on Nov. 5, 2016. The school record was set on Sept. 20, 1947, when the Razorbacks held Northwestern (La.) State to zero rushing first downs.
5. – Defensive coordinator Barry Odom's unit has been a turnover forcing machine since arriving on campus last season. The defense incepted Rice quarterback Wiley Green three times last weekend on a pick from defensive back Montaric Brown and Catalon's pair of interceptions. In the first 11 games of Odom's tenure as DC, Arkansas has recorded 16 interceptions, which ranks tied for fourth in the country in total picks since the 2020 season.
6. – Offensively, quarterback KJ Jefferson completed 12-of-21 passes for 128 yards and a touchdown, while rushing for career-highs of 89 yards and two scores. Since 2005, only three Arkansas signal callers have rushed for over 100 yards in a season in Feleipe Franks (204 yards in 2020), Ty Storey (146 yards in 2018) and Brandon Allen (107 yards in 2015). After one game, Jefferson is 11 yards away from joining that list. Against Rice, he became the first Hog quarterback to run for two touchdowns in a game since Tyler Wilson against Ole Miss on Oct. 22, 2011. The Razorbacks won a game for first time when throwing for under 130 yards since a 28-3 victory over Missouri (102 passing yards) on Nov. 27, 2015.
7. – The Razorbacks ran for 245 yards and scored four rushing touchdowns against the Owls, surpassing the 200-yard mark in the season opener for the 10th time since 2000. Arkansas won a game when rushing for 245 yards or more since racking up 259 yards in a 39-38 win over Coastal Carolina on Nov. 4, 2017.
8. – Arkansas was penalized 13 times for 117 yards against Rice and won a game when committing over 115 penalty yards for the first time since a 49-14 triumph over Vanderbilt (115 penalty yards) on Oct. 30, 2010. Rice picked up six first downs by penalty, the most Arkansas has allowed since Sept. 29, 2001, against Georgia.
9. – The Razorbacks are in the midst of a three-game homestand at DWRRS to open their season. It has been quite some time since Arkansas played its first three games of a season in Fayetteville, 88 years in fact. The 1933 team did so defeating the College of the Ozarks 40-0, Oklahoma Baptist 42-7 and TCU 13-0, outscoring its opposition a combined, 95-7. Head coach Fred Thompson's Hogs finished the year 7-3-1 and 4-1 in the Southwest Conference. Interestingly, Arkansas won its first game in program history over Texas that year, 20-6, on Nov. 24 in Austin.
10. – Meeting for the first time since 2014, Texas holds a 56-22 lead in the all-time series. The Hogs claimed a 31-7 victory in the last matchup in the Texas Bowl on Dec. 29, 2014, and held the Longhorns to just two rushing yards. Texas grabbed a 22-20 win in the last meeting inside DWRRS on Sept. 11, 2004, exactly 17 years ago to the day of this year's game.