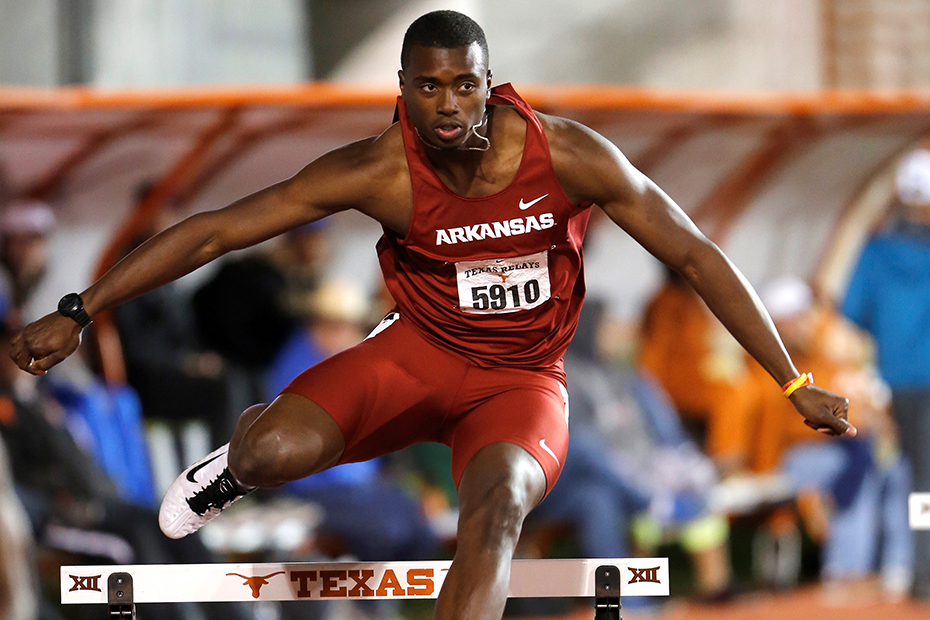 11 Razorbacks Punch Tickets To Eugene
Meet Preview | Live Results | Revised Meet Schedule | Video Coverage
LAWRENCE, Kan. – Following a tumultuous weather-stricken opening day at the 2016 NCAA West Preliminary, the No. 5 Arkansas men's track and field team returned on day two resilient and determined to succeed in spite of the poor conditions.
The Razorback men secured 12 NCAA qualifiers in the form of 11 student-athletes in eight events during the second day of the regional competition.
2016 NCAA Qualifiers – Friday, May 27
100 Meters
• Three-fourths of Arkansas' 2015 NCAA national champion 4-x-100-meter relay team featuring Kenzo Cotton, Jarrion Lawson and Marqueze Washington put on a clinic in the quarterfinals of the 100, all gaining individual entry to Eugene. Lawson (10.29) and Washington (10.20) advanced automatically as the winners of heats one and four, respectively, while Cotton qualified as the fastest non-heat winner in a new PR of 10.25 seconds. The trio will return to Hayward Field with Washington leading the way as the top performer out of the West.
400 Meters
• Freshman Obi Igbokwe raced to the fifth-best time of the day in the 400 with a time of 46.32, qualifying for the second national championship meet of his career in his first year as a Razorback. The performance was a new outdoor personal best for The Woodlands, Texas native and distinguished him as one of the best underclassmen quarter-milers of 2016.
800 Meters
• Ryan Thomas picked up the final qualifying spot of the day in the 800 with his time of 1:48.77 in heat three. Thomas had the 11th-best overall performance of the day and was the third-best Southeastern Conference (SEC) performer in the event. The senior heads to outdoor nationals with a personal best of 1 minute, 47.62 seconds which placed him fifth at the 2016 SEC Outdoor Championships.
10,000 Meters
• Razorback captain Gabe Gonzalez was the first to earn a trip to Eugene following his fourth-place finish in the 10K in 29 minutes, 52.76 seconds. The Northwest Arkansas native matched pace with a lead pack of about 10 runners through the majority of the 25-lap race before surging into the top five over the last 400 meters to secure his spot in Oregon.
400 Meter Hurdles
• The top performer in the intermediate hurdles earlier this season at the Texas Relays, Larry Donald battled through the quarterfinal races at the preliminary round to advance to Oregon off his time of 51.17 in heat one. Donald is the first Razorback to qualify for nationals in the event since Caleb Cross in 2012 and was one of only two SEC competitors to make it through to the semifinals in Eugene.
3,000 Meter Steeplechase
• After dealing with several time changes SEC steeplechase champion, Frankline Tonui finally broke the plane of the start line contesting the final event of the day for Arkansas. A 2015 NCAA first round qualifier in the steeplechase, the Iowa Central transfer showed marked improvement in his second NCAA outdoor postseason competition navigating the field in veteran form to finish as the 11th best performer of the day in 8:49.98 to advancing to outdoor nationals as the Razorbacks' 12th qualifier of the day.
High Jump
• Carrying over Arkansas' trend of success in the jumps from the indoor season, Ken LeGassey joined the long list of Razorbacks making a trip to Eugene following a perfect clearance record in the high jump. The three-time All-American wasted no effort through each progression separating himself from the competition with four first-attempt clearances from 2.02m/6-7 ½ to 2.16m/7-1.
Long Jump
• Already through in the 100, Lawson captured his second NCAA qualification of the weekend as the No. 1 performer in the long jump. The Bowerman Watch List member only needed one jump to punch his ticket, marking 7.92m/26-0 on his first attempt to gain entry into the seventh national championship of his illustrious career. Lawson was joined by international standouts Kurt Jenner (Australia) and Andreas Trajkovski (Denmark), who also advanced to the NCAA long jump final with the sixth and seventh-best performances of the day, respectively.
Head coach Chris Bucknam's take on the day's events
"I feel good about today's performances, I'm really proud of these athletes. We've had a lot of challenges since we've been here with the weather, but they've [athletes] kept their cool, never complaining, just getting down to business. The team has handled all the adversity extremely well. Today we had a couple missteps but still got a bunch of guys through to Eugene. Tomorrow's going to be a busy day and we plan to just keep doing what we're doing – focusing on execution.
Saturday, May 28
9:00 a.m. | Triple jump – C. Pullen, R. Owens
9:00 a.m. | Discus – D. Randall
10:15 a.m. | 4-x-100 relay – Arkansas A
11:00 a.m. | 1,500 (quarterfinals) – J. Bruce, A. Dalquist, C. Griffith, E. Moehn
12:00 p.m. | 110 Hurdles (quarterfinals) – D. Anderson
12:55 p.m. | 200 (quarterfinals) – K. Cotton, J. Lawson, J. Washington, M. Washington
2:30 p.m. | Shot put – S. Kempka, J. Rogers
2:00 p.m. | 5K (semifinal) – J. Bruce, A. George
2:50 p.m. | 4-x-400 relay – Arkansas A
The top 12 qualifiers in each event from the two preliminary meets advance to compete June 8-11 at the NCAA Outdoor Championships in Eugene, Oregon. The NCAA East Preliminary is also being contested this weekend in Jacksonville, Florida. A live stream of the competition will be available to fans on Saturday, May 28 at 10 a.m.
Live results can be found on the NCAA West Preliminary home page.
NCAA West Preliminary Results May 26-28
Rock Chalk Park
Lawrence, Kansas
100 Meters
Marqueze Washington (1) – 10.20Q
Kenzo Cotton (5) – 10.25Q
Jarrion Lawson (8) – 10.29Q
Ryan Green (40) – 10.68
400 Meters
Obi Igbokwe (5) – 46.32Q
800 Meters
Ryan Thomas (11) – 1:48.77Q
Carlton Orange (25) – 1:50.16
Andrew Pisechko (40) – 1:52.89
10,000 Meters
Gabe Gonzalez (4) – 29:52.76Q
Andrew Ronoh – DNF
400 Meter Hurdles
Larry Donald (7) – 51.17Q
Kemar Mowatt – DNF
3,000 Meter Steeplechase
Frankline Tonui (11) – 8:49.98Q
Cale Wallace (20) – 9:03.53
High Jump
Ken LeGassey (1) – 2.16m/7-1Q
Long Jump
Jarrion Lawson (1) – 7.92m/26-0Q
Kurt Jenner (6) – 7.59m/24-11Q
Andreas Trajkovski (7) – 7.58m/24-10 1/2 Q
Rubin Owens (22) – 7.33m/24-0 3/4
Brandon Workman (27) – 7.27m/23-10 1/4
Q denotes NCAA qualifier.
For more information on Arkansas track and field including in-meet updates, follow @RazorbackTF on Twitter.