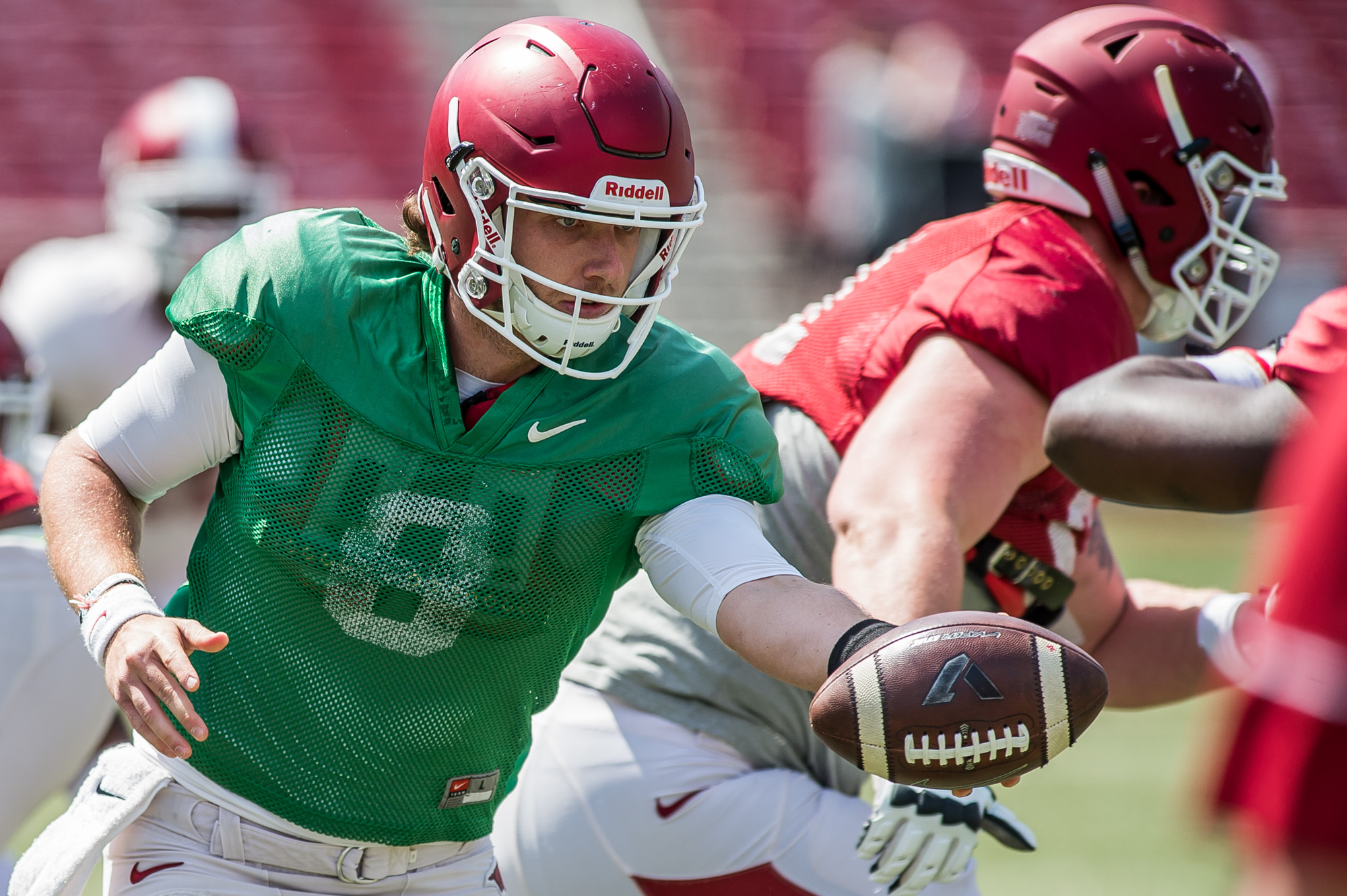 Razorbacks Complete Second Spring Scrimmage
FAYETTEVILLE, Ark. — Arkansas wrapped up Week 3 of its spring football camp Saturday with a second scrimmage inside Donald W. Reynolds Razorback Stadium.
Like last Saturday, senior center Frank Ragnow did not participate in an effort to limit his live work this spring. Officials were present to mimic a game-like setting as much as possible. After four periods of practice, the scrimmage started with first, second and third down work before moving to red zone situations and ending with full drives down the field.
On the ground, sophomore Devwah Whaley led the way with 94 yards on 17 carries behind a 51-yard run. Junior Rawleigh Williams III added 72 yards and a TD on 14 attempts. Early enrollee Maleek Williams carried 19 times for 75 yards and a touchdown from 3-yards out during high red-zone work, while junior Juan Day chipped in 31 yards on five tries.
Whaley's 51-yard gain came during a move-the-ball period. The Beaumont, Texas, native broke through the line and ran it all the way down to the 11-yard line, setting up Rawleigh Williams' touchdown run on the next play.
Among quarterbacks, senior Austin Allen completed 7 of 16 passes for 66 yards and an 18-yard touchdown to sophomore LaMichael Pettway inside the red zone. Sophomore Ty Story went 7-for-11 for 69 yards, while redshirt freshman Cole Kelley threw for 57 yards on 6-of-9 passing against one interception. Early enrollee Daulton Hyatt and redshirt freshmen Carson Proctor and Jack Lindsey each had scoring tosses during red-zone work.
Early enrollee Brandon Martin, who came to Arkansas ranked as the nation's No. 1 JUCO wide receiver, impressed as he hauled in six passes for 75 yards and one TD. Pettway finished with 22 yards on two grabs, including his TD catch from Allen. Sophomore T.J. Hammonds, who has been transitioning to the wideout spot during the spring, had three receptions for 22 yards, while sophomore Deon Stewart tacked on 22 yards on two catches.
Defensively, redshirt freshmen lineman Briston Guidry (2.5), linebacker Michael Taylor II (2.5) and linebacker Grant Morgan (2.0) collected two-plus sacks apiece.
The day's lone interception came from senior defensive back De'Andre Coley during a move-the-ball period. The Miami product also recovered a fumble earlier in the day.