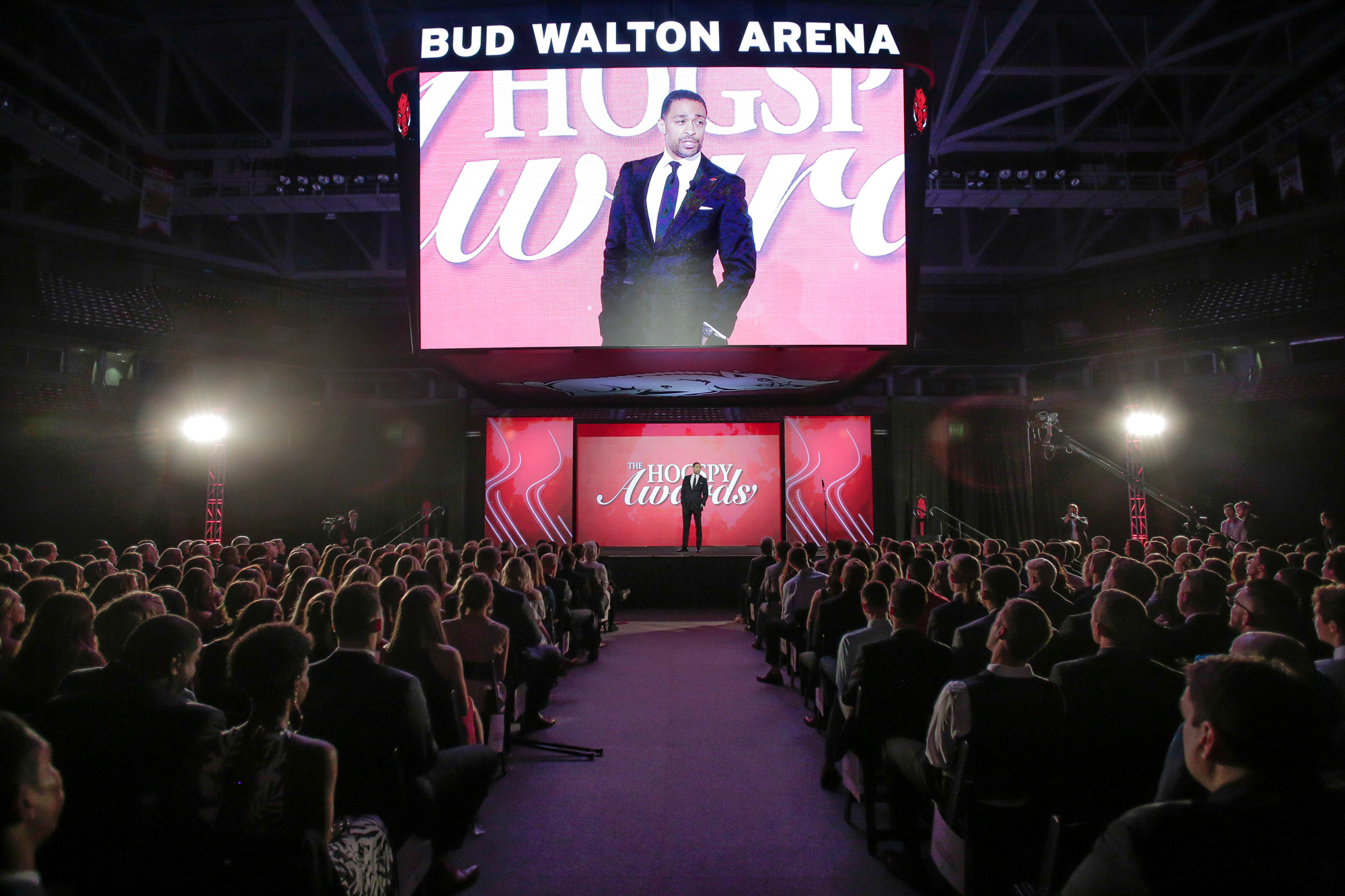 2017 HOGSPY Award Winners Announced
Photo Gallery
FAYETTEVILLE, Ark. – It was a night to remember for Arkansas Razorback student-athletes, coaches, spirit squad, and marching band members on Wednesday night at Bud Walton Arena at the Sixth Annual HOGSPY Awards.
The event recognizes the best in athletics, academics, leadership and service learning. The semiformal event features three LED screens, dynamic video created by the Student-Athlete Advisory Committee and RSN and awards ranging from athletic achievement, to academics and community service.
University of Arkansas Alumnus, ABC News Anchor and Good Morning America correspondent T.J. Holmes hosted the 2017 HOGSPY Awards. Members of the University of Arkansas' Student-Athlete Advisory Committee (SAAC) planned the event and served as award presenters.
Arkansas cross country, track and field took home several of the evening's team and individual awards, including: Female Academic Team of the Year, Female Scholar-Athlete of the Year (Tori Weeks), Female Team Coach of the Year (Lance Harter), Team Performance of the Year, Female Student-Athlete of the Year (Lexi Weeks) and Female Team of the Year.
Men's basketball earned four HOGSPYS, while soccer and football won two each.
2017 HOGSPY Award Winners
Rookie of the Year (Male)
A standout rookie who demonstrated outstanding athletic performance during competition. A rookie is defined as any freshman student-athlete in their first year of competition at the University of Arkansas.
Devwah Whaley (Football)
Rookie of the Year (Female)
A standout rookie who demonstrated outstanding athletic performance during competition. A rookie is defined as any freshman student-athlete in their first year of competition at the University of Arkansas.
Stefani Doyle (Soccer)
Play of the Year
A striking performance by an individual which lead to an outstanding victory
Clive Pullen (Men's Track & Field)
Student-Athlete of the Year (Male)
An overall standout athlete who demonstrated outstanding athletic performance on the field of play and has been instrumental to the team's success. This award is primarily based on athletic performance.
Mike Redlicki (Men's Tennis)
Student-Athlete of the Year (Female)
An overall standout athlete who demonstrated outstanding athletic performance on the field of play and has been instrumental to the team's success. This award is primarily based on athletic performance.
Lexi Weeks (Track and Field)
Scholar-Athlete of the Year (Male)
A student-athlete who excels in the classroom and best represents Razorback athletics. This student must be a junior or senior who maintains a GPA of 3.5 or above.
Brooks Ellis (Football)
Scholar-Athlete of the Year (Female)
A student-athlete who excels in the classroom and best represents Razorback athletics. This student must be a junior or senior who maintains a GPA of 3.5 or above.
Tori Weeks (Track and Field)
Coach of the Year (Female Sports)
Head Coach Lance Harter (Women's Track and Field)
Coach of the Year (Male Sports)
Head Coach Mike Anderson (Basketball)
Team of the Year (Female)
Cross Counry, Track and Field
Team of the Year (Male)
Basketball
Team Performance of the Year
Women's Track and Field
Heart of the Hog
A student-athlete who is considered the heart of the team. Their outstanding leadership positively influences their teammates in and out of competition.
Manuale Watkins (Basketball)
Comeback Student-Athlete
A standout student-athlete who demonstrated outstanding resilience to overcome a significant obstacle or setback in order to have a profound contribution during athletic competition. A significant obstacle is defined as an event that has hindered the ability to compete.
Devin Cosper (Women's Basketball)
Top Graduating Student-Athlete
Katherine Moore (Soccer)
Male Academic Team of the Year
Men's Golf
Female Academic Team of the Year
Swimming and Diving & Cross Country
Lee Spencer Cup Team Champion
Men's Golf
Lee Spencer Cup Individual Champion
Heather Elswick (Gymnastics)
Hog Tough Award
This award recognizes a noteworthy game or performance where the team or individual experienced a comeback, which significantly impacted the outcome resulting in a victory.
Men's Basketball
Service Over Self Award
Student-athletes in this category have shown exceptional dedication toward community engagement.

Bette Poblete Soccer
Standing Ovation Award
This award recognizes a walk-on student-athlete. who contributed to the athletic success of his/her team. exemplified academic excellence. and
displayed character in and out of competition.
Mia Bargiacchi Gymnastics
Outstanding Band Member
Aaron Carson
Outstanding Spirit Squad Member
Taylor Farr