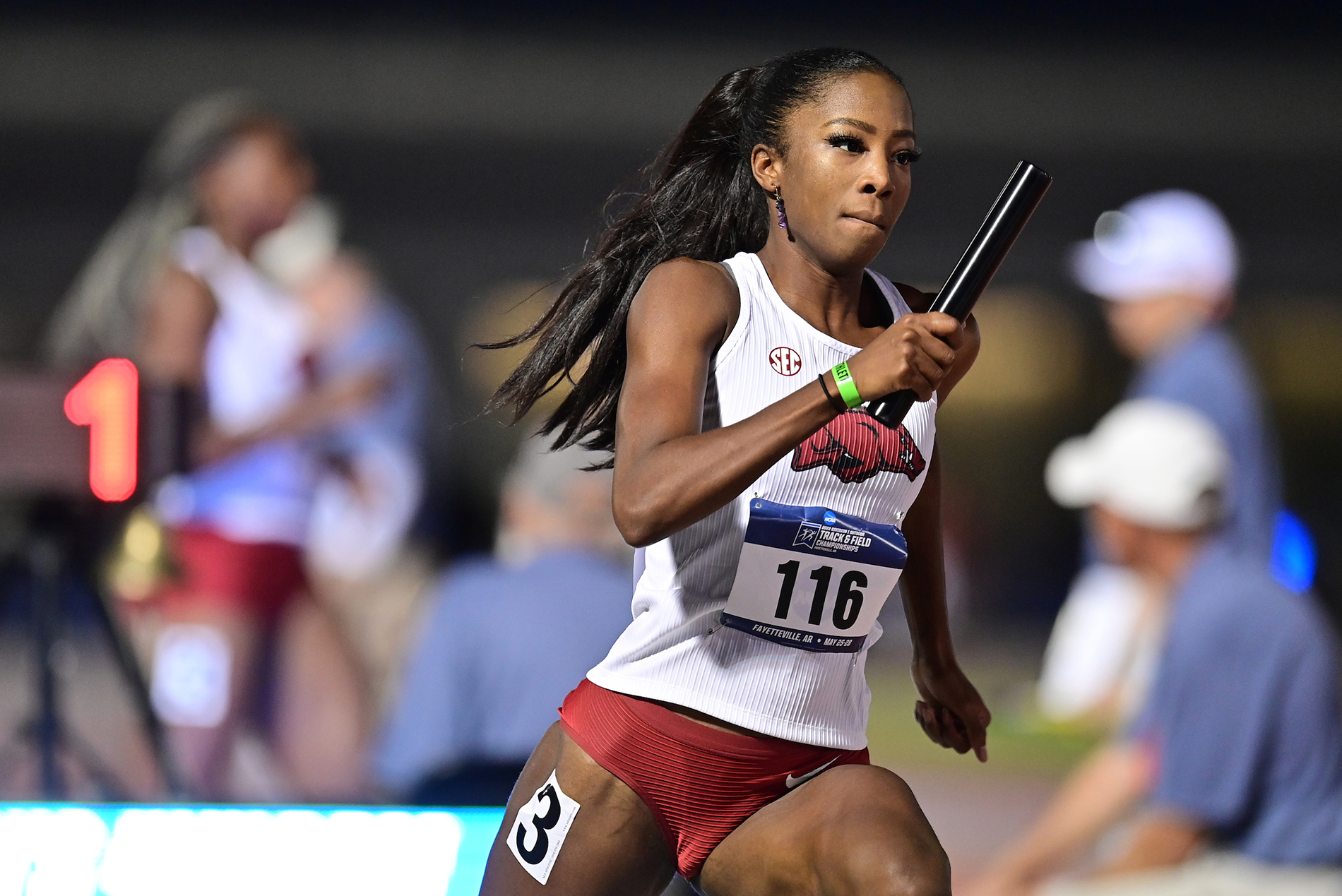 4 x 400 relay records cap stellar day of Arkansas advancement
FAYETTEVILLE – Arkansas turned the final day of the NCAA West Preliminary Rounds into their own NCAA Selection celebration as the Razorbacks added 10 entries to their tally of athletes heading to Eugene for the NCAA Championships.
A crowd of 1,420 at John McDonnell Field on Saturday were treated in seeing nine Arkansas athletes advance in eight more events, with five qualifying in a pair of events.
The Razorbacks total heading to the NCAA Championships at Hayward Field will include 12 athletes in 10 events for 14 entries.
"We're super excited about what we could possibly do in Eugene," stated Arkansas women's head coach Lance Harter. "It was a great weekend for us, and we've got a lot of possibilities to score.
"This is a meet that is always scary to any coaching staff, because any time the gun goes off there is a possibility of different things that could happen. We went through this meet basically unblemished."
NCAA Championships | Arkansas Qualifiers | 12 Athletes | 10 Events | 14 Entries
| | |
| --- | --- |
| 100 | Jada Baylark |
| 400 | Rosey Effiong, Morgan Burks-Magee |
| 1500 | Krissy Gear |
| 5000 | Isabel Van Camp, Lauren Gregory |
| 10,000 | Lauren Gregory |
| 100 Hurdles | Yoveinny Mota |
| 400 Hurdles | Britton Wilson |
| Steeple | Logan Jolly |
| 4 x 400 Relay | Morgan Burks-Magee, Rosey Effiong, Jada Baylark, Britton Wilson |
| Pole Vault | Amanda Fassold, Mackenzie Hayward, Bailee McCorkle |
Prior to racing in the 4 x 400 relay, all four Razorbacks already qualified for the NCAA Championships in individual events. Jada Baylark advanced in the 100m (11.04w), while Rosey Effiong (51.73) and Morgan Burks-Magee (52.06) qualified in the 400m, and Britton Wilson (54.87) dominated the 400m hurdle field.
Combined the Arkansas crew won the first section of the 4 x 400 relay in 3:25.16, breaking the facility record of 3:27.07 set by Kentucky in 2018, to defeat USC, runner-up in 3:30.03. Texas (3:25.93) and Texas A&M (3:26.49) won the other two sections.
The time by the Razorbacks is also the fastest ever recorded in the Preliminary Round history – in either the East or West regions.
Burks-Magee started in the blocks, splitting 52.4 and had a stride lead over USC at the first exchange. Then Effiong blistered a 50.5 second leg to give Arkansas over a one-and-a-half second edge on the Trojans. Baylark covered the third leg in 52.50 as the lead grew to almost two full seconds.
Wilson rocked the anchor leg in 49.72 seconds, three full seconds ahead of USC's anchor, to win the section in commanding fashion.
"Morgan is really starting to show her maturity and poise as a racer," said Harter. "She comes out of the hole and gets us in the front. Then we ran by ourselves after that. Rosey and Jada did a fantastic job. With Britton being that far ahead, what are you going to do for an encore, just run as solid as you can."
The day started with Krissy Gear finishing second in the opening heat of the 1,500m in 4:18.97 behind a 4:18.93 by Colorado's Micaela Degenero. Then Yoveinny Mota sped to a career best of 12.87 (1.8 wind) as runner-up in her heat to move to No. 4 on the UA all-time list and improve her Venezuelan national record.
"One highlight was Yoveinny having a great hurdle race with a legal mark, that was exceptional," noted Harter. "Krissy Gear showed she can finish with anybody in the 1,500m and that was a great start to the day."
Logan Jolly registered a time of 9:47.43 as runner-up in the third section of the 3,000m steeplechase and it was the second fastest time overall behind BYU's Courtney Wayment, who won the third section in 9:42.32.
Lauren Gregory added the 5,000m to her 10,000m qualification from Thursday. She will be one of four who advanced in both distance races from the NCAA West. Joining Gregory were Colorado's Emily Covert along with New Mexico's tandem of Amelia Mazza-Downie and Emma Heckel.
Isabel Van Camp raced with Gregory in the first section of the 5,000m, placing second in 16:02.66 while Gregory finished third in 16:03.71. A third Razorback, Sydney Thorvaldson placed 10th in the second section at 16:26.15 to place 17th overall.
Other Razorbacks competing in the quarterfinal round of the NCAA Championships included Kennedy Thomson (2:06.52) and Quinn Owen (2:06.93) in the 800m as they placed 19th and 20th overall. Joanne Reid posted times of 11.27w and 22.91w to finish 20th and 14th in the 100m and 200m.